Mayor London Breed has now signed the legislation approved by the Board of Supervisors approving the Central Soma Plan that will spearhead the "Gig Economy" transformation of "San Francisco over the next 20 years.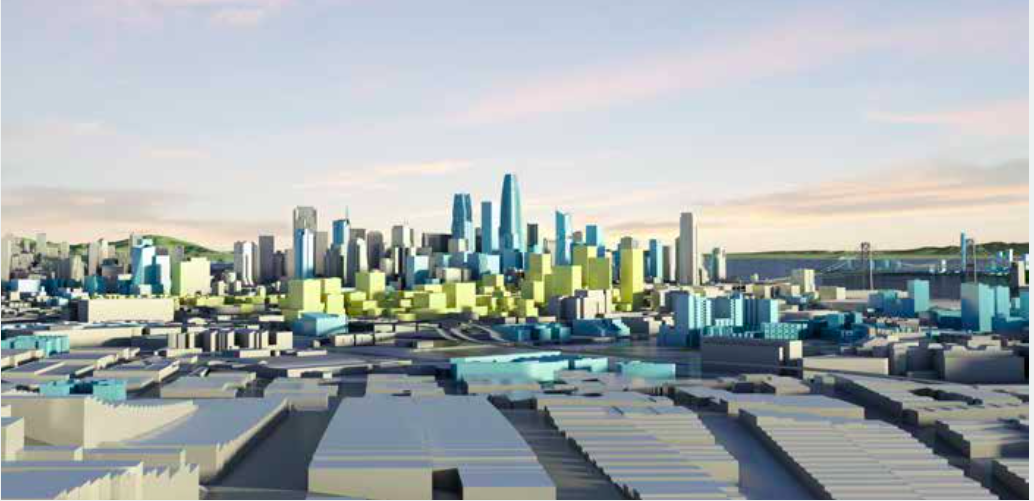 This plan is an incomplete comprise between the Planning Commission's "Downtown Expansion" agenda to achieve its top-priority "Growth Accommodation" mission for San Francisco's future and our Soma Communities' top-priority "Community Building" and "Economic Justice" Goals (for a Summary of the Plan's many important features and how they evolved, see our TODCO Facebook post.)
The biggest visible consequence of the Central Soma Plan will be construction of more than 5 million square feet of new tech offices in new office projects on a half-dozen "key sites" between Second and Sixth Streets. That amount of office space is equal to more than three new 1,000-foot Salesforce Towers, though none of them will be more than 300 feet in height.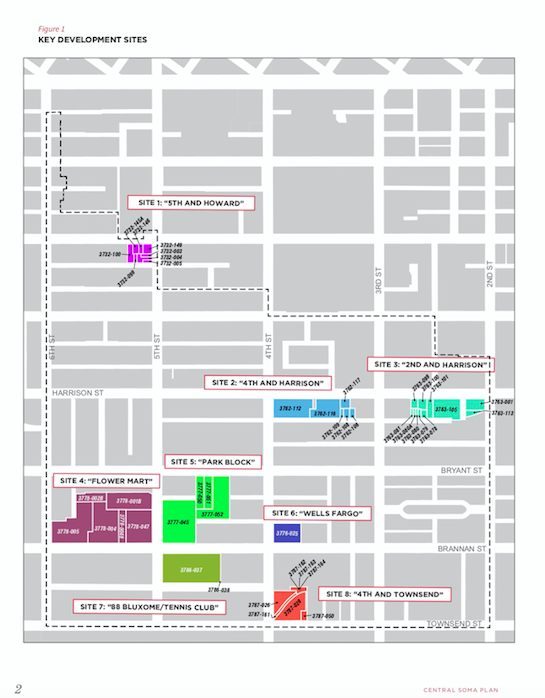 Thanks to the limits of the 1986 voter-approved Proposition M Annual Limit on Office Development, it will take at least four years for all seven of these currently proposed office complexes to secure initial approval for their projects from the Planning Commission — which the mayor controls by appointing a majority and nominating the director of planning.
But none of these big developers want to wait four years, of course.
I know for a fact that just a year ago, the week before his sudden passing, Mayor Ed Lee decided which of the big developers would get to build their massive Central Soma office projects first. Mayor Lee's list was totally based on political considerations, not project merit or community benefit. But – of course — that list no longer applies.
Will 2019's Central Soma office project approvals be determined by a similar new political list — a year when, by the way, Mayor Breed is running for re-election? Is Planning Director John Rahaim lying when he claims otherwise? Word on the "developer street," supported by J.K. Dineen's recent reporting in the Chronicle, is that a decision has already been made in the Mayor's Office:
First will be the Kilroy Flower Mart project at Fifth and Brannan Streets – the biggest of them all with at least 1,700,000 square feet of tech office space – although there is no urgency at all to rebuilding the current Mart as it proposes.
Second will be the Tishman Corp. project just across Fifth Street, with 922,000 square feet, even though its community benefit proposals remain very murky aside from new public open space.
Third will be the One Vassar Project at Second and Harrison Streets of the very influential developer Lawrence Lui, with 421,000 square feet, despite the controversy with its condominium neighbors over its view-blocking tower.
After that in some order will be the Tennis Club site project of TMG Partners, with 824,000 square feet of office space, and the smallest, the Strada Investment Co. project on a parking lot at Fourth and Brannan Streets, with 350,000 square feet.
And last … will be the Boston Properties (owners of Embarcadero Center) project, with 435,000 square feet, given that company's unique political support for Progressive supervisors Jane Kim and, just recently, Matt Haney.
Combined, all these developments total almost 5 million square feet of new Tech Industry office space. They will "accommodate" at least 20,000 new tech workers — creating a demand for 10,000-15,000 new housing units, almost half of which need to be affordable to lower and middle-income households – but where?
Is this political "scuttlebutt" true? So far, all we know for sure is that the Planning Department has NOT put any process or guidelines in place to take community input from Soma or anywhere else before deciding how to prioritize which of these big developers get these very, very valuable Prop M development rights first.
Adding it all up, it sure looks like "the fix is in" at the San Francisco Planning Commission.
What is the way it should be done instead?
After a fair and open public process where the all of the community and public can all present their priorities for what kind of San Francisco office developments should have top priority for allocation of Prop M office project approvals, the Planning Commission would adopt new rules to apply such priorities to which developer can build first. And those rules would give top priority to proposed office developments anywhere in the city that:
Include a site that will be deeded to the city for future development of nonprofit affordable housing.
Maximize the percentage of their site area that will be permanently set aside for below-market space for PDR/arts uses, nonprofit services, legacy and heritage businesses, and neighborhood-serving retail tenants.
Incorporate as part of their project new community facilities (other than simple open space) that will be deeded to the city at no cost.
Agree to require their future Tech Industry tenants to participate the Community Good Jobs programs now proposed by the Jobs for Justice Coalition and pending for approval as city policy.
And if the Planning Commission refuses to do this, then there should be a November 2019 ballot measure that will make them do it – even if that reverses their politically-motivated project approvals before that date!