ARTS FORECAST It was a bitter pill for the Castro the day Supervisor Harvey Milk and George Moscone were gunned down in City Hall in 1979. Making the ordeal even more painful was the violent police clash that took place after the murders on what would come to be known as "White Night". Officers brutally beat back protestors at a march from the Castro to City Hall that Cleve Jones had organized, and later that evening a pack of them set out to violently attack gay bars in the area. The events set up the queer community and law enforcement for decades of uneasy relationships and full-throated protest actions against wanton official brutality.
On Tue/21, this sad chapter of history will not be forgotten — and more recent acts of police brutality will not be pardoned. The Harvey Milk LGBTQ Democratic Club is organizing a commemorative march that will convene at Castro and Market Streets at 5 p.m., and from there, head to City Hall. From Milk Club rep Stephen Torres:
Police violence is a common denominator among our communities, our black brothers and sisters, being the most imperiled.  The Harvey Milk LGBTQ Democratic wishes not to mark this anniversary with moments of silence, staid civic memorials, or social media tributes, but with a call to action among our communities to demand that police violence end. That the loss of our lives at the hands of law enforcement will not be tolerated and the perpetrators will be brought to justice. That we march on San Francisco City Hall just as San Franciscans did that night in 1979 and speak this truth.
In other somber news, San Francisco has stopped laughing. Or perhaps not, but one of the city's most beloved comedy clubs Punchline has announced it has been unable to reach an agreement over its lease, and will be vacating its legendary address on Battery Street. The Punchline was founded by Jeffrey Pollack in 1978, and Bill Graham bought the place in 1980. It became a famous stopover for some of the country's best-known yucksters. One of its most famous regulars is stopping by for once last session; Dave Chappelle will take the stage on WHEN. (The shows are, predictably, quite sold out already.)
The club is currently looking for a new spot, if you know of anything. "We want to thank all the fans and extraordinary comedians that have helped make Punch Line an entertainment landmark in this city," said Punchline talent buyer Molly Schminke to NBC Bay Area. "Our best days are yet to come."
WED/15 FILM WELCOME TO THE DOLLHOUSE Truly, one of the most apt portrayal of the lovely ugliness of teenag angst. Pay homage to Weiner-Dog, or fuck all the way off. 9:15pm, $15. Roxie Theater, SF. More info and tickets here.
WED/15 DANCE DALCROZE GESTURE MASTER CLASS Explore the dance form that looks to teach students how to emphasize their innate musicality in this class, taught by Miki Orihara and taking as its focus Seiko Takata's piece "Mother". 6-8pm, free with RSVP. Theatre of Yugen at NOHSpace, SF. More info here.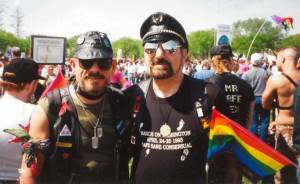 THU/16 VISUAL ART THE MAYOR OF FOLSOM STREET The life of Alan Selby a.k.a. Mr. S is explored through the Historical Society's vast multimedia archives. Learn about how SoMa's leather culture fleshed out its thriving community. Exhibit runs through September 30. Opening reception: 7-9pm, $5 with RSVP. GLBT Historical Society, SF. Tickets and more info here. 
THU/16 MUSIC BLACK STAR Those whipsawed by the winds of Blueface will have their hip hop sensibility soothed by the perennially powerful duo of yasiin bey and Talib Kweli, the most consistent examples we have of what makes rap the cutting social commentary it can be. 8pm, $49.50-69.50. Fox Theater, Oakl. Tickets and more info here. 
THU/16 & FRI/17 MUSIC UNDERCOVER TRIBUTE TO A TRIBE CALLED QUEST The fusion of hip hop and jazz has certainly happened elsewhere, but it has never been perfected to the degree of A Tribe Called Quest's 1993 album Midnight Marauders. On these two nights, a sizzling lineup of live acts pay homage through the four elements. 8:30pm, $39.50-49.50. Yerba Buena Center for the Arts, SF. Tickets and more info here.
THU/16-SUN/19 MUSIC LILA DOWNS Lila Downs is a Mexican legend, a folk singer who has firmly established the relevance of traditional sounds while employing them to make essential social commentary — her takedowns of Trump are legendary. Her residency at SFJazz is not to be missed. Various times, $30-95. SFJazz. Tickets and more info here. 
THU/16 DANCE RESONANCE III Women masters of Japanese dance phenomenon Yugen weave a complex tapestry of movement at tonight's show. 7pm, $25. Theatre of Yugen, SF. Get 20 percent of your ticket price with discount code: PROMO25. Tickets and more info here.
FRI/17-SUN/19 MUSIC + FOOD OAKLAND GREEK FESTIVAL Surely, the most perfect place to grab a souvlaki in the sun this weekend, all the while enjoying the music and dance of the Bay's thriving Greek community. 10am-11pm Friday, 11am-11pm Saturday; 11am-9pm Sunday, $6. Greek Orthodox Cathedral of the Ascension, Oakl. More info here.
FRI/17 MUSIC COMBO CHIMBITA This effervescent quartet is reaping hight praise for new album Ahomale, which channels Afro Latinx sound tradition and in moments, searing feminine rage. With Almas Fronterizadas. 7:30-11:30, $12-15. Cafe du Nord, SF. Tickets and more info here. 
FRI/17 PARTY LINDSTRØM This Norwegian DJ and producer employs washes of disco and mood shifting chord change to create a sense of life in Oslo. Tonight he partners with the Push The Feeling crew, TÂCHES, and CAMDAZE from BROUHAHA to catch the dancefloor vibe. 9pm, $25. Mezzanine, SF. Tickets and more info here.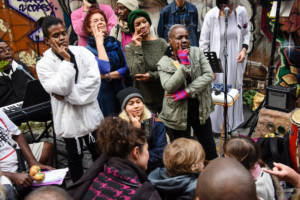 FRI/17-SUN/19 STAGE SKYWATCHERS FESTIVAL Now more than ever, it's essential to listen to the Tenderloin. At this year's edition of fest — which has been going strong since 2011 — residents of the neighborhood put together the featured performance "We Came Here to Live" in order to explore what it means for them to have "A Seat at the Table", which serves as the festival's 2019 theme. Various performance times. Kelly Cullen Community Center, SF. Registration and more info here. 
FRI/17 PARTY BEZIER Honey Soundsystem's affiliate producer explores his Taiwanese roots and the language of what is lost and found at this special presentation/party. 10pm-4am. The Stud, SF. More info here.
SAT/18 STAGE #VERRY McVERRY Maureen McVerry presents her new solo cabaret show, accompanied by a live trio of musicians. A must for the musical theater lover in your life. Oasis 7pm, $20-40. Oasis, SF. Tickets and more info here.
SAT/18 PARTY ELETTRICA PARADISO An electroswing and swing-hop dance party for your Friday night? The bold will take a spin at this one night only appearance of the eclectic SwinGrowers, where the band will be accompanied by SF's own circus combo ZjitZjo. 9pm-2am, $20-25. Rickshaw Stop, SF. Tickets and more info here.
SAT/18 STAGE ROAST OF SISTER ROMA What about watching one of the city's favorite Sisters of Perpetual Indulgence get her ass handed to her in a friend-filled send up of Sister Roma's foibles (does she have them? Find out!) hosted by comedian Ross Matthews. 7-11pm, $30-100. Castro Theatre, SF. Tickets and more info here.
SUN/19 PARTY SUNSET SOUND SYSTEM You are promised floral arrangements, a delicious sunset, and a dance floor boat moment at this seductive sail. DJ sets by Galen, Solar, J-Bird, and Dixon and Trikk of the Innervisions crew, and an after party at Monarch. 5-11pm, $70-75. Pier 3, SF. Tickets and more info here.
SUN/19 PARTY DISCO DADDY DJ Bus Station John takes you there with this special edition of his disco convivium. We're talking all '70s and '80s funks and R&B, all night long on the best patio in SoMa. 7pm-2am, $5-7. SF Eagle. More info here.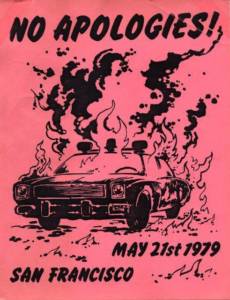 TUES/21 COMMUNITY WHITE NIGHT RALLY We've already spoken on the importance of this gathering (see introduction, above), but sending you a reminder to observe your town's important history of community rebellion. The next day after, the Castro links up again for Harvey's annual birthday block party. Meet at 5pm, free. Castro and Market Streets, SF. More info here.