It's fitting that as we come out of the COVID epidemic—OK, not really, but things are "opening up" nonetheless—this year's SF Jewish Film Festival commences with two among many tales of stubborn survival. 
The world's oldest and largest event of its kind, JFF's 41st edition signals San Francisco's emergence in relatively good shape from these last 18 months by kicking off with a couple days of in-person, "live" screenings at the historic Castro Theater. The rest of its program this year will be available for streaming through the festival's own Digital Screening Room, which can be accessed via tickets to individual shows, or passes that offer admission to all online content and conversations. (Note that select films may be geographically limited, available for streaming only within the Bay Area or the state of California.) 
The "In-Person Opening Night" this Sat/24 at the Castro is Persian Lessons, which bills itself as "inspired by true events," but was also partly drawn from a fictive short story. A Jewish prisoner (Argentine actor Nahuel Perez Biscayart from the French BPM) manages to escape a Nazi firing squad by crying "Not a Jew!!" and claiming to be Persian. Fortunately, the concentration camp commandant (Lars Eidinger) is looking for a Farsi speaker to teach him—his dream is to open a German restaurant in Teheran "after the war."
Thus the prisoner commences an elaborate, dangerous hoax of pretending to instruct a rather terrifying "student" in a language he only pretends to know, but in fact invents as he goes along. This is probably the first movie you'll have noticed from Ukrainian director Vadim Perelman since his breakthrough debut House of Sand and Fog nearly 20 years ago. Like that film, it's got a powerhouse premise and strong performances that ultimately pull through despite his somewhat ham-fisted, self-important style.
The streaming schedule starts two days earlier this Thurs/22 (running through Sun/Aug. 1) with "virtual opening night" selection Misha and the Wolves, another believe-it-or-not tale of WW2 survival. It tells the incredible story of one Misha Defoneseca, a Belgian whose parents were Resistance members killed by he Nazis. In 1997 she published a memoir portraying her subsequent flight as a child orphan, including living with a pack of wolves as a fugitive in the mountains. 
That Oprah-embraced tale proved "incredible" in more way than one, however: While parts of the author's story (such as her parents' fate) were true, others were complete fabrication. Sam Hobkinson's documentary probes the puzzle of how this grand con came to be, then how it unravelled, while pondering the extent to which it sprang from deliberate deception or pure delusion.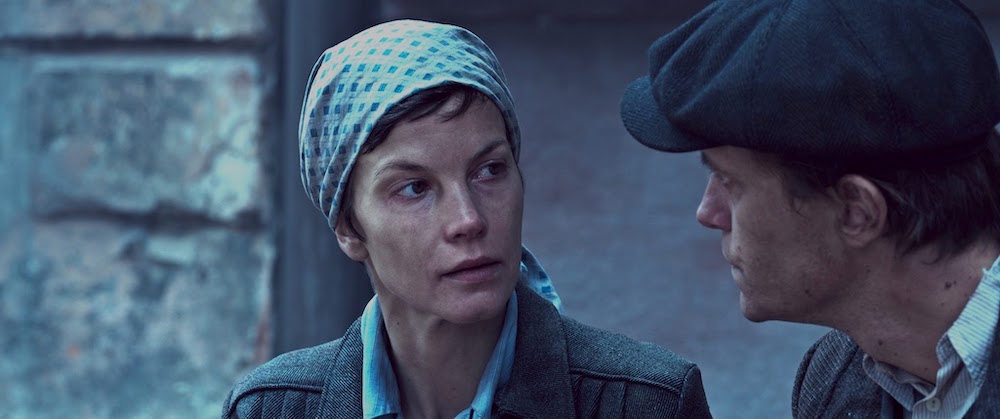 The festival's closing night film on Sun/1, Plan A, dramatizes a much lesser-publicized but apparently verifiable story from that era. Just after the war's end in 1945, some liberated Jewish survivors of the Holocaust sought to take bitter revenge on all Germany by poisoning its water supply. This period suspense tale is from the brothers Doron and Yoav Paz, who previously made the Israeli horror films Jeruzalem and The Golem. Appropriately, it stars August Diehl, who also appeared in Tarantino's revenge-against-the-Nazis fantasy Inglourious Basterds. 
The festival's Freedom of Expression Award this year is going to veteran Polish director Agnieszka Holland. Beginning as an assistant to greats Andrzej Wajda and Krzysztof Zanussi, forced into political exile for a while, her own directorial work has run a wide gamut. There have been European classics Angry Harvest and Europa, Europa as well as Hollywood projects (like literary adaptations The Secret Garden and Washington Square), not to mention acclaimed small-screen series including episodes of The Wire. 
Far from slowing down at age 72, she's done some of her best work in recent years, the last few months seeing belated US release of Spoor and Mr. Jones, both excellent. Alongside an online Q&A, the festival will show her latest movie Charlatan, which also opens at the Roxie this Fri/23. It's another potent fact-based tale, about famed Czech herbal healer Jan Mikolasek (played by Ivan Trojan), whose popularity, wealth, and unorthodox methods got him in trouble with Stalinist authorities—as did his purported closeted gay relationship with an assistant (Juraj Loj as Frantisek). 
The festival has a number of highlighted thematic categories this year. Among films focusing on the tribulations of teenage life are Darmir Lucacevic's punchy Wet Dog, in which a 15-year-old Iranian emigre moves with his family to multicultural Berlin 'hood Wedding, where his brashness and tagging insinuate him with local gang Wedding Tigers. Raised with no religious and little cultural identification, Solheil figures it's no big deal to let his new pals assume he's Muslim—though it gradually dawns that they will be very, very unhappy to discover he's Jewish. This boisterous tale, with its echoes of West Side Story, may strike some as melodramatically improbable, as well as a superficial YA treatment of complex issues. But it works—and it's based on a (real, non-debunked) autobiographical memoir. 
Several films put the spotlight on literature, including Asaf Galay's The Adventures of Saul Bellow. Its late subject was by many estimates the single most widely acclaimed novelist amongst a rich crop of post-WW2 American scribes. Yet he is less read now than some peers, and to this documentary's credit, it mixes admiration with critical inquiry into how that's come to pass. 
For all the brilliance of his insight and prose, Bellow's somewhat ivory-towerish white male perspective can now feel dated, so certain in its place at the center of the human universe. And despite acute awareness of personal marginalization as a Jew, he seldom extended that understanding to the struggles of other minorities. While not unusual within the context of the cultural times in which they were written, his misogynist and racial attitudes haven't aged well. (They were also somewhat bourn out in his life off the page, notably in five stormy marriages.) It's a fascinating, complicated legacy whose onscreen champions here include such fellow lit stars as Philip Roth and Salman Rushdie. 
There are also sidebars on LGBTQ+ films and local talent/themes. Both apply to Oscar winner Debra Chasnoff's Prognosis: Notes on Living, a "cancer diary" in which the beloved Bay Area documentarian chronicles her own terminal illness. Finished by co-director Kate Tilley Steiner, this posthumous video memoir is pretty unflinching and nakedly emotional, while at the same time preserving its subject's trademark sense of humor. 
There's much more in the 41st SFJFF, including A Kaddish for Bernie Madoff, an unlikely musical about "the largest financial crime in history;" a restoration of Edgar J. Ulmer's 1939 Yiddish cinema classic The Light Ahead, based on stories by Mendele Mocher Sforim, considered the predecessor to Sholem Aleichem; 200 Meters, a tense drama about a Palestinian father prevented by Israeli authorities from seeing his injured son on the other side of a West Bank border wall; Ed Asner as an elderly Holocaust survivor in indie drama Tiger Within; and epic six-part Swiss TV miniseries "Labyrinth of Peace."
The 41st San Francisco Jewish Film Festival runs online Thurs/22-Sun/Aug. 1, with live programs at the Castro Theatre Sat/24-Sun/25. For full program, schedule and ticketing information, go to www.sfjff.org.