Let's take a second to look at the news media coverage of District Attorney Chesa Boudin—particularly a recent long article in the Chron, entitled "Chesa Boudin and San Francisco's bitter debate over crime."
And then let's take a look at the actual data on crime in San Francisco, some of which was in Megan Cassidy's Chron story, some of which is easily available on the SFPD data website.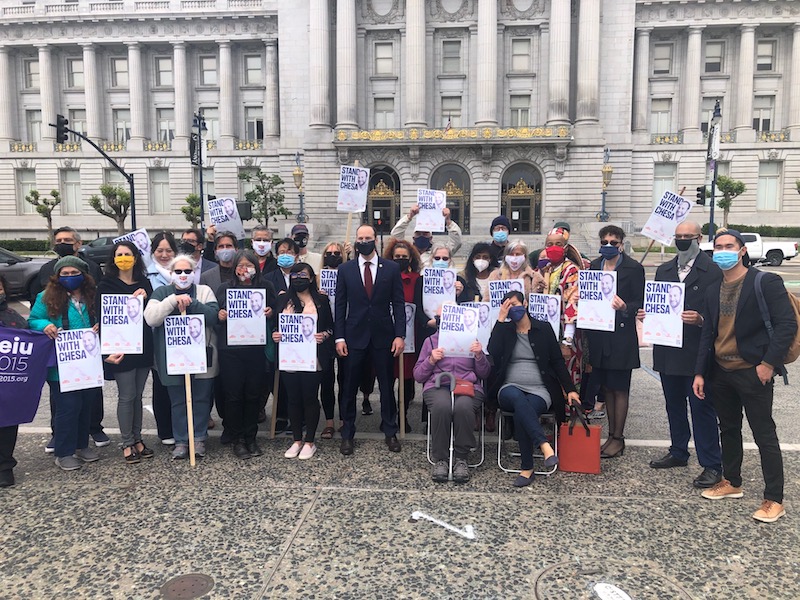 Let me start by saying: Cassidy did a good job of collecting information. It's not her fault that the editors framed the story all wrong and wrote a bad headline.
That said, the story fails a fundamental rule of journalism: In an effort to be balanced and tell "all sides of the story," it misses the facts that ought to be right at the top (most people won't read the whole thing).
Those facts:
Crime is not rising, much less soaring or out of control, since Boudin took office. Every single sensational case that the Chron and the TV stations has used to portray Boudin as soft on crime was actually not Boudin's fault. And the recall supporters can't dispute any of this—all they can say is that people "feel" unsafe, which is a Trumpian way of saying that facts and truth don't matter.
Plus: State Sen. Scott Wiener issues a statement that he "doesn't support the recall." But does he oppose it? Will he work against it? The Chron apparently didn't ask. Mayor London Breed hasn't taken a position—why not? She opposes the recall of Gov. Gavin Newsom on the grounds that he hasn't done anything to merit his early removal from office; why is Boudin different?
Then there's this:
While city voters have elected mostly progressive district attorneys for decades, Boudin, a former public defender, was elected in November 2019 as part of a wave of prosecutors in cities such as St. Louis and Philadelphia who more explicitly pledged to unwind tough-on-crime policies they said had filled prisons — disproportionately with people of color — but failed to make cities safer.
Excuse me, but which "progressive district attorneys" are we talking about? I have covered San Francisco politics since 1981 and I can tell you: Arlo Smith was by no means a progressive DA. Terence Hallinan was somewhat (but not always) a progressive DA. Kamala Harris was not at all a progressive DA. Neither, until he decided to move to LA, was George Gascon.
Here's the data that Cassidy compiled:
According to figures obtained by The Chronicle through public records requests, Boudin's office filed charges in about 46% of the cases brought by city police and other agencies during his first year in office. Prosecutors under Alameda County's more moderate district attorney, Nancy O'Malley, filed charges in 54% of cases in 2020.

This year, in contrast, Boudin's prosecutors had filed charges in 56% of cases as of mid-June — a rate slightly higher than predecessor George Gascón's in his last three years in San Francisco — while O'Malley's had filed charges in 45% of cases by late April, the most recent data available.
Let's be serious: The margin of charging between Boudin and O'Malley is negligible. During a global pandemic, when there were almost no courtrooms open for trials and everyone with any sense was trying hard to bring down jail populations, SF and Alameda County charged about the same percentage of cases.
Why is O'Malley not facing a recall?
More:
Sacramento County prosecutors under District Attorney Anne Marie Schubert, a vocal critic of Boudin, charged about 66% of cases in 2020 and 59% by the end of July this year, records show.
Those numbers are fine and accurately reported, but the story is missing the context. The first six months of this year, the right-wing Sacramento DA and the progressive SF prosecutor filed charges at almost exactly the same rate. (In numerical terms, 56 percent and 59 percent amount to an irrelevant margin of error).
From the Chron:
In San Francisco, charging decisions vary widely depending on the type of crime. In 2020, prosecutors filed charges in residential burglary, homicide and drug cases more than 70% of the time, while the figures for felony assault and domestic violence were 29% and 23%, respectively. Boudin's filing rate rose significantly from 2020 to 2021 in some crime categories — 59% to 79% in auto burglaries, 61% to 82% in commercial burglaries and 50% to 75% in sexual assaults.
Wait: Chesa Boudin is charging 25 percent MORE sexual assault cases—in a city where that's been a problem for years? Why is that not part of the lead of the story, instead of a tale that's been told over and over about an assault Boudin is entirely wrongly blamed for?
Now let's take a look at data that didn't make it into the Chron: The overall "clearance" rate of SFPD. Clearance means an arrest has been made in a case and the suspect has been charged and turned over to the court for prosecution. So "clearance" means the DA has filed charges.
In the past year, clearance rates are actually up—meaning that more arrests have been made and more cases charged.
But frankly, they are still abysmally low—not because Boudin isn't filing charges (the data shows otherwise) but because the cops aren't doing their job of fairly and fully investigating cases and presenting enough evidence for the DA's Office to act.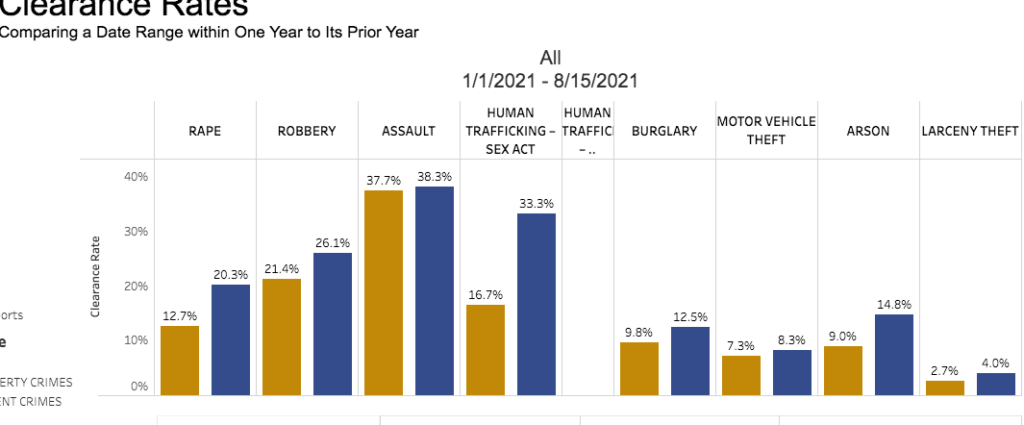 This is nothing new: My former Bay Guardian colleague A.C. Thompson did a series of stories back in the day on how SFPD was unable to close homicide cases.
Boudin can't file charges if there's not enough evidence to warrant it. That's the law: Prosecutors are bound not to charge cases that can't be taken to a jury.
Here's what the Chron reports:
An extensive review of the city's criminal data by The Chronicle and wide-ranging interviews with Boudin and his supporters and detractors found a multipronged crime debate playing out during a once-in-a-lifetime societal event and two sides bitterly divided, unable to agree on much of anything.
Actually, no. I will sum up:
Boudin isn't any more "soft on crime" than any of the other local district attorneys. He's done a significantly better job filing charges in sexual assault cases. The cops have been doing a terrible job closing cases. And none of the sensational news media reports that have fueled the recall furor are true.
If I were a Chron editor, that would have been the first paragraph in the story.
But no: The paper has to "tell both sides" even with both sides aren't presenting the truth.
Here's another missing fact: If Boudin is recalled, Breed gets to appoint his replacement. She strongly campaigned for Suzy Loftus against Boudin, and appointed Loftus to the job just weeks before the election to give her the air of incumbency.
But that's not the news we are hearing.