The continued success of Bernal Heights Outdoor Cinema (BHOC) is a testament to the power of collaboration.
Local denizens Leslie Lombre and Anne Batemale capitalized on their backgrounds in film and video production, promotion, and distribution, not to mention a Rolodex of area moviemakers, to cofound the longstanding indie film festival in 2004.
While the festival has expanded to include more volunteers, partners, inclusive films, and large-scale events than ever before, its founders' goals of celebrating neighborhood moviemakers and artists, bringing diverse audiences together at free and accessible film screenings, and activating under-utilized neighborhood spaces like parks remain.
For its emerald anniversary, BHOC 20 (kicking off Fri/8) promises three exciting nights under the stars, featuring a film crawl on Cortland Ave., an outdoor cinema presentation in Precita Park, and an evening of screenings and awards presentations, capped by an anniversary party at Brava Theater for Women in the Arts.
I spoke to BHOC's cofounders about this momentous milestone, the films they're most excited about this year, and their goals for the future.
48 HILLS How does it feel knowing that after 20 years, your festival is still going strong?
ANNE BATMALE It's gratifying, but we've been immersed in BHOC for so long that it's part of our lives. When we started, we weren't thinking of decades; we were focused on pulling it off. The neighborhood response kept us going, and somehow, each year, we find ourselves at the awards ceremony and marveling at the talent.
LESLIE LOMBRE It's wild realizing that we reached this milestone. A 20-year run was never on our minds. We were shooting for three years, then five, then seven—like marriage. Ha! We approached one year at a time, but the festival became a tradition rather quickly, and then we couldn't imagine not staging it because filmmakers continued to say, "Next year, I'll have this great film to submit."
48 HILLS How has the festival changed since its inception other than growing? And how has the neighborhood around it changed?
LESLIE LOMBRE The festival has experienced a certain amount of change based on our growth curve—acquiring more resources, accessing better technology, and establishing a track record. But the mission is still the same—building community through free film screenings around the Hill.

The neighborhood demographics changed with the city's economic and social environment, but the spirit remained. We're all still here in Bernal because of the sense of community and village-like commitment to each other.
ANNE BATMALE Our basic format has not changed. We invite filmmakers with a local connection to enter their films, and a selection panel reviews them. What has grown are our partnerships, and now we include entries from other film festivals in our programming. This year we will screen shorts from SF Black Film Festival, SF Queer Film Festival, and Cine+Mas Latino Film Festival. Other changes have been improvements in our equipment and production companies we work with.
Bernal is a vibrant community, and newcomers discover that it's truly a village. During COVID, so many neighbors did what they could to keep the spirit alive–Sunday porch music, street dancing, hanging sourdough starters on trees, and an online newspaper written by neighborhood kids. The neighborhood climate is one where we are all looking for the next thing to show up.
48 HILLS What's made Bernal Heights such a vibrant epicenter of filmmaking?
ANNE BATMALE Many artists, creative people, and social activists moved to Bernal in the '70s and '80s because it was a relatively affordable neighborhood, traditionally working class and ethnically diverse. Bernal Hill was dubbed "Red Hill," denoting the alleged political ideology of many residents. Today, Bernal Heights has undergone pretty substantial gentrification, and in 2004, when BH Outdoor Cinema began, we were on the cusp of the change wrought by the tech boom. Today, those filmmakers/artists who remain have been here a long time, and in some cases, their children are following in their footsteps.
48 HILLS How does watching a film outdoors change the experience for viewers?
LESLIE LOMBRE Seeing a film outdoors is magical and a beautiful thing! There's something unique about sitting together with friends or even strangers outdoors, under the stars, and watching a film. There's the dynamic of laughing, crying, sighing, and reacting as a shared experience that connects us and reminds us of our common humanity. There's also the feeling of awe, of being outdoors regardless of the weather, that underlines our sense of place, of Bernal, and how special it is to sit a couple of blocks from our houses, enjoying the views, the setting, and each other.
ANNE BATMALE It can be challenging showing films outdoors; weather plays a big role in our attendance and can severely impact the stability of the screening equipment. We've had a few technical problems brought on by the wind, causing our screens to buckle. Luckily, we've always found on-the-spot solutions, so the show went as scheduled. Being outdoors makes everything casual, and audiences and filmmakers are more forgiving of the sometimes glitches. There is this sense that "we're all in this together."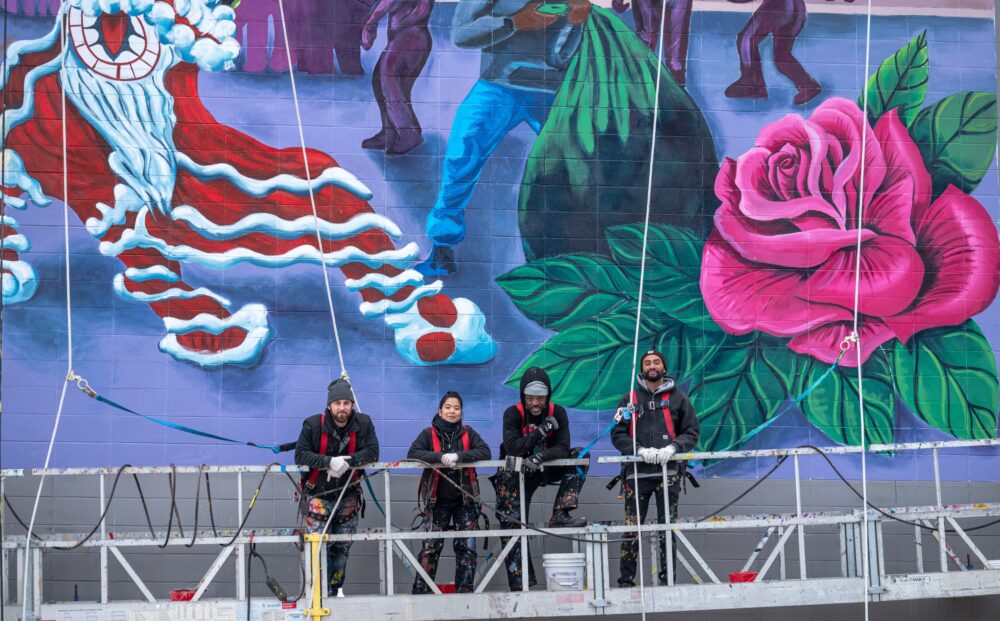 48 HILLS How have the films changed over the last two decades? Which are you most excited about this year?
ANNE BATMALE As technology has become more accessible and there are more film education programs in local schools, student submissions have greatly improved in production values, storytelling, and diverse genres.
LESLIE LOMBRE Over the years, we've noticed that our submissions always speak to an underlying sense of our current concerns and troubles. Recently, films have spoken to environmental justice, gentrification, houselessness, mental health, gender, and racial stereotypes.
This year, we've had exceptional animation coming from emerging filmmakers. Our "Bernal Bright Star" award winner, Joss Lotuses to Grandma, is a beautifully animated short touching upon immigration, acculturation, and loss. I'm thrilled that the Eyes Up: A Mural for the Tenderloin documentary won the "Best of Bernal" award. It's a gorgeous doc that not only profiles our neighbor, Precita Eyes Muralists, and their work but also illustrates our connection to the Tenderloin and our mutual relationship.
48 HILLS What distinguishes your audience from crowds at other local film festivals?
ANNE BATMALE Well… there's a huge turnout from Bernal, and they love coming out. Filmgoers attending the Film Crawl and Under the Stars often run into friends, creating a convivial atmosphere. We're much like any of the events in SF's local parks and venues; it's relaxed and family-friendly—and the audience knows what to do if the weather turns!

LESLIE LOMBRE Our audience is hyperlocal, so everyone has an unspoken bond and investment in seeing their Bernal heroes on screen. "Heroes" can be people, places, or touchpoints to our neighborhood's history or culture. In the past, our heroes have been artists, coyotes, owls, rocks, and storefronts. Essentially, we get excited about seeing ourselves on the big screen. The bottom line is that our audience is filled with film lovers and oftentimes, narcissistic film lovers.
48 HILLS Will you keep this festival going indefinitely? What are your goals for future years?
LESLIE LOMBRE I hope the festival continues and grows long after Anne and I make our exit. We've been very intentional about trying to bring folks along who can carry on the tradition. The festival is based on interdependent relationships with neighborhood individuals, businesses, and organizations, so we've spread the knowledge around and ensured that folks know their roles and the processes. In the end, I hope neighbors will carry on the tradition of gathering and encouraging our artistic talent regardless of whatever form it takes.
BERNAL HEIGHTS OUTDOOR CINEMA runs through Sep. 14. For tickets and more info, go here.