It's the fall season in Northern California, where eggplants and heirloom tomatoes with unique character start to grow. Kezar Pub, located across from Golden Gate Park, is busy from morning until morning, showing NCAA and NFL football games.
Yoga classes empty out and their attendees shuttle past the bar with its TVs, in front of which sit fans booing the Raiders and cheering on the Niners.
The McDonald's on Haight has been gone for a while, but there is still that one guy trying to sell you some weed. Keep the faith alive, brother. God bless the fall in San Francisco.
Entering The Mission on Sunday afternoons can be more treacherous than certain stretches of I-5. Asymmetrical haircuts, MTV t-shirts, tech bros in puffy jackets riding one-wheel skateboards, and lines down the street for a damn burrito.
If you hit up a bar in this neighborhood for a 10am NFL kickoff, be prepared for cool-ass hipsters shouting "sportsball" during every touchdown celebration. Pssst. Listen closely. You can catch the fear in the returned Burners whispering their stories about how "it got real out there" despite their $150,000 Winnebago.
It's the fall season, folks.
And … it's Under The Stars, babe. A quasi-weekly column that presents new music releases, upcoming shows, opinions, and a number of other adjacent items. We keep moving with the changes, thinking outside the margins.
Let's boogie.
DAVE AJU & THE INVISIBLE ART TRIO, "NEXT 2 YOU" (ELBOW GREASE)
Ambient, previously known as illbient, is the new Friday, the new 'fit or new version of that "cool" Black friend who STILL gets car alarms going off when he walks down the street in San Francisco, where Black Lives Matter signs are hung in each and every window.
Marinate on that.
Ambient reps for texting and not calling because society "doesn't want confrontation," but when left to automated situations, that is exactly where things get properly messed up. All because no one today wants anything to do with those oldster eggnog type habits right?
Dave Aju & The Invisible Art Trio are all about friction and release, with a punk-jazz approach to street techno and rude house. They delivered a sermon on the classic 2006 track "Be Like The Sun" and returned with "Look Out Above" to raise change for the building fund. According to Aju, this live jam-session-based composition started overseas over eight years ago, with raw-edged flavors and deep voodoo feels of the OG underground era. It has now been unearthed and blessed for pure dance floor detonation by his elusive LA-based musical squad.
Coming in dark and gritty from the Heirlooms era, the "Next 2 You" release features a nine-minute full dance floor version, a stripped dub, and (as with all Elbow Grease releases, the imprint started by the Bay-Area-raised and now-LA-based Aju aka Marc Barrite in honor of his late father Joe Barrite, a jazz musician, trumpeter, and owner of a little jazz speakeasy in Oakland during the '50s and '60s) the magical ambient version.
Sure, the first two tracks pack the verve, breaking all the rules with sub-bass density that you'd want for the 2am kick on a proper dance floor. But I'm sorry, it's that reprise, the ambient version, that's the cream. The stuff, the guts, the sweets and sweat, all the colors and keys of rain dribbling down. The jazz samples from Joe Barrite, and Aju chanting along over a David Axelrod flipped sample. Chills.
"Next 2 You" was noted as a favorite of our recently passed brother and friend Alland Byallo, founder of Kontrol here in SF. With that knowledge, there's a bit of heft to this track.
Elbow Grease for the win, again.
Pick it up here.
MNDSGN, SNAXXX (STONES THROW)
In what the musician Ringgo Ancheta, better known as beatmaker Mndsgn, calls "a collection of fun-sized treats best enjoyed with loved ones," Snaxxx is the third installment of his series called "looser in form than an album but more substantial than a beat tape."
While it may seem like a mere holdover until a new album is ready, Snaxxx sees Ancheta performing magic. In 2019, Snaxx (with two x's) hit like with its combination of deep hip-hop record-digging prowess and experimental soundscapes. It was auditory comfort food that didn't even try to be cerebral, and feels psychedelic, ambient, and cosmic. Following his career-defining record Rare Pleasure from 2021, which features soft jazz, wavy library music, and a well-tended garden of warm grooves, Snaxxx has much to live up to—but Mndsgn has yet to disappoint.
Pre-order here.
THE YOUNG MUSICIANS CHORAL ORCHESTRA AND ELENA PINDERHUGHES AT 2151 FERRY POINT, SEPTEMBER 27
Did you know that some of the coolest jazz artists have come from the San Francisco Bay Area? We're talking about legends like Dave Brubeck, Vince Guaraldi, Bobby Hutcherson, and Tom Harrell. They've all left their mark on the music scene—and you should add composer and flutist Elena Pinderhughes to that list. The singer and musician, who transitioned from a child prodigy to an established adult musician, has worked with Herbie Hancock, Josh Groban, and Common, in addition to having performed at Carnegie Hall, the White House, and the Kennedy Center.
Her 10 years as a student at the East Bay's Young Musicians Choral Orchestra's academy honed her talent, and she will be returning to perform with current members and attendees of the academy's chorus in an only-in-Alameda show, with Pinderhughes coming off of a performance at the Monterey Jazz Festival on September 23.
See her and tomorrow's new jazz superstars from the Bay Area.
Grab tickets here.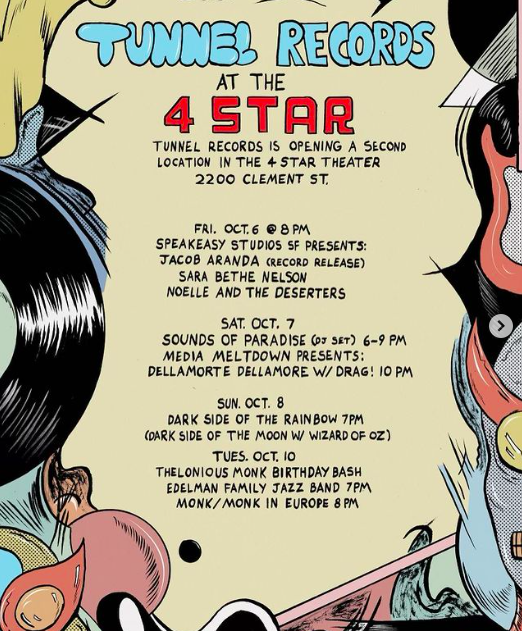 TUNNEL RECORDS AT FOUR STAR CINEMA, OCTOBER 6-10
How do you promote small businesses that help build community?
Collaborate and connect with others who share your values. Tunnel Records, a local vinyl shop founded in 2017, is located just two blocks from Ocean Beach and is run by the great-nephew of legendary jazz producer Orrin Keepnews. Google up that name, Keepnews is the founder of Riverside Milestone Records, legacy imprints for the genre. Tunnel's goal is to be the perfect neighborhood record store, and is expanding to a new location in a cinematic space.
Said space Four Star Cinema understands the importance of promoting local businesses, and has invited Tunnel Records to share its gallery at the 4star Theater. By controlling the vision and building alliances with like-minded individuals, Four Star is proactive in a community that supports itself.
To celebrate this momentous occasion, Tunnel Records and CinemaSF are hosting a week-long event featuring live music, a drag show, a Dark Side of The Rainbow Immersive experience, and a celebration of Thelonius Monk's birthday with live jazz from the Edelman Family Jazz Band.
This is how we rebuild San Francisco, from the inside out.
Take part.
More info here.