Indiscriminate murder and collective punishment, no matter the political cause to which it claims to be attached, is wrong, and no path to peace.
Israel's illegal and violent occupation of Palestinian territory, supported by the United States, has been wrong. The horrific attacks of Hamas that killed hundreds of people in Israel on October 7, which we have unfortunately seen celebrated by people we thought we knew better, were wrong. Now, the Israeli government's abhorrent ongoing bombing, displacement, and deprivation campaign of people in Gaza in response, backed by many Western powers, is wrong.
Restricting the freedom of movement and democratic self-determination of people solely due to their ethnicity is wrong. Anti-Semitism and racism is wrong. Religious fundamentalism is wrong. Perpetuating cruelty and oppression to benefit the military industrial complex and individual political power is wrong.
Whatever needs to happen for all people to live freely in the Middle East (and throughout the world, as all struggles are related), the actions we have seen and are seeing are not it, and only continue a cycle of violence and misery that profits the powerful.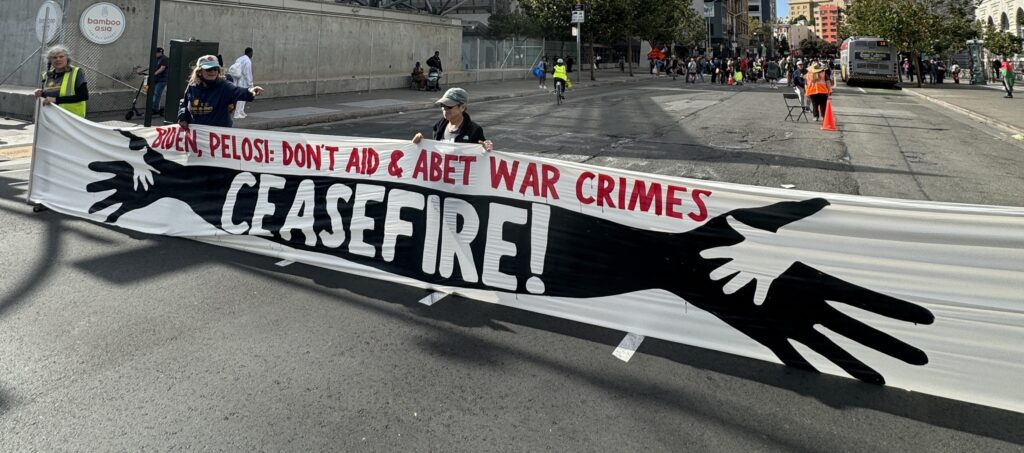 People in Palestine should be free, as should all people in Israel, and they should live free from fear and terror. We support the calls for an immediate ceasefire in the region and a peaceful solution, and are heartened by the thousands of people in the streets who are truly demonstrating for peace, justice, and freedom for all people.  
We are not experts on US foreign policy—we are still mourning the passing of our deeply experienced Foreign Correspondent columnist Reese Erlich, our longtime foreign correspondent, who died two years ago. He wrote repeatedly about the failures of the US in the Middle East. We have a feeling Reese, who was fearless, would be on the ground in Gaza right now, finding a way somehow to send dispatches to the world.
We know people who were directly affected by the Hamas terror attacks, and people whose families have had to flee their homes in Gaza. At least 23 journalists, our professional colleagues even if we don't know them, are dead in Gaza, the result of Israeli air strikes.
The recent facts in the ongoing history of oppression and violence in the region: Hamas, a fundamentalist, authoritarian organization that doesn't represent a majority of Palestinians (and hasn't allowed elections since 2016) committed an appalling attack, an incident that has been called Israel's 9/11. Now, the authoritarian right-wing Israeli government, whose prime minister needs the support of religious fundamentalists to stay in office (and maybe out of jail) is doing what George W. Bush did in response—and maybe far worse.
Our editor Tim Redmond was at the Bay Guardian on Sept. 11, 2001, when a terrorist group led by Saudi Arabians flew planes into the Twin Towers, killing 2,606 people and changing the United States forever.
At the time, it was barely known that Osama Bin Laden, scion of a wealthy Saudi construction family, was behind the attacks. We just knew it was a group called "Al Qaeda." Everyone was shocked and horrified. It was a Tuesday morning, and the paper was about to ship to the printer. He wrote a quick editorial, calling this a terrible crime against humanity.
A week later, our cover headline read: "Let's Not Start World War III." The US response under President George W. Bush was, we feared, going to make the situation worse. For a while, the US had the support of the world; hardly anyone sided with Al Qaeda or (despite misleading media reports) celebrated the mass murders.
But Bush insisted on going to war, bombing and then invading Afghanistan and then invading Iraq, which wasn't behind the 9/11 attacks. Afghanistan is now run by the brutal, fundamentalist Taliban. Iraq is a disaster, moving closer to Iran, which is run by a brutal fundamentalist regime.
The extreme racism in the US that was unleashed at that time was directly experienced by people of Arab descent, like our co-publisher Marke B. We joined the ACLU and the Asian Law Caucus in a suit demanding that the FBI release records of surveillance on Muslim communities, and what we learned was alarming.
Conservative conformity was overwhelming: The only member of Congress to vote against the invasion of Iraq, Rep. Barbara Lee of Oakland, was widely decried as "unpatriotic." Now, her brave stance is hailed as prophetic.
Speaking out about injustice is important—unfortunately, the mess that both social and corporate media (they are mostly now the same) have become has made it almost impossible to separate the facts from the fictions as things unfold, let alone find voices with a clear understanding of the history, context, and politics of the situation.
There was a time when we would have looked to Twitter for first-hand accounts of a war that has not been covered fully and accurately by major news media. Those days are over; Twitter has more fake news, AI-generated images, and active disinformation that anything resembling news from the ground.
So we turn to a source we have trusted for many years: Stephen Zunes, professor of politics at the University of San Francisco and one of the nation's leading scholars on Middle East policy. Zunes wrote for the Bay Guardian after 9/11, as we tried to sort out the facts and the political response. In retrospect, everything he said was right. We sent him an email asking for his thoughts:
There is a lot I could share about the ongoing tragedy unfolding in the Gaza Strip and the horrific terrorist attacks in Israel that preceded it. I am mourning the deaths of individuals I knew and greatly respected in both Israel and in Gaza—they were opponents of both the Israeli government and Hamas. I am also concerned about how this has set back rational discussion about the conflict, harmed the Palestinians' just struggle for freedom and equality, and will contribute to still further bloodshed.
You can read his piece in The Progressive here. His point:
The killing of more than 1,000 Israelis and internationals from rockets and direct attacks by Hamas is a staggering blow for Israel, a small country which has repeatedly been a victim of violent attacks throughout its history, but never anything close to this scale. Tragically, the civilian death toll in Israel will likely be only a small fraction of the civilian death toll of Palestinians in Gaza in the face of the ongoing Israeli assault on the crowded enclave, which has included bombings of residential buildings and refugee camps and will surely escalate in intensity.
Hamas, once again, has failed to recognize that killing civilians is not just morally reprehensible but politically counter-productive. They aren't like Israel and Saudi Arabia, which can kill thousands of civilians with impunity and still receive massive military and diplomatic support from the United States.
The terror inflicted upon Israel will only harden US and other Western support for the country and make it easier for supporters of its far-right government to depict the Palestinians as somehow collectively guilty of atrocities against Jewish people. It will also make it easier to rationalize Israel's ongoing denial of the Palestinian people's right to self-determination, as well as Israeli Prime Minister Benjamin Netanyahu's efforts to consolidate dictatorial power through control of the judiciary.
It is unlikely there will be a resumption of the massive pro-democracy demonstrations on the streets of Tel Aviv, which have been occurring weekly for most of this year, for the foreseeable future.
Terrorism is obviously wrong, regardless of the ideological orientation of those killed, but one of the tragic ironies of the Hamas attacks is that many of the victims were Israelis who lived in kibbutzim (rural communities) along the border and ravers at a music festival—people who tend to be leftwing opponents of Netabyahu's policies.
More:
Few believed that Hamas fighters could sweep into such a wide swath of Israeli territory. Israel certainly had the means to block the passage of Palestinians across the border. When thousands of unarmed Palestinians held demonstrations near the fence separating Gaza from Israel in 2018, Israeli forces opened fire—killing more than 150 protesters.
But at the time of [Hamas' attacks], the Gaza Division of the Israeli Defense Forces that was supposed to secure that border area had been dispatched to the West Bank to support illegal settlements. In total, thirty-one Israeli battalions were stationed in the occupied Palestinian territories rather than protecting Israelis inside Israel.
Zunes explains the role that the US played in empowering Hamas. If you want to listen to an in-depth discussion, here's a one-hour podcast. (If you want to understand the corrupt role Egypt is playing in US politics, he's written about that, too.)
More than 10,000 people have taken to the streets of San Francisco to oppose further bloodshed in Israel and Gaza. Some folks have responded badly; Both Jewish and Palestinian residents and their supporters have reported (legitimate and terrifying) fears of violence, even here in this liberal city. We urge upholding the San Francisco values of inclusion and love that have made us a model for the world in times like this.
Again, we don't claim to know the specifics of a long-term solution, but we know that oppression and violence must end, and war is not the way forward. Half of the people in Gaza, many of whom are already dead and many more who are likely to die soon, are under 18. Many of the Israeli soldiers who would be ordered to invade are not much older. Meanwhile, arms manufacturers' stocks have surged.
We can talk about war crimes—and we should—at some point. But for now, maybe we can all agree that it's time for people to stop killing each other, and to halt Israel's potential land invasion of Gaza. There's a petition here.