There was a time when Twitter was an important tool for journalists, particularly when we're trying to get on-the-ground info from places where it's difficult and dangerous to send reporters.
No more.
Since Elon Musk took over, Twitter, which he now calls X, has been taken over by right-wing trolls and false information. Now, with the war in the Middle East and the addition of AI-generated images, it's reached the point where you can't believe anything you read or see on that platform.
My advice: Don't even look at Twitter for news any more unless you are looking for examples of dangerous misinformation.
The fake news is coming to San Francisco, too. Yesterday, a site called BNN News, funded by tech entrepreneur Gurbaksh Chahal, announced with great fanfare that Sup. Dean Preston had resigned after "a controversy stirred by Elon Musk.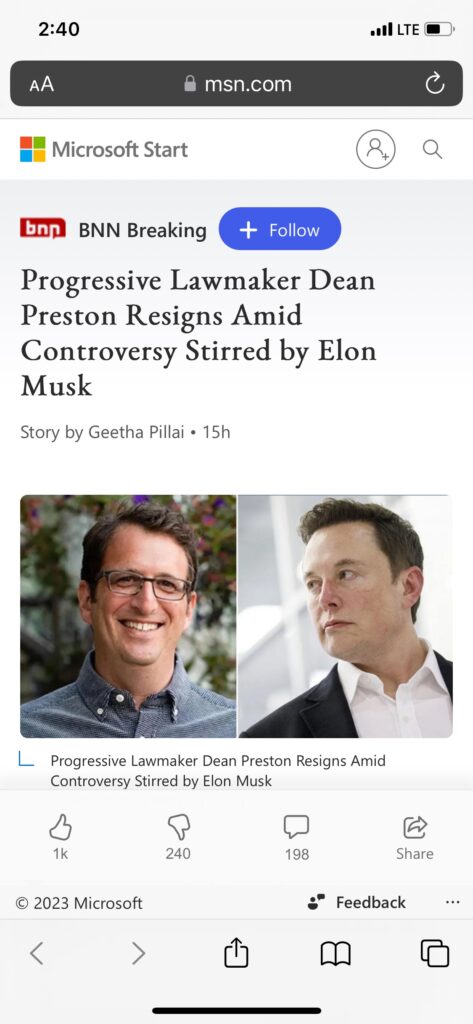 For background, here's what Bloomberg says about Chahal:
Gurbaksh Chahal, a prolific technology entrepreneur who allegedly attacked two women, represents "everything the public thinks is wrong with Silicon Valley.
The story was reposted on MSN, and while BNN corrected its original piece to say only that Preston had stopped using Twitter (and I don't blame him or anyone else taking that step).
The original story includes this:
Preston responded to Musk's tweet by calling him a "threat to democracy" and a "menace to society" …. He urged his followers to join him in leaving X and boycotting Musk's products.
Preston told me that he never called Musk a menace to society and never called for a boycott of his products. "They never interviewed me," he said.
For the record: Preston has not resigned and plans for run for re-election to his D5 seat.
The city is moving forward to settle a suit filed by the owners of a building at 442 Francisco Street who were denied a permit to convert the place to condos on the grounds that the speculator who bought it evicted seniors under the Ellis Act before selling it as tenancies in common.
The lawsuit claimed that the city violated the law by denying a lucrative condo-conversion permit to the owners since they weren't the ones who evicted the tenants:
Petitioner's application was the subject of a public hearing where members of the public complained about a prior owner having evicted tenants in 2004, eight years before any of the Petitioners purchased their units. Based on this "Scarlet Letter" forever condemning anyone associated with this building, the Planning Commission denied Petitioners application.
Actually, as tenant activist Mitchell Omerberg pointed out to the supes, the law is pretty clear: "When the Planning Commission has determined that evictions have happened to clear the building, a conversion permit shall be denied."
Yes: An Ellis Act eviction is, and ought to be, a Scarlet Letter.
Speculators have long sought to buy small apartment buildings in the city, particularly places with long-term tenants who are paying less than market rent. That make the price of the building relatively cheap.
Then the speculators use the Ellis Act to clear the tenants out, typically do a little cosmetic work, then flip the building to a group of buyers as TICs.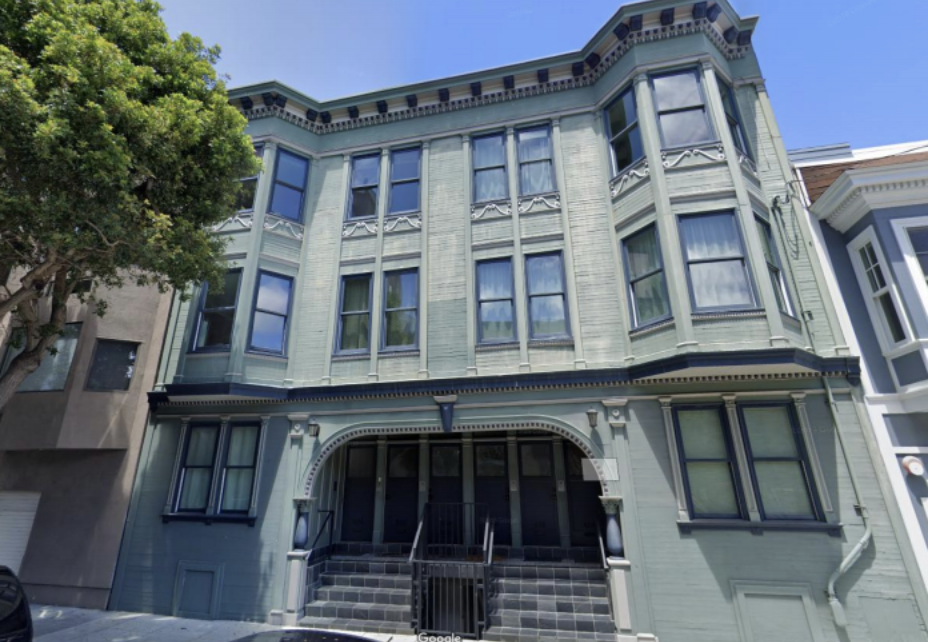 The building at 424 Francisco will still not be condos.
TICs are a form of ownership, but all the tenants own the property together, and nobody actually "owns" an individual apartment. So it's harder to sell those units and they aren't as expensive as condos.
But the city has made it very clear that while state law prevents local government from stopping these evictions, no building where an Ellis Eviction happened gets a conversion permit—even if the current owners didn't do the eviction.
A judge dismissed the case, but the owners appealed, and the city has apparently decided, based on Superior Court records, that it would be cheaper to in essence refund the applications fees these folks paid and be done with it than to fight any further.
But here's the key point: According to city records, the owners would get $130,000 and would drop their appeal—but they don't get the condo conversion permits.
So, if the supes approve the settlement, which comes before the Government Audit and Oversight Committee Thursday/19, it will continue to send the clear message: If you want a condo conversion permit, don't buy a building where there has ever been an Ellis Act eviction.
If you do an Ellis Act eviction, don't expect that you can later sell the building as condos.
GAO will also be looking at the ongoing issue of the city's taxi system and Uber.
The SFMTA has instituted a pilot project to allow taxis to offer riders what the so-called Transportation Network Companies offer: Up-front fares that are not controlled by a meter.
But the project also allows Uber to route requests to taxi drivers, who will have to accept an up-front fare offer, which is connected to the Uber algorithm (which among other things doesn't take into account the time a driver is stuck in traffic).
Hansu Kim, who runs Flywheel, which has its own, pretty successful, app, supports the idea, telling me last year that "This is only going to benefit taxis and taxi drivers, and you are going to see more taxis come onto the streets."

The owner of Flywheel Taxi says the pilot program is good for drivers; some of the supes disagree.
The taxi drivers can refuse to accept the Uber fare if they want.
But Sups. Connie Chan and Hillary Ronen are urging the SFMTA to remove Uber from the pilot project:
The third-party dispatch system would give TNCs the unfair advantage to continue to drive customers away from regulated taxis, and further give TNCs the ability to eliminate publicly regulated and transparent meter fares for taxis booked through third-party applications; SFMTA's taxi meter rate setting process is a transparent, public process that leads to more predictable, stable meter rates that are often significantly more affordable to customers on average than those offered by TNCs; and SFMTA's Taxi Upfront Fare Pilot Program relinquishes SFMTA's charter-mandated authority to regulate taxi meter fares for all cab rides booked through third-party dispatch systems to TNCs, in particular to Uber and as a result, creates a monopoly.
It sounds like a complicated policy issue, and it is (particularly since the supes have, at this point, no authority over taxi regulation; that's entirely up to the SFMTA, which is controlled by appointees of the mayor).
But the Elephant in the Room is Uber.
This is a company that has as its foundational business plan the destruction of urban public transportation in the world. I'm not kidding; that's what Uber said to the Securities and Exchange Commission when it went public:
We believe we can continue to grow the number of trips taken with our Ridesharing products and replace personal vehicle ownership and usage and public transportation one use case at a time, including through continued investment in our affordable Ridesharing options, such as Uber Bus and Express POOL.
It's a company that grew and prospered entirely by breaking the law. It's actions have deeply damaged the lives of cab drivers all over the country.
From the Chan-Ronen resolution:
Since TNCs first appeared in San Francisco, they have sought to undermine public transit and taxi service, and as a result, public transit and taxi drivers have struggled to compete; For over a decade, government agencies and leaders across California and the nation have attempted to regulate TNCs, who routinely violate data-sharing mandates and refuse to coordinate with transportation agencies and city government. The Planning Department study also concluded that TNCs shift people away from more sustainable modes of transportation including walking, bicycling, public transportation, and San Francisco is not fully prepared for existing and emerging transportation services like TNCs.
The supes aren't trying to end the pilot project, just to get Uber out of it. That hearing starts at 10am.
The mayor's housing bill, which still allows for the potential demolition of rent-controlled units without public notice and which even moderate Supervisor Rafael Mandelman said could lead to "a tsunami of speculative evictions," is back before the Land Use and Transportation Committee Monday/16.
Every tenant organization in the city opposes the measure. Many community and neighborhoods groups oppose it. The supes are going to have to make a lot of amendments, which we can expect to see at the meeting, before it's likely to have any hope at the full board.
But of course, we will also see the local news media take the Yimby line and say the supes are against housing if they don't approve it.
That hearing starts at 1:30pm.