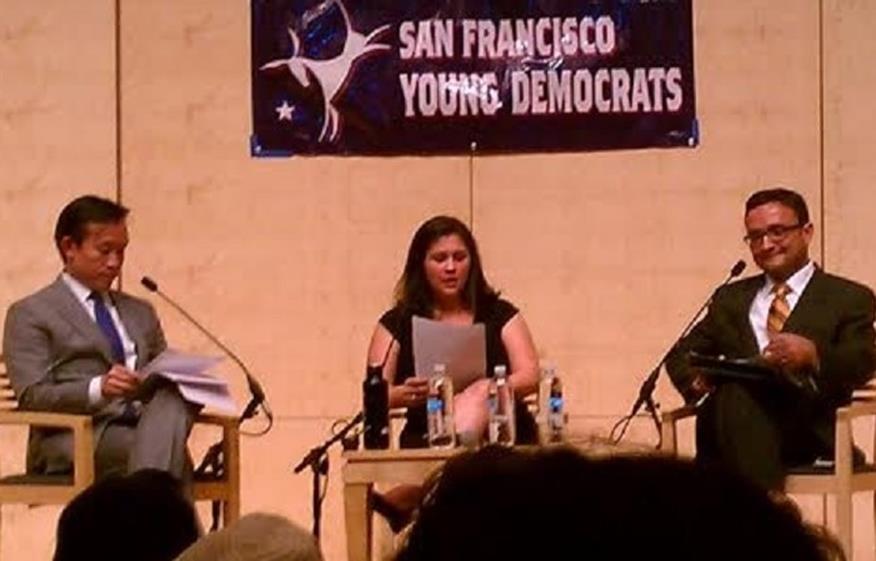 David Chiu is considered the front-runner in the 17th Assembly race, but he needs a big win to avoid looking like a loser

By Tim Redmond

The measure by Sup. David Campos that will increase relocation payments for tenants evicted under the Ellis Act will become law in less than a month – with no help from the mayor.
In an odd and somewhat unusual move, Mayor Ed Lee refused to sign the Campos legislation, returning it to the board without his signature. That means the law can still take effect; the mayor didn't veto it, and bills that he fails to sign become law anyway.
But it's a sign that the mayor didn't want to approve the measure – odd for someone who has openly sought to change the Ellis Act at the state level.
"I'm disappointed that the mayor didn't sign the measure, but I'm glad he didn't veto it," Campos told me. The measure had enough votes to override a veto, although that would have dragged out the process another few weeks.
Still: Why didn't Lee just sign the bill? Why not join Campos in celebrating legislation that will help San Francisco tenants have a chance of staying in the city when they face Ellis evictions? The mayor held a big press event to support Mark Leno's statewide Ellis Act bill; why not so much as a signature on this one?
The nefarious would say that Lee is quietly supporting David Chiu for state Assembly and didn't want to give Campos a high-profile victory. The equally nefarious would say that Lee can now go to the landlord opponents of the Campos bill and say: Hey, it got nine votes at the Board, nothing I could do – but I didn't sign it.
I don't want to be nefarious. I just want to understand. I asked the mayor's press secretary, Christine Falvey, if she could explain, but (as is increasingly typical) she didn't answer my email.
The word from Samson Wong, who closely follows Asian community politics, is that Victor Hwang, who was put up to oust Angela Chan from the Police Commission, is being groomed to run for the District Three supervisorial seat now held by David Chiu. We all knew that Hwang was ambitious, and that the allies of Mayor Lee see him as someone with a political future. The idea is that, if Chiu wins the Assembly seat in November, the mayor could appoint Hwang to the seat. It doesn't matter if Hwang actually lives in the district; he would just have to move there 30 days before the appointment. And if Campos wins the seat, Hwang will be the Lee Coalition candidate when Chiu is termed out.
But there are a lot of people across the city who supported, and continue to support, Chan – and Hwang will have to do a lot of work explaining to the voters why he was part of a pretty sleazy move to get rid of an excellent commissioner who had the nerve to be independent.
Eileen Hansen, former SF Ethics Commission member, has filed a complaint with the state's political watchdog over nasty flyers appearing (illegally) on utility poles attacking Campos.
You can't put political signs on city property or utility poles any more. And there is nothing on any of the posters identifying the person responsible.
But Hansen suspects this is the doing of either the David Chiu campaign or a newly registered independent expenditure committee supporting Chiu. "The wide distribution, professional design, and overnight appearance in distant locations strongly suggest that these flyers have been produced and distributed by a funded political organization aligned with Assembly Candidate David Chiu."
The flyers appeared at the same time the IE, known as San Franciscans for Effective Government to Support David Chiu, filed paperwork with the state. The group is apparently run by Left Coast Communications, the political consulting firm of Enrique Pearce, who helped with the Run Ed Run campaign and is closely associated with allies of the mayor. (I say apparently because the phone number listed with the state filing is the same as the number of Pearce's firm. I left a message for Pearce to confirm, but haven't heard back.)
We all knew an IE was coming in this race, and it will no doubt be funded by the tech folks who support Mayor Ed Lee, and will be able to do nasty attacks on Campos without Chiu having to take the heat. By law, and IE has to be completely independent of a formal campaign, although in the last mayoral race, that line was awfully fuzzy.
So while Rose Pak is supporting Campos, other parts of the mayor's operation seem to be lining up behind Chiu.
The soon-to-be-coming blistering attacks suggest to me that the polls are tightening, that Campos has succeeded with his own criticisms of Chiu, and that the front-running status of the board president and former mayoral candidate, who started the race with far more name recognition and has raised a lot more money – is eroding.
Remember, this is a top-two primary, under the state's new system. That means Campos and Chiu will face each other twice – in June, when the turnout is going to be fairly low, and again in November, when turnout will be much higher. The June election favors Chiu; the electorate is going to be more moderate. So Campos doesn't need to come in first June 3; he just needs the tally to be close. If he's within, say, five points – it will be "win" for him, and he'll be looking at positive poll number, maybe even a lead, going into November.
Chiu, on the other hand, is seen as the front-runner, so he needs to finish well ahead –both to get a lead on the more difficult November race, when the polls will swing more toward Campos, and to lock up as much money as he can.
That's part of the challenge here: If one candidate finishes well ahead, the big interests that donate to Assembly races will want to go with the likely winner, and the other candidate will have more trouble raising funds for the November final.
You would think that, since this June election technically means nothing, the IE money would hold off until the fall. But the point spread now is more important than the winner.
So the fact that there's an IE starting this early, for the primary, suggests that Chiu's supporters see the race closer than they'd like. It's not going to be pretty over the next few weeks.
Here's what happens when the city just sits back and lets the "sharing economy" expand into hotels and taxis without controls, taxes, or regulations: Next, someone decides that there's money to be made selling public parking spaces.
Yes, there's an app for that – and if you squat on a space in say, the Mission, and put it out on your phone, someone will bid to pay you as much as $20 to give it up, so they can get closer to one of the fancy places on Valencia (where valet parking runs pretty close to that price anyway).
Except that these parking spaces belong to the city. You can't just seize and rent them out.
Or maybe you can. The city attorney is looking into it, but it seems pretty clear-cut to me.
Unless, like the Google buses, Airbnb, Lyft, and Uber, the mayor decides that his friends in tech can do anything they want anyway. Next: An app that lets me rent you a choice spot in Dolores Park on a sunny weekend. Start bidding.