Given the SFPOA's recent track record, you have to wonder if the backing of that group is really something to be proud of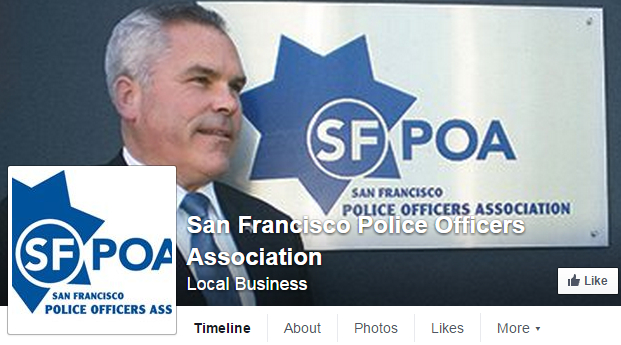 By Tim Redmond
MAY 7, 2015 — A couple of weeks ago, the campaign of Sup. Julie Christensen made a simple mistake. It was the kind of thing that happens pretty often – someone in the campaign office sent out word that the candidate had received an endorsement that hadn't actually happened.
Often that stems from simple confusion – a group's leadership may effectively promise the support, but it's not official until the entire board or membership votes. That's probably why Christensen celebrated the endorsement of the San Francisco Police Officers Association:
Volunteers on Supervisor Julie Christensen's November campaign received word via e-mail recently that she had received the powerful endorsement of the Police Officers Association in her fight against former Supervisor Aaron Peskin.

The problem? She hadn't. The cops haven't gone through their endorsement process yet, let alone named the winner.

"It was just an error," said campaign manager Maureen Erwin.
Of course, we all know what the outcome of that process will be – senior SFPOA officials were in the meeting the mayor called to demand that nobody endorse Peskin. So there's really no story here.
Except that it raises a question for me: Why, in May, 2015, would any candidate for office actually want the endorsement of the San Francisco Police Officers Association?
Let's go back over some of what the POA has done and said in the past few months, a time when the reputation of police officers all over the country has taken a huge hit.
Instead of acknowledging that there are too many unjustified police shootings, too much violence and racism, and a need for better training, the POA:
Strong-armed members of the Board of Supervisors to defeat a fairly mild resolution by Sup. John Avalos calling for more police accountability nationwide.
Is attacking the district attorney for supporting a statewide ballot measure that brought a tiny bit of sanity to the criminal justice system.
Perhaps most disturbingly, has chosen to use union resources to defend officers accused of involvement in the scandal over racist, sexist, and homophobic texts .
The union has a pretty significant legal-defense fund, and often hires lawyers for officers facing disciplinary charges. That's not surprising – most unions provide some sort of support for workers facing discipline. In fact, Marty Halloran, head of the POA, says that the union will "always defend a member accused of wrongdoing during the course and scope of his or her duties." But by what stretch are sending racist texts part of the "scope and course" of an officer's duties?
Not every police union defends every cop accused of every crime, particularly when the action is at best peripheral to the actual job (unless Halloran wants to argue that texts calling for "half-breed children" to be killed are job-related. I hope not).
Of course, the accused officers are entitled to an attorney. No matter what the crime, people in the US have the right to legal representation.
But the POA doesn't by law or policy have to pay for it. An officer who gets arrested for, say, drunk driving while off duty doesn't get a POA lawyer. This was a choice. And while the association has said that the texts don't represent the majority of the SFPD, and are "disgraceful and humiliating," it still apparently used the dues of hard-working cops to underwrite the legal defense of officers involved in the scandal.
Officers for Justice, a group of SF cops who are ethnic minorities, women, or LGBT, offered a pretty strong denunciation in March:
The Officers For Justice is outraged and disappointed that there are sworn members of the San Francisco Police Department engaging in these types of despicable racist activities and conversations. At this time we want all involved members of the San Francisco Police Department who are responsible for the texting publically identified, as it is an apparent officer safety issue for our members and citizens of San Francisco. The limited text messages we were provided identify association with the Ku Klux Klan/White Supremacy political ideology, egregious threats to "kill half breed children", derogatory references to minorities including Asians, Filipinos, Hispanics, African Americans, American Indians, LGBT, etc. in addition to references to women as "B—–s".
In fact, OFJ raised questions about officer safety (also, typically, a union issue), indicating that people who could send those sorts of messages might not be the ones you wanted as your partner in a tense situation if you, say, happened to be Black, or female.
The POA has raised no such concerns for its members.
Now the POA is attacking District Attorney George Gascon, who is putting together a task force to investigate corruption at the SFPD. Yeah, it's a bit amusing to have the DA announced he's investigating actions that happened while he was police chief.
But a lot of law-enforcement professionals say that the failure of local district attorneys to investigate and prosecute police misconduct is one of the reasons that it's so common. And Gascon argues that he needs to know if officers are involved in this sort of conduct before he puts them on the stand in a case where their credibility could be an issue. It would be a disgrace if Gascon wasn't investigating.
Much of the tirade was aimed at Gascon's support for Prop. 47, a modest step away from the three-strikes mentality that has overcrowded the state's prisons, cost the taxpayers billions, and left people convicted of nonviolent crimes serving absurdly long sentences.
Prop. 47 won 79 percent of the vote in San Francisco.
(In the course of that attack – it's on Page 5 of this PDF – former POA president Gary Delagnes says that Sheriff Ross Mirkarimi had called him to complain that "nobody was going to jail and the place was empty." It sounds as if Mirkarimi was denouncing the DA for not being tough enough on crime.
Mirkarimi, who has always supported alternatives to incarceration, told me today that the quote is "absurd" and that he never made such a statement.)
I called Halloran to ask him about all of this, and he hasn't called me back.
Around the country, the New York Times reports, police office associations are starting to lose their luster – and political clout.
Some wonder why that hasn't happened here: John Crew, former Police Practices Lawyer for the ACLU, told me that "the SFPOA's actual positions couldn't be more out step with San Francisco voters if they tried."
So again, the question is not why Christensen prematurely announced the POA endorsement. The question is why she wants it in the first place.