Supes approve anti-eviction package. This is why it's good to have incumbents face a challenge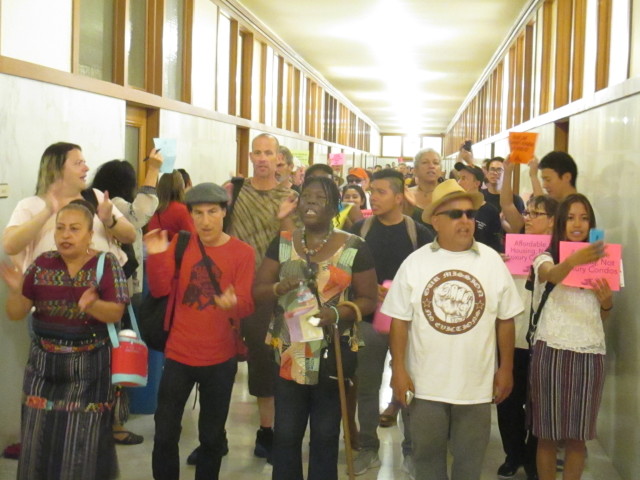 By Tim Redmond
SEPTEMBER 23, 2105 – San Francisco tenants won a big victory yesterday in a vote that is in part a reflection of a couple of upcoming elections.
I have always said I generally don't like unopposed incumbents; elections are when we get to hold our politicians accountable. And challenges, even the prospect of serious challenges, tend to make the folks at City Hall pay attention.
The issue was legislation that's been dubbed "Eviction Protections 2.0," a package by Sup. Jane Kim that would limit the ability of landlords to toss out tenants for minor lease violations that can be easily corrected and would allow renters to add roommates as long as they didn't exceed the legal occupancy of the unit.
It would also prevent landlords from using owner move-in evictions as a pretext for getting rid of tenants and then renting out the unit for a higher price.
Now: This isn't going to end gentrification in San Francisco. It's not going to stop all of the speculators who are constantly trying to find ways to get rid of lower-income people to feed their greed.
It's not the entire answer to SF's housing problems. Not by a long shot.
But as Sup. Eric Mar noted, "Just as software gets upgraded to add patches the fix problems," the city needs to fix the flaws that are allowing bogus evictions – more than 2,000 in the past year.
And the vote was a sign that the SF tenant movement is alive, powerful, and effective.
It wasn't clear at the start of the meeting that Kim had six votes for the entire bill. Sup. Scott Wiener moved to sever the part of the legislation allowing the addition of new roommates, saying that it limited the ability of a landlord to control how many people lived in a building.
Actually, it only limited that to the existing city codes, which state that a studio apartment can't have more than two residents, a one-bedroom can't have more than three, a two-bedroom can't have more than four, and so on.
In the early debate, Sup. Julie Christensen seemed to be leaning toward the landlord position – she complained that a building with ten two-bedroom apartments could go from 20 tenants to 40, and asked who would pay for the increased utility costs. (Landlords can petition the Rent Board for the right to pass those on to their tenants.)
"It's important to protect our existing housing," she said. "But we also have to incentivize small property owners."
Sup. David Campos had an impressive response. "It's remarkable that this board is worried about the number of people living in a unit," he noted, "but we didn't see a problem when landlords are making $10,000 a month or more by putting bunkbeds in apartments."
And, he pointed out, the people who complaint that tenants who bring in new roommates might be adding new residents to a building were singing a very different tune when it came to limiting property owners from renting out apartments to short-term tenants with Airbnb. "Where were you on the short-term tenant legislation?" he asked.
The board has not passed any rules that limit the number of people who can occupy an Airbnb rental.
"I think that shows the priorities of this board," he said.
Kim added that a long-term tenant brought in as a roommate would likely be a better neighbor than an Airbnb renter.
So it went to a vote, and when Sup. Norman Yee, who often votes with the progressives, joined Wiener, I was nervous.
But when Sup. Malia Cohen, who had voted for the entire package in committee, stuck to her position and voted Yes, the balance shifted – and in the end, both Sups. London Breed and Christensen voted in favor of Kim's bill, including the roommate provision.
So the measure passed 7-4. That's not enough to overcome a mayoral veto, but it's hard for me to imagine Mayor Ed Lee vetoing a key piece of tenant legislation.
UPDATE: The rest of the measure passed 11-0, which means all but the roommate provision is veto-proof.
Christensen represents a district with a lot of renters, and is facing a serious challenge from former Sup. Aaron Peskin, who has the support of the Tenants Union. Had she voted with Wiener and the landlords, it would have hurt her in the election, which starts in just a couple of weeks, when the absentee ballots go out.
Breed is facing a likely challenge from tenant advocate Dean Preston in 2016.
Thousands of tenants have marched on and occupied City Hall. Tenant groups have organized for months around this legislation. And they pulled off a major victory.