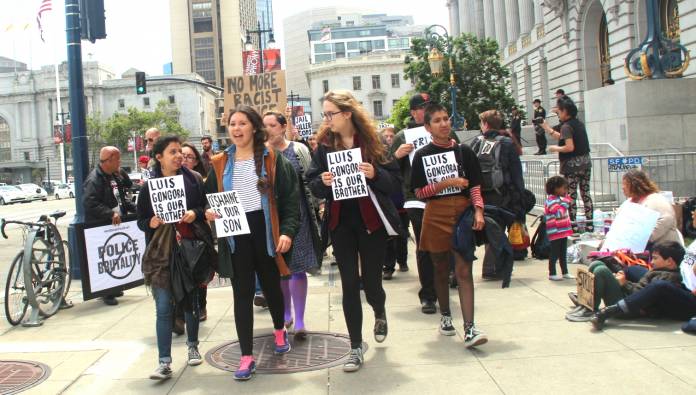 In their first appearance since they were taken to the hospital on Friday, May 6th, the Frisco 5 – except Maria Cristina Gutierrez – spoke to media and supporters outside Mission Police Station on Valencia. Scenes outside the station were jubilant as supporters greeted and hugged the four hungers strikers; Edwin Lindo, Ilych Sato, Ike Pinkston, and Sellassie Blackwell. The group announced a public meeting on Saturday at the Black and Brown Community Center.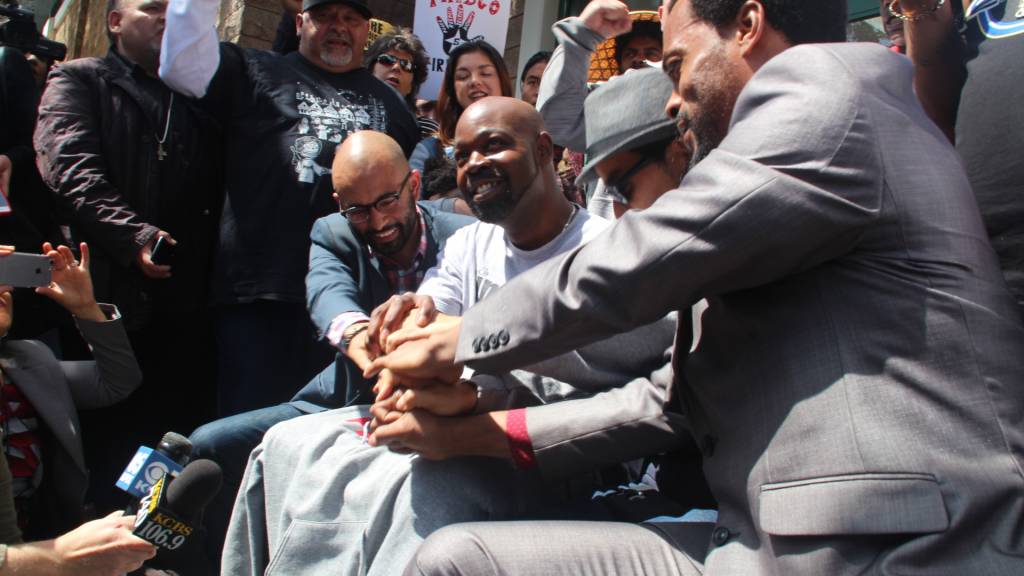 Lindo is a lawyer and candidate for supervisor for District 9, Sato – better known as Equipto– is a American rapper and producer, Pinkston is a preschool teacher at Compañeros del Barrio, Blackwell is a local rapper and artist and Gutierrez is a great grandmother and runs a preschool called Compañeros del Barrio. All five – more popularly known as Frisco 5 – were on a hunger strike for 17 days to demand Mayor Ed Lee fire San Francisco Police Chief Greg Suhr.
Gutierrez's absence was palpable. Ever since the hunger strike began, she emerged as the leader of the group as the four referred to her as "Mama Cristina." Her son Ilyach Sato, better known as Equipto, began by providing update on her health.
Visibly upset, Equipto spoke about Gutierrez's recovery. "My mother couldn't make it due to her health condition. She can't stand long at all," he said before sharing Cristina's anger and frustration towards Mayor Lee. "She can't believe that Ed Lee is still behind Chief Suhr, even after the Blue-Ribbon finding among other things."
Read our coverage: SF Police Department is a total godawful mess, panel concludes
On Wednesday, four supervisors Jane Kim, David Campos, John Avalos and Eric Mar publicly announced their distrust in Chief Suhr and demanded a national search for a new chief of police. Earlier on, when the Frisco 5 marched on City Hall on the 13th day of their hunger strike.
The Board of Supervisors had expressed that they had limited capability when it came to decisions regarding Chief Suhr. In fact, Board President London Breed told the crowd that the city attorney had advised her that the supes could make no statement on the matter. That's because the City Charter forbids supervisors from "interfering" in the operations of city departments.
However, Matt Dorsey, spokesperson for City Attorney Dennis Herrera, told us yesterday that the advice initially given to Breed was "out of an abundance of caution" that statements about the chief were starting to get into that area.
But after further review, he said, the office has decided that not only can the supes individually call for Suhr's resignation, but that it would be legal for the board to pass a resolution calling on the mayor to fire the chief.
Cristina said she felt that the supervisors acted really late and did not show immediate concern for their health."Our health paid the consequence for that," said Equipto.
The four of them have been slowly going back to a solid diet, after being released from the hospital. "It's tough to eat, it's not easy. You can't just go back to eating full meals" Blackwell remarked.
Pinkston is still struggling with dehydration and has been instructed to keep drinking water "It took them the third trip to the hospital to draw blood, so yes I am not too happy about that," he said. Pinkston shared his concerns regarding Supervisors Malia Cohen and Breed, both of whom have yet to comment on their stance regrading community demands for a new police chief.
Read our story:  One After Another Supervisors Jane Kim, David Campos, John Avalos, and Eric Mar call for Chief Suhr to quit
Pinkston recalled their march to City Hall and the mayor's inability to meet with them "We go in to the Board of Supervisors meeting, and I mean, no body has the mayor's phone number that's what they were telling us," he said expressing his disbelief. "You are trying to tell me there's nobody in City Hall with the mayor's phone number?" He said the support they've received from the community "has been surreal."
For some of the the supervisors, the blue-ribbon task force report was the last straw. However, only four of the 11 members of the board have publicly announced their distrust in Chief Suhr and asked for national search for a new police chief.
Read our coverage: SF Police Department is a total godawful mess, panel concludes
"We feel deeply that Chief Suhr will be fired or he will step down because there's a lot of pressure on him," said Blackwell who felt that the their hunger strike had helped pushed them community to take further action and he's hopeful. "The people will have the place at the table when it comes to the new police chief and reforms inside the police department," he said.
Lindo began by thanking the city and the community "Because the mayor and the police chief would have let us die in these streets and this corner."  Lindo then asked the community to cheer for students from San Francisco State University who volunteered and slept on the streets during the hunger strike to keep watch. Some of the students started a hunger strike of their own to protest possibly budget cuts of the Ethnic Studies department.
"I want to say that San Francisco is under a microscope and it can't move anywhere except towards justice," Lindo continued "When you are standing on the side of truth people will get in line." Lindo urged the Board of Supervisors to step up and demand for a new police chief "We need eleven board of supervisors to stand up and say that Chief Suhr is failing the city. It's not just the four police killings that were unjust, of Alex Nieto, Amilcar Perez Lopez, Luis Gongora & Mario Woods let's go back all the way to 1998 when Mark Garcia was killed by (then) Lt Greg Suhr out of the Mission Police Station"  he said
Lindo said he still gets nightmares from the his time at the encampment outside the police station. As they move towards regaining strength, the five are struggling with moving back to normal life. "It feels strange to sleep in a bed now" Pinkston said.
So what's in for the future? "We will continue to fight, we were led by a strong powerful mother that is the mother of San Francisco Mama Gutierrez. She's given us the power and the force to continue on," Lindo said. He said that this was a community driven effort with no leaders settings commands and actions, and the four of them reiterated that they will join community efforts to put an end to police impunity. Lindo continued  "So if you are all ready to win we are ready to walk and we will win"