Sup. Malia Cohen, unexpectedly and at the last moments of yesterday's Board of Supes meeting, announced that she wanted to delay consideration of a measure to put the city on record opposing AB 943, the insidious measure aimed to limiting voter initiatives that challenge development.
That could slow down or derail city opposition to a bill that tenant advocates say is a serious threat to rent control.
The resolution, by Sup. Aaron Peskin, was on the agenda at the very end of the meeting, along with two other measures, one urging Wells Fargo to compensate employees fired for whistleblowing, and the other to accept the Planning Department's report on an interim zoning issue in the Mission.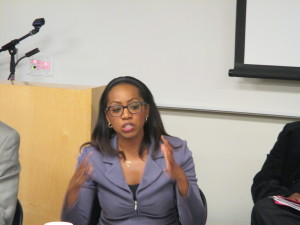 Board President London Breed asked the clerk, Angela Cavillo, to call all three measures together, and all three were adopted without opposition.
Then, as the supes were getting ready to leave, Cavillo began calling out the names of the people in whose memory the meeting would be adjourned – and before she could get to the end, Cohen interrupted.
"Excuse me for a moment," Cohen said, "but I was supposed to make a motion to send Item 59 to committee." Item 59, of course, was the Peskin resolution.
Under the board rules, and supervisor can demand that a resolution be sent to committee, and with a second by Ahsha Safai, that's what happened.
Sending the resolution to committee would slow down its adoption, and since the board goes on recess in a couple of weeks, might kill it altogether, since the state Senate could vote to approve the bill before the supes have a chance to weigh in.
But it's not over: Peskin just reintroduced his resolution, so the board will have to vote on it again next week.
AB 943 is, Peskin told me, "a profoundly undemocratic bill, and I am hopeful that my colleagues will join me in opposing it next week."
It's not clear where the mayor is on this. I spoke with him in the hall outside the Board meeting after Question Time, and he said he wasn't familiar with AB 943.
"I am in favor of removing obstacles to building housing, including affordable housing," he said. When I told him that the bill would apply to a wide range of development, everywhere in the city, he told me he would have to look into it.
Tenants Together, a state wide renter-advocacy organization, is raising the alarm that the bill could impact rent-control campaigns statewide. AB 943, the group says, "is a stunning attempt by the real estate industry to silence the voices of California voters. If passed, the California Apartment Association (CAA) would use this law to sue cities to stop new rent control laws."
More:
The bill would raise the threshold for certain local ballot measures relating to real estate development. Under AB 943, a ballot measure that "would reduce density or stop development or construction," would require a supermajority to pass – 55% of the vote – instead of the usual majority.

If passed, it's likely the CAA will file lawsuits to argue that rent control should take 55% of the vote to pass at the ballot, pursuing frivolous cases against cities who agree, like us, that rent control does not affect new construction.

We repeat: RENT CONTROL DOES NOT AFFECT NEW CONSTRUCTION OR STOP DEVELOPMENT. Still, the CAA argues all the time that it does, and nothing is in this bill now to stop the CAA from litigating against new rent control laws if this bill becomes law.
I have heard landlord groups argue for 30 years that rent control discourages developers from building housing (despite the fact that under state law, all new housing is exempt from rent control anyway).
But tenants have found that city councils and county boards are subservient to landlords, so many rent-control ordinances have been passed by the voters. And if the landlords have another tool to tie those up in court (and if they wind up getting a friendly set of judges), this could set back rent control in California for years.
It's astonishing to me that this bill is moving forward with so little news media attention. This could be one of the worst things to happen to the tenant movement in years. And Mayor Ed Lee told me he doesn't know anything about it, and Malia Cohen and Ahsha Safai are trying to derail efforts to oppose it.