SCREEN GRABS Summer may have (let's hope) arrived at last, but don't let that stop you from staying indoors—particularly as two of the city's most idiosyncratic and enjoyable film festivals commence their annual runs this weekend. At the Castro for a big five days is the SF Silent Film Fest, which seems to get larger as its art form recedes further into time. Running for over two weeks as of Thursday is SF Docfest, bringing its customary smorgasbord of screen nonfiction. Further intel on both is below.
Beyond those events and individual films detailed here, the week brings a few additional openings we'll skim over, notably some particularly dreck-y-looking mallflicks. (Johnny Knoxville in a theme-park-set comedy with "real" stoopid stunts a la Jackass? Thanks but we'll pass on that, in this lifetime at least.) 
Two of the more interesting new arrivals also happen to be nonfiction features. There's Kat Novack's The Gospel According to Andre about Andre Leon Talley, the sharecropper's grandson who rose to become one of the most influential fashion journalists ever, particularly in a long run at Vogue. And Jennifer Peedom's Mountain is a spectacularly shot if somewhat pretentious ode to the titular natural phenom that might turn out to be what you've always wanted in a movie, if the idea of a mashup between extreme-sports documentary and Koyaanisqatsi or Samsara floats your boat. (It kinda sinks ours.) 
SF DOCFEST
Never your sober, issue-oriented showcase for documentaries of the conventionally "worthy" PBS ilk, the 17th go-round for SF Indiefest's spinoff stays true to its fun-seeking spirit this year by opening and closing with movies about booze. The kickoff Brewmaster is Douglas Tirola's overview of the explosively growing U.S. craft-beer industry, while the finale two Thursdays later is Nick Kovacic's Agave: The Spirit of a Nation, exploring the Mexican roots of the titular plant and the ever-more-popular spirits (notably tequila and mezcal) it figures in the manufacture of. The festival's Vanguard Award this year goes to Penny Lane, who on June 2 will screen her new The Pain of Others—about a particularly distressing disease—and a couple earlier shorts, with an onstage Q&A. 
Work by local filmmakers includes "centerpiece" selection Rodents of Unusual Size, about an invasion of 20-pound "monstrous swamp rats" who've arrived in Louisiana from South America. Also Laurie Coyle's Adios Amor, which excavates the forgotten legacy of the first female migrant farmworker hired as a U.S. labor union representative; and Nick Taylor's The Organizer, chronicling the short but hugely influential history of ACORN, for a time the largest community advocacy organization in the nation. 
The over fifty features and shorts on tap will include as usual a number about environmental and social-justice topics, music, athletics, and much more. Among the most intriguing titles include world premiere Cubby, about a quest to discover what happened to the chimpanzee star of a 1960s Australian TV kidshow; Hillbilly, an analysis of a long-lasting American cultural stereotype; Sickies Making Films, which chronicles the history of U.S. movie censorship; This One's For the Ladies, profiling African-American men and women working in the exotic-dance field; and Roller Dreams, about the rise and fall of skate-dancing as a signature expression on the Venice Beach boardwalk. 
Plus, as ever, there will be Docfest-hosted parties and special programs, not all of them particularly connected to nonfiction cinema (but who cares), such as the "Yacht Rock Sing-Along Party," "'Clueless' Bingo" and returning "Bad Art Gallery." Thurs/31-Thurs/14, Roxie & other SF venues. More info here.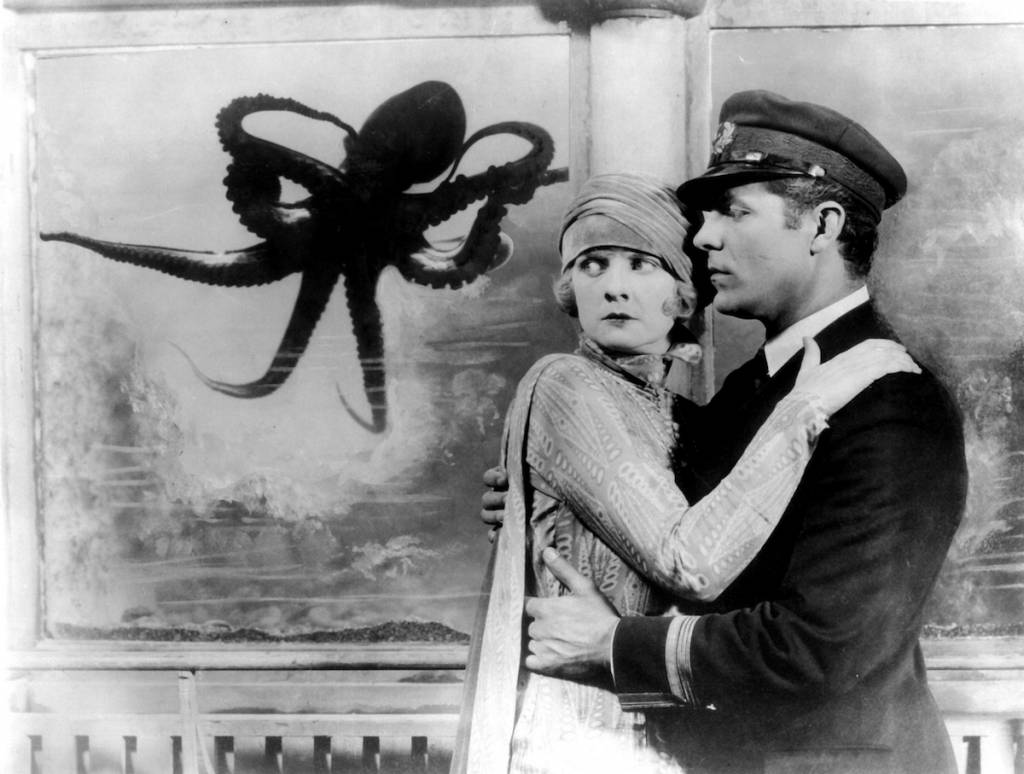 SF SILENT FILM FESTIVAL 
In its 22nd year, SFSFF—which started out as a single-day event—has expanded to five days, making for one very long "weekend" of cinematic silence (with live musical accompaniment, of course). 
It starts Wednesday night with Paul Leni's 1928 The Man Who Laughs, starring fellow German import Conrad Veidt—in a role originally intended for Lon Chaney—as Victor Hugo's grotesquely mutilated hero, who seeks vengeance against the aristocrats who ruined his life for political gain in 17th-century England. It was one of the last truly lavish Hollywood productions of the silent era, released when the "talkies" were already rendering such efforts obsolete. 
The closer on Sunday night is (what else but) a Buster Keaton comedy, albeit a lesser-remembered one from his peak period. Battling Butler, in which he plays a pampered rich lad forced to take on his prizefighting namesake's identity to "get the girl," was released just a couple months before The General, the 1926 Civil War slapstick epic widely acknowledged as Keaton's masterpiece. Yet at the time, it was perceived as an expensive critical and popular disappointment, while the modest Butler was a big hit. Go figure.
Elsewhere there's the usual rich Silent Fest array of pre-sound features from around the globe, including several just recently rediscovered and/or restored. Among them are peeks at such once-huge but now little-remembered luminaries as original cowboy hero Tom Mix (No Man's Gold), glamorous Constance Talmadge (Good References), Alice Terry (as a Mata Hari-like spy in Mare Nostrum) and Harry Carey (another Western star, enduring fish-out-of-water hijinks as a prairie sheriff traveling to San Francisco in Soft Shoes). You'll see early work by famous directors, notably Dane Carl Dreyer (Master of the House) and Japan's Ozu (An Inn in Tokyo). 
Garbo fans can experience her first significant screen role in The Saga of Gosta Berling, Mauritz Stiller's 1924 adaptation of the Swedish literary classic, while "America's Sweetheart" Mary Pickford is seen in an unfamiliar light in Ernst Lubitch's 1923 Rosita, where she breaks from her then-standard juvenile roles to play an adult (but still impish) Spanish peasant songstress. Those seeking less-artificial exotica might prefer films from Soviet Russia (Fragment of an Empire), India (A Throw of Dice) and Italy (Trappola, a boisterous vehicle for that nation's leading silent comedienne, Leda Gys). There will, of course, be live musical accompaniment in different forms for each program. Wed/30-Sun/3, Castro. More info here.
BERGMAN AT 100: A SUMMER INTERLUDE
His brand of brainy, angsty, grownup cinema might have gone out of popular fashion (though don't tell that to Paul Schrader, whose acclaimed current First Reformed is a rare modern arthouse hit about a crisis of faith), but the late Ingmar Bergman remains one of the giants of cinema. The Swedish master's birth centennial is being celebrated at the Pacific Film Archive with a substantial retrospective that pays particular attention to his first decade or so as a director. 
Included will be such acknowledged world classics as Wild Strawberries and Smiles of a Summer Night, but also much lesser-known but impressive titles like Prison, Dreams, Port of Call, To Joy, A Lesson in Love and All These Women—the latter his first color feature, and a rare comedy in what was becoming (by its release in 1964) an ever-increasingly weighty ouevre taken very seriously by weekend intellectuals around the globe. Thurs/1-Sun/July 15, PFA. More into here. 
EARLY MUSIC ON FILM
In conjunction with the biennial Berkeley Festival & Exhibition, a world-renowned celebration of music from the Medieval to the Baroque eras, the PFA is offering this sidebar of seven features whose subjects extend from those periods into the high Classical Music epoch. Among them are operas on film (Monteverdi's L'Orfeo, Handel's Facing Agrippina, the above-noted Bergman's beloved take on The Magic Flute); the recently-deceased Milos Forman's Oscar-winning version of Peter Schaffer's Amadeus, the popular biographical fiction about Mozart; and two visually intoxicating period pieces. The more famous one is Kubrick's 1975 Barry Lyndon, a mid-18th-century costume drama drenched in contemporary music, shown in a recent restoration. But equally arresting in its way is Sergei Paradjanov's 1968 pageant of Armenian history, The Color of Pomegranates, a heavily mythologized biography of the poet-monk Sayat Nova. Sat/2-Wed/13, PFA. More info here.
HOW TO TALK TO GIRLS AT PARTIES
This quasi-musical fantasy is based on a story by Neil Gaiman, which explains a lot. In 1977 London, most eyes are turned to the Royal Jubilee—but not those of Enn (Alex Sharp) and his friends Vic (A.J. Lewis) and John (Ethan Lawrence), young punk-scene aspirants whose only interest in "God Save the Queen" is as a Sex Pistols record. They stumble into a party that is avant-garde beyond their wildest dreams, not quite grasping that it is in fact a gathering for interplanetary tourists soaking up a little local color on Earth. Enn picques the curiosity of one such visitor, Zan (Elle Fanning), and she "goes native" to the distress of her fellow travelers. 
A grittier, artier Earth Girls Are Easy of sorts, this also hybridizes elements from each of John Cameron Mitchell's prior directorial features: Camp extravagance from Hedvig and the Angry Inch, sexual utopianism (minus the graphic stuff) from Shortbus, and Nicole Kidman (here as a Vivienne Westwood-type punk impresaria) from Rabbit Hole. Nothing if not eccentric, this singular whimsy is the kind of joint that at first encounter elicits a response somewhere between delight and "Huh?" If you see it now, you can claim discovery rights when it becomes a cult favorite in years to come. At area theaters. 
ANGELS WEAR WHITE
When two 12-year-old schoolgirls are taken to a provincial motel by an older man who apparently rapes them, only teenaged front-desk clerk Mia (Vicky Chen) can identify the perp. But since he seems to be a well-connected local politician, various forces conspire to discredit the testimony of both Mia and the girls themselves. Vivian Qu's award-winning Chinese feature is a quiet, unsettling drama that eschews any explicit lurid content in favor of underlining the aftermath of abuse—not just its impact on victims, but the way in which the power that corrupts also protects those inclined to illegal acts. Sexual assault and institutional cover-up: It's an equation that crosses all borders, as Americans ought to be well aware these days. Opens Friday, 4-Star Theatre. More info here.