As impeachment proceedings move forward, suggesting there might yet be room for truth in politics after all, the week's major new commercial arrival (apart from family fantasy sequel Jumanji: The Next Level and horror remake Black Christmas) apparently moves in the opposite direction.
We were unable to preview Clint Eastwood's 38th directorial feature, but advance word is that Richard Jewell—yet another in his recent run of fact-based, biographically focused dramas—is not among his better efforts.
Based on the story of the Georgia security guard who foiled a 1996 Summer Olympics bomb plot but wound up briefly accused of being its perpetrator, the film (which stars Sam Rockwell, Kathy Bates, Jon Hamm and Olivia Wilde as well as Paul Walter Hauser in the title role) is said to wander off into alt-right conspiracy theory-type discussions of the alleged "Deep State" and America's greatest villain, that Lying Liberal Media. (The most recent dust-up is is a fake relationship in the movie between a female reporter and her source, a lazy, sexist trope made doubly offensive by the fact that the reporter in question is no longer alive to defend herself.)
It's amazing that 89-year-old Clint is still churning out taxing, complex projects like this. But maybe it's time for him to take a well-deserved rest.
There's plenty of less biased reality and recent history in the week's smaller openings on Friday, particularly four new documentaries:
The Kingmaker
Another bewilderingly active octogenarian like Clint (well, actually, she turned 90 a few months ago), Imelda Marcos is the subject of this latest by Lauren Greenfield, who explored the lifestyles of the very, very rich in prior documentaries The Queen of Versailles and Generation Wealth. Here she has a peerless pioneer in the realm of personal extravagance, political skullduggery and faux-benevolence, one who  blazed a trail of sorts for our own current POTUS. Still kept spry by the same overwhelming ambition that's driven her whole life, the erstwhile First Lady of the Philippines continues to nonetheless sell herself as a simple soul and suffering benefactress who only wants to use "my spirit of mothering" to generate "world peace."
This starts out seeming like a sympathetic portrait—certainly Imelda herself thinks it is—but her own words soon begin weaving ample rope by which she hangs herself. The whoppers range from her claiming she was a very reluctant public figure whose dictator husband offered to quit politics to save her stress, to her saying other global tyrants must have simply been "misunderstood" because she got along with them. (She also says an enchanted Mao told her "In five minutes you have started the end of the Cold War.")
Naturally, she declines to acknowledge the reality of her regime's massive corruption, crackdown on free press, seized control of courts, dissolved Congress, arresting and torturing of critics, myriad executions, et al. She also cries about having been left "homeless and penniless" by attempted reclamations of stolen loot, even as she points out Picassos and Michelangelos hanging in one of her amply gold-gilded mansions.
What's most galling, perhaps, is that the Widow Marcos is indeed getting just what she wants: She and her brood are back in power under President Duterte, whose use of death squads to indiscriminately kill "undesirables" (mostly drug users and the miscellaneous poor) have naturally endeared him to President Trump. We used to laugh at Imelda (and her infamous shoe collection), but the last laugh may be hers. After all, bottomless sociopathic narcissism has turned out to be the winning personality trait of the 21st century so far. Embarcadero, Shattuck Cinemas, Albany Twin, Rafael Film Center. More info here. 
63 Up
A little faith in humanity is restored by this latest in Michael Apted's long-running series, which began in 1964 as an hour-long BBC documentary providing "a glimpse of Britain's future" through portraits of fourteen disparately situated 7-year-olds. Returning to catch up with his subjects every seven years, Apted saw the series become an international phenomenon with the release of 1984's 28 Up.
Having now passed through childhood, youth and middle-age, his protagonists are on the edge of retirement, many more settled and content in their lives than before, but inevitably dealing with the problems of an unstable world. If entrenched British class differences often seemed to dominate prior chapters, now the bigger issues (beyond health and mortality, of course) are those of skyrocketing costs vs. shrinking jobs/wages that are impacting nearly everyone save a profiteering global elite.
One subject has died since 56 Up, while a couple others have declined to participate. (The fame and not-always-sympathetic scrutiny the series brought them has always been problematic for many, though one suspects it's also responsible for the fact that several have made a sideline out of acting.) But 63 Up still offers the great pleasure of a reunion with de facto old friends, whom we're pleased to learn are mostly doing pretty well, life's major sources of turmoil (failed marriages, etc.) already behind them. It's also a pleasure just to witness their rapport with 78-year-old Apted, who stays off-camera but is welcomed as a valued if occasionally irksome lifelong pal. Opera Plaza, Shattuck Cinemas, Rafael Film Center. More info here
Midnight Family
In Mexico City the government operates just 45 ambulances for a city of nine million. Ergo, the vast majority of such services must be privately owned, and an "informal industry" has grown to meet that need. We discover just how informal it is in this rather hair-raising documentary by Luke Lorentzen. He profiles a few hectic nights in the life of the Ochoa family, who operate and staff one such private ambulance. The designated driver and natural leader among them is handsome Juan—who only just turned 17. He's capable, but still, you have to shudder a little at lives being in the hands of someone so young, and presumably little-trained. (One minus here is that we really don't find out just what level of certification or experience is required in what appears to be a wide-open field, if any.)
Midnight Children certainly has drama, what with such passengers taken on as a battering victim, a mother and daughter in an accident, a glue-sniffing father whose baby is unresponsive, and a young woman who's fallen four stories. It's also alarming that their fates are tied up with competing ambulances who practically drive each other off the road to reach a potential client first, and that our protagonists have to bargain for their fees on the spot with bloodied patients or their panicked loved ones.
"How can all this be legal?" you may often wonder. Well, the police often seem to be shaking down ambulance crews for bribes, so clearly no actual law enforcement is coming from that quarter. Complain as you will about the state of U.S. health care, you'll still be glad you aren't at the mercy of the system depicted here. Roxie. More info here. 
Making Waves: The Art of Cinematic Sound
Veteran sound editor Midge Costin's first directorial feature is a worthy appreciation of key filmic elements too often taken for granted, as their success frequently lies in going unnoticed—sound design is often simply absorbed into the total experience, in a way that flamboyant images or acting aren't. She provides a brief history of sound in the medium before focusing on a trio of stars in their field, Walter Murch, Ben Burtt and Gary Rydstrom.
Costin's own career in sound has largely been confined to major-studio projects, often of the bombastic-giant-popcorn-flick variety (like Armageddon and Con Air), so it's unsurprising if perhaps a little disappointing that Making Waves also gravitates almost exclusively towards the most high-profile Hollywood product. That includes yet another recap of how several "mavericks" (Lucas, Coppola, Spielberg) allegedly rewrote the rule book in the 1970s, with the inevitable clips from Star Wars, Apocalypse Now, and so forth. Likewise, more recent films spotlit are all the most conspicuous box-office or Oscar-winning success stories.
We do get fleeting consideration of some sound-innovating directors of the "golden age" period (like Welles and Hitchcock), a few technical insights, a glimpse at specialized jobs like the foley artist, and input from Barbra Streisand on how her 1976 A Star is Born trailblazed stereo sound in movies. But if you're looking for a lot of cineaste esoterica, this very mainstream-focused overview aimed at the casual fan is probably not for you. Roxie. More info here. 
Mickey and the Bear
Sneaking into town without much fanfare at this very cluttered time of the movie-calendar year is Annabelle Attanasio's first feature, a modest affair that is nonetheless one of the year's best American independent dramas. Mickey (Camila Morrone) is a small-town Montana teen who's just turned 18—a moment when anyone really begins thinking what form their future might take. But that is an especially fraught question for our motherless heroine, as she's housekeeper, babysitter and tether-to-reality for father Hank (James Badge Dale), a PTSD-afflicted Marines veteran who cannot hold a job, or a thought for that matter.
She's long been forced into the parental role, caring for an adult child who cannot be expected not to gulp down his month's supply of meds in one go, or pick yet another fight that lands him in jail. He's not a "bad" person, per se, even if he is a not mess. But it's clear by now that he's never going to get "better," and that Mickey's only chance of shaping her own future lies in abandoning him.
Comprised of telling small moments rather than big melodramatic ones, Mickey and the Bear is a familiar coming-of-age tale in gist, with no great stylistic or other innovations. But it always feels true, and arrives at its destination in a quietly satisfying way. If the film's virtues are primarily low-key ones, it nonetheless has a spectacular element in the performance by Dale, who makes his often childish and self-destructive bad dad a complex figure whose myriad flaws we want to forgive, if Hank would let us. Opera Plaza.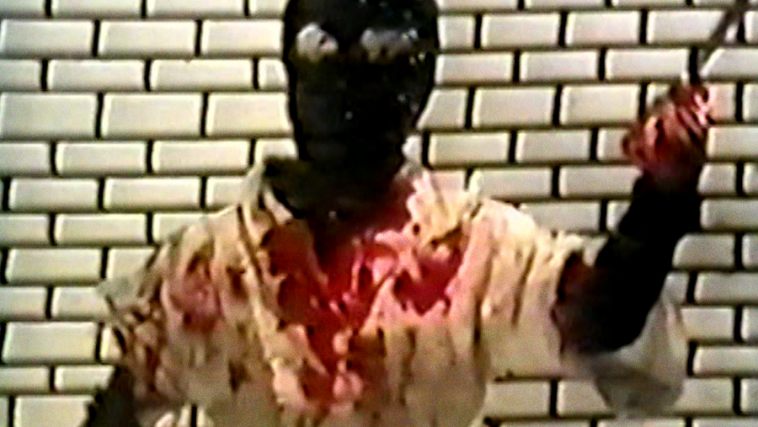 The Bloody Curse
Telling three separate horror tales from "The Book of Bloody Stories," this unique and ultra-obscure stop-motion animation feature was apparently made in the late 1980s by a German teenager using plastic action figures, toy cars and model sets. Its dialogue-free progress relates various incidents in the grim history of Gortswill Castle, a cursed place where residents, stray travelers, real estate agents and prospective buyers invariably meet a terrible end. Featuring ghouls, monsters, guillotines, many severed limbs, magic-markered intertitles, and elaborate orchestral scoring borrowed from other movies, Michael Kahlert's Super 8 splatterfest is an amateur wonder to hold along side the likes of Pink Narcissus, Todd Haynes' similarly doll-driven Superstar: The Karen Carpenter Story, and that Mississippi kids' restaging of Raiders of the Lost Ark. Sun/15, Alamo Drafthouse. More info here.