The name of this column, "Arts Forecast," has suddenly taken on an ominous tone in this moment of cancellations and uncertainty. While we are waiting to see what help is on the way to allow the arts community here to survive, the Bay Area is of course coming together in its wonderfully scruffy way to try to make things brighter.
There's a lot of bad news, but also a lot of good things being done, on a grand scale—like pushing for relief for arts workers in the community fundraising and political arena—to smaller things, like a neat project by fashion designer and nightlife promoter Saul Sugarman, sewing colorful masks to raise money for people in need. He's donating proceeds (more than $400 already!) to the SF Queer Nightlife Fund and masks to Let's Kick ASS, a group empowering long-term survivors of HIV and AIDS, and hosting a "Stitch and Bitch with Saul: Making a Face Mask" online tutorial event Thu/26, 5pm-8pm, free.
Sugarman's cloth masks won't protect you from COVID-19—social distancing should still be the priority—but if you are feeling ill, they can help filter the air, and help keep you from spreading the flu or a cold to someone else. (Remember to wash and disinfect often!) Yet his lovely masks are tapping into both a post-apocalyptic aesthetic that tempers cynicism with skill and humor, plus a DIY revival born of endless time cooped at home. (Designer Christian Siriano has also taken a turn toward mask-making.)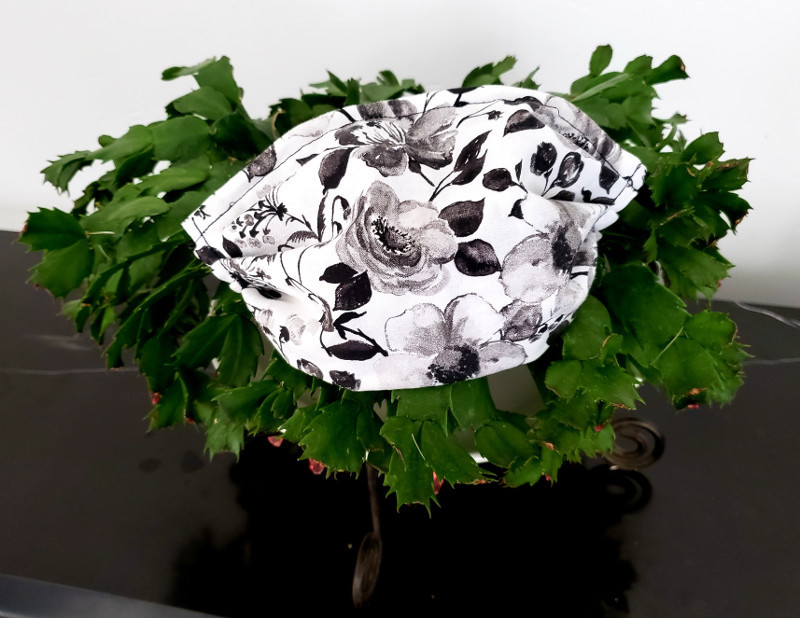 Pokemon, Harry Potter, sequins and more are all on Sugarman's mask menu. When I asked him about how he started, he not only cited Lady Gaga and JoAnn Fabrics (not a drag queen) as inspirations, but told me, "I'm embarrassed to admit it began as Instagram narcissism. In early February, before coronavirus spread in the US, I was reading about the issue and thought of these floral overalls I'd recently made. They were a gorgeous print, actually, that I initially bought for an apparel customer who went on the January Atlantis cruise. He wanted an upper body harness for their 'Mother Earth' party. Everyone loved it, so I had a couple yards laying around.
"In the fabric scraps I had left, I figured I would make a mask and then post: 'But make it gay.' A lot of my business is just that: posting fun things I wear that reach sufficient thresholds of amazing that people message me to purchase them. But I sat on running the post at all because I thought it was insensitive. Then COVID-19 affected all of us, and it felt like every day someone was thinking to themselves, 'Who do I know who sews masks? Oh, Saul.' And I'd get messages. I could have just sewn them for fun and to simply donate the masks, but I wanted to find a way to help a community that's close to my heart."
Thats' the gayest story ever, and also quite sweet. You can check out more of Saul's masks here.
——-MORE ARTS——
There are no upcoming arts events really except streaming ones, and renegade moments like impromptu  bagpipe concerts from decks and rooftops. The SF International Arts Festival just announced it's cancelling its fortnight-long May event, caring the loss of $200,000 to its artists and organization. They are offering full refunds on tickets, but if you'd like to donate the refund (or contribute) to its various artists, you can do so at the SFIAFF website here. The 149-year-old San Francisco Arts Institute has announced that huge changes are afoot after a deal to save it collapsed, sounding like it is going to close very soon, or undergo some kind of anime transformation where it "assumes a new form." In any case, workers are being laid off and the future is up in the air.
Live music institution Slim's has also announced it has closed: Things have been shaky there since both it and Great American Music Hall started outsourcing booking duties to concert behemoth Golden Voice in 2018, but now things have been exacerbated by COVID-19 fallout. Will there be any small venues left when we come out of this? You can help determine this: Here's a list of local venue, restaurant, and bar fundraisers—please contribute if you can!
Now some good stuff! Here is a Facebook group you can join called Art and Culture You Can Stream Online for Free that has already introduced me to endless delights, including a reading of all of Shakespeare's plays from the beginning by actors from all around the world (called, of course, the Show Must Go Online), Living Room Concerts from top Broadway stars, a virtual tour of the Palace of Versailles,    plus streaming local theater, music, drag shows, and more. The group was started by local author and bookstore owner Ken White.
Along with ACT and Berkeley Rep, queer Theatre Rhinoceros has announced an online streaming program for two of its plays, Radical and Scotus, and Marin Theater Company is selling tickets to its streaming production of Love. Speaking of radical, if you are in the mood for some inciting reading, Haymarket Books is offering a solid selection of free e-books from the likes of Angela Davis and Naomi Klein, and Verso Books is offering 40%-80% discounts on its equally radical e-titles. Want some jazz accompaniment? SFJAZZ is streaming Friday evening concerts.
On the visual art side of things, the great Creativity Explored is launching its first all video and digital exhibition on Thu/26, curated by Dena Beard, executive director of The Lab. And bright sketch comedy troupe SF Neo-Futurists are broadcasting their "World Wide Wrench" show every Friday.
Eventbrite is keeping a list of online classes and general events here, which contains some gems (bachata lessons, anyone?). Manny's in the Mission has gone totally online, and you can catch titllating political conversations plus big guests like food writer Michael Pollan from the couch. If you're looking for some queer local entertainment and company, the Facebook group Queer Quarantine Hangouts and Performances offers a dazzling array of fabulous moments.
Don't forget our continuing suggestions at 48 Hills! Film critic Dennis Harvey gives a great run-down of streaming options here and some movie recommendations here. Food writer Tamara Palmer tells you where to order some yummy and affordable dinners while helping the local food scene. And music critic John-Paul Shiver is full of good new (and classic) music recommendations. Plus, why not some great local podcasts about your neighbors?
Stay tuned and don a cute mask, more is on the way! Hang in there.