Social media political propaganda campaigns, sexual abuse accusations, invaded privacy—art certainly seems to be imitating life even more than usual amongst new streaming releases at present, and that's just in the dramatic offerings.
Nonfiction highlights this week include the return of the International Ocean Film Festival, whose 17th annual edition will be an entirely online affair running from July 30 to August 9. Its globe-spanning menu of shorts and features (including programs dedicated to sharks, surfing, sustainability, whales, and other topics) is all the more valuable in light of the sad recent news that another leading environmentalist cinema event has had to permanently shut down due to COVID-related funding hardships. After a decade's lifespan, the San Francisco Green Film Festival announced on July 16 that it is folding.
The Hater 
One of the best films of 2020 so far was Jan Komasa's Polish Corpus Christi, which opened locally just before the shutdown in March. But it premiered at festivals and played in several countries last year, even getting a Best International Feature Film Oscar nomination. (It lost that award to Parasite.) So Komasa already has a follow-up that's going directly to Netflix in the US this Wednesday. The Hater is a more uneven work, but it's still very strong. It could also hardly be more urgently topical in its dealing with how xenophobia, racism, smear campaigns, and extremist-right activity are all currently whipped up in large part by the propaganda pushed out by paid troll farms.
Tomasz (Maciej Musialowski) is a bright young man, but one sorely aware that he's without the societal or monetary keys to success, beyond the charitable patronage of the Krascukas, a wealthy Warsaw family that used to vacation in his home village. He's grateful for their help—yet also enough of a sneak to leave a bugging device behind after a dinner invitation, so he can hear what they say about him in his absence. He's in love with their beautiful party girl daughter Gabi (Vanessa Aleksander), even if she is waaaay out of his league.
When Tomasz is expelled from law school for plagiarizing, he doesn't tell her, or anyone else. Instead, he places his combined resentment, technological expertise, and disturbing amorality at the service of Beata (Agata Kulesza), a very 21st-century kind of entrepreneur: Her business is using the internet to disseminate disinformation, innuendo, and miscellaneous poison that can destroy everything from a cosmetics company to a political career. This job becomes intertwined with his obsessive love/hate towards the Krascukas until he's a virtual double agent, secretly working to drum up dangerous far-right hostility towards a liberal mayoral candidate (Maciej Kulesza) they support, while publicly volunteering on his campaign.
Scenarist Mateusz Pacewicz, who also wrote Corpus Christi, has devised an ambitious fable-cum-thriller that may remind you at times of The Social Network, Six Degrees of Separation, and finally Taxi Driver, among other things. It's not always entirely plausible, but as a portrait of sociopathy plugged into the worst of online culture, it needn't be to make some powerful points. Our protagonist has the blank, pasty face of a Jared Kushner, Stephen Miller, or Mark Zuckerberg, with the same bottomless void behind it—he is exactly the monster of the moment, no matter what showier ghouls get more attention.
Most likely people who don't believe they can be taken in by online propaganda are also people who don't watch much subtitled entertainment. But this is a movie they should see, as it packages the insights of numerous recent documentaries in engrossing suspense-drama form.
Retaliation 
Another antihero with a giant chip on his shoulder is Malky, the thirtysomething construction laborer played by Orlando Bloom in this UK drama, which has taken its time getting here (it premiered in 2017.) Malky is fit, handsome, gainfully employed, helpful to his rather cold elderly mother (Anne Reid), and has a great girlfriend in barmaid Emma (Janet Montgomery). But he keeps pushing the latter away, while refusing to admit the real cause for that, or for his trigger temper and sullen moods. We soon suss what's wrong with him, though: Malky was sexually abused as a child, by a priest whose old cathedral he's now helping to demolish. Any cathartic benefit he might get from that gig is lost, however, once he realizes his former molester is back in the area—and will preside over the new church his mum will no doubt faithfully attend.
English actor Bloom is best known from the Lord of the Rings and Pirates of the Caribbean franchises. On the basis of those and a few other high-profile assignments, he's seemed more a lucky actor than an especially talented one. But perhaps he's been wasted on glam action-hero roles. Here, he's a clenched fist of tension ready to flail out at any moment. Geoff Thompson's script gives him some long-take monologues, which directors the Shammasian Brothers shoot in closeup; the effect might seem stagey if the performer weren't so riveting.
Small in physical scale, Retaliation sometimes risks being overwhelmed by its thematic ambitions, particularly towards the end.  Still, it is strong meat, and even a lesser film would still be worth watching for Bloom's fully committed intensity.
The Rental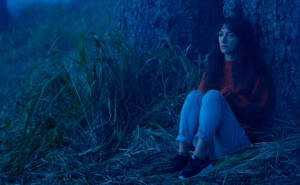 By contrast, this directing debut by Palo Alto native Dave Franco (yes, brother of James, with whom he acted in the latter's own best directorial effort The Disaster Artist) really has nothing on its mind beyond providing an escapist good time. It's a film that probably would have gotten relatively little attention in ordinary circumstances. Instead, lockdown weirdness has made it not only a major streaming release but also (on 250+ mostly drive-in screens) last Friday's biggest theatrical opening. Still, so many formulaic, mediocre-or-worse thrillers arrive every month, this modest enterprise's genuine skill and ingenuity merit appreciation.
Two West Coast couples make last-minute arrangements for a weekend getaway at a seaside house. Charlie (Dan Stevens) and Michelle (Alison Brie) are pleasant-enough yuppie types; Josh (Jeremy Allen White) is his screwup of a younger brother, whom they're rather amazed has acquired a new girlfriend (Sheila Vand as Mina) who's a "catch" and stabilizing influence. Things get off to a slightly sketchy start when they get the keys from a host (Toby Huss) who seems a bit reactionary, particularly towards Middle Eastern-heritage Mina. There are sibling-rivalry undercurrents, as well as one of bad-idea mutual attraction between workmates Charlie and Mina. These conflicts look like they might spark trouble—until it becomes clear that these people have something else much worse to worry about, something external and malevolent that has been spying on them since they arrived.
Franco and Joe Swanberg's clever script mixes mumblecore relationship messiness with well-developed thriller elements that gradually take The Rental close to horror territory—though this is not a supernatural tale, or even a straight-up slasher. Instead, it's a cauldron of self-absorption meets stalkerdom and surveillance technology, with most unfortunate results for the oblivious (until it's too late) guests. While there's nothing too gory or otherwise nasty here, Franco's adept direction does score some notably squirm-inducing moments. These aren't characters Hitchcock would have had much use for, but he would have approved of the film's confident suspense mechanics.
Helmut Newton: The Bad and the Beautiful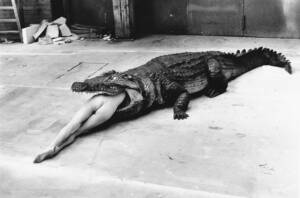 This documentary by Gero von Boehm pays tribute to the fellow expat German whose striking images revolutionized—and scandalized—fashion photography with their unprecedented levels of arty kink and menacing erotic suggestion. Newton's photos still have the power to shock, with something in his catalog sure to appall even the most jaded. (My personal least-fave is the infamous image of a model's legs sticking out of an alligator's mouth.) Though he died as a result of a traffic mishap 16 years ago at age 83, this documentary contains so much interview and behind-the-scenes footage, it feels as if he were a willing participant in its making.
Newton stirred understandable controversy and the ire of feminists (like Susan Sontag, heard politely but succinctly nailing why on a TV talk show) for images that seemed to fetishize objectification of and violence against the female body—even if his women also often struck dominating stances. His toying with disability, S&M, grotesquerie, bestiality, raw meat, and other taboos can still be hard to defend. At the start here, he makes a crass impression on a shoot, telling an entirely naked model "Now don't look poverty-stricken, look incredible!"
But gradually that impression turns around. Many of his camera subjects including Grace Jones, Claudia Schiffer, Charlotte Rampling and Isabella Rossellini (the most analytically insightful commentator here) say they actually felt empowered by their work for him. And while some critics equated his work with that of Nazi propagandist Leni Riefenstahl, who likewise celebrated imperious physical perfection, Newton's love/hate relationship towards similar aesthetic standards came from a very different place: He was a German Jew who barely escaped the concentration camps. (It's also notable that despite the playboy expectations raised by his work, wife June Browne was his sole private and most important professional collaborator for fifty-odd years.)
I still feel highly ambivalent about his work, but The Bad and the Beautiful gives it surprising context, while revealing its creator as a far nicer, good-humored man than one would have expected. It's available through local virtual cinemas including BAMPFA and Rafael Film Center.
Rad
And now for something completely stupid: A 1986 BMX bikesploitation epic from the director of Smokey and the Bandit that was universally trashed upon release, but since has gained a significant cult following. (By some estimates, it is the movie with the widest-ever disparity between critical and general-audience scoring.) Unavailable for years, Rad has finally been restored and re-released (On Demand and on Blu-ray) by Vinegar Syndrome. Is it a piece of laughable Roller Boogie-esque crap? Ohhhh yeah, at least in the realms of plot, dialogue and acting. On the other hand, are the biking stunts incredible? Ohhhh yes.
A famed stuntman and stunt coordinator, Hal Needham was not exactly a distinguished director, with an ouevre mostly consisting of lesser Burt Reynolds vehicles and increasingly under-radar Bandit sequels (including something from 1994 with the Dadaist title Bandit: Bandit Bandit). But he sure knew how to film stunts, handling the bicycle acrobatics here at least as majestically as he did car crashes elsewhere.
Rad is asinine in exactly the "Let's save Pop's farm by putting on a show!" way you'd expect, with terrible performances by slumming grownup actors including Jack Weston and Talia Shire, as well as much horrible '80s rock soundtracked. Adding further cheese value is female lead Lori Loughlin playing a teen (and clearly doing none of her own bike stunts) just two years before becoming America's Mom on Full House, albeit several decades before becoming America's Favorite College Bribery Scandal Felon Mom. She figures heavily in a school-dance sequence that is the camp highlight here. (Wait till you see the biker bad boys do their eurotrash new wave moves). Still, as idiotic as it often is, Rad ascends to eye-candy heaven whenever it simply captures some of the sport's then-best riders doing their thing, often in glorious slow-motion.