Incumbent State Sen. Scott Wiener tried to appeal to the left in his one debate with challenger Jackie Fielder Saturday, at times misrepresenting his record as he tried to fend off questions about his support for police and the real-estate industry.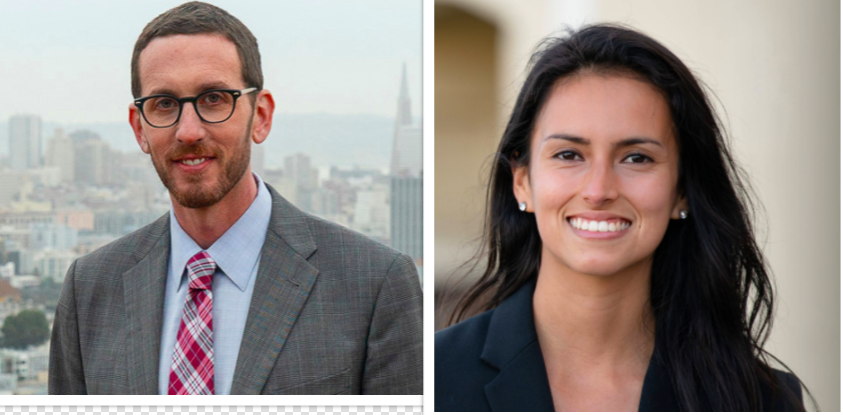 Fielder was the aggressor – as is normal for a challenger – in the virtual debate, hosted by Manny's with Manny Yekutiel moderating. But Wiener clearly was trying to cut off any concern from the progressive camp, although he has spent his political career as a pro-development, often pro-police, moderate.
Fielder repeatedly talked about the money Wiener has received from police unions – which are by far the biggest obstacle to reform – and from the real-estate industry. Wiener tried to respond by talking about the times he has taken on real-estate and law-enforcement interests.
Twice he used (a version of) the old line from Jesse Unruh, saying that if you can't vote against people who fund your campaigns, you don't belong in politics.
There's an important distinction here that often gets lost in these discussions. I don't believe that Scott Wiener is fundamentally corrupt and does the bidding of his campaign donors; that's not the way this works (most of the time). The important fact is that the real-estate industry – and these people are no fools – think Wiener is going to be better from them than his opponents. He will disagree with them sometimes, but they would much rather see him in office than Jane Kim (last time around) or Fielder (this time).
Wiener, for all his insistence that he has pushed legislation that the industry doesn't like – and he has – acknowledged the reality when he said that he is pushing for more housing construction, and "when housing is approved, the real-estate industry builds it, sells it, and rents it," and makes a lot of money.
Same for the cops. It doesn't matter that Wiener says he has supported police reform (and he has, recently, but not in the past); the police unions have always thought he's the better choice.
So back to the records and the issues.
Let us stipulate: The California state Senate is not a bastion of progressive thought. In many cases, it's even worse than the Assembly. In both houses, Democrats have control – but the real-estate industry, Big Pharma, the oil industry, and telecom have a tight hold on both parties. There are lots of conservative Democrats who won't accept even modest reforms. (A full 25 percent of the members of the two houses are landlords. Fielder noted that there is only one tenant in the Assembly, and there are none in the Senate.)
By those standards, Wiener can argue that he "holds down the progressive flank" of the state Legislature. He's not wrong. In a house controlled by conservatives, a moderate is part of the left.
Wiener has absolutely pushed some progressive bills, which he talked about. He has supported efforts to reform the way cops use lineups, he has helped fix the outdated, homophobic sex-offender registry, worked to end cash bail, and voted to decertify bad cops (this time around).
What's going on here is that the Democratic Party is moving to the left, particularly on law-enforcement, and Wiener is now joining that movement. But he wasn't always there.
And Wiener has always, always, believed – and I think sincerely – that the private market can solve the state's housing problems. As I have said to him and others repeatedly, that's not necessarily corrupt – it's just wrong.
Some examples: Wiener declined to support a police accountability measure sponsored by his predecessor and mentor, Mark Leno. Although Wiener talks now about redirecting police resources, five years ago he was calling for a major increase in the number of cops on the force.
Wiener in the past has taken some very harsh approaches to homeless people, moving to get rid of tents on the street right before the Super Bowl. He opposed Prop. C, which raised taxes on the biggest business to fund homeless program. He supported the sit-lie law, which has been a failure.
The housing bills that he talked about during the debate were opposed by all of the local affordable housing and tenant groups, because they would have led to more displacement. A majority of the Board of Supes has opposed his housing approach.
Wiener said during the debate that his SB 35 has streamlined affordable housing. But affordable housing advocates opposed it.
Wiener also said that the root cause of homelessness is a lack of affordable housing – and that the state needs 3.5 million more housing units.
But his approach is to make it easier for the private market to build that housing – and it's fundamentally flawed. Housing is financed these days by international speculative capital – and capital seeks the highest return. The minute that housing prices came down, the funding for private-sector construction would go away.
Wiener said that SB 35 "straight up changed the conversation on housing" in the state. "I break glass when it comes to housing," he said. "Donald Trump and Ben Carson attacked me because I want to build housing in the suburbs."
Fielder took a different tack, saying that her priority is "keeping people in their homes," and calling for the repeal of the Ellis Act and Costa-Hawkins.
Fielder's proposal is to build 300,000 affordable housing units with a two percent tax on billionaires. That's going to be a very, very difficult lift in the current state Senate.
But it was clear from the debate that Wiener sees at least some credible threat from his left. He has been buying TV ads and has stepped up his campaigning. This was the only debate he has agreed to, and he spent the entire time talking about his progressive credentials.
A poll released today by the Fielder campaign shows Wiener ahead 38-27, down from his 55-33 primary win. After negative messages about Wiener, the poll shows the race is about even. And surprisingly, about a third of the voters are undecided.
Hardly a vote of confidence for the incumbent.