San Francisco will be one of the first counties in California to start implementing a new program called CARE Court Oct. 1—and supes who both support and question the program want to hear an update on how the process is going.
CARE stands for Community Assistance, Recovery, and Empowerment, but what it amounts to is a process to compel people with serious mental illness into treatment, including forced medication.
The ACLU has very, very serious problems with the concept, which Gov. Gavin Newsom has pushed and promoted. Sup. Rafael Mandelman is the biggest proponent in San Francisco, and has called for a program of this type since he first took office.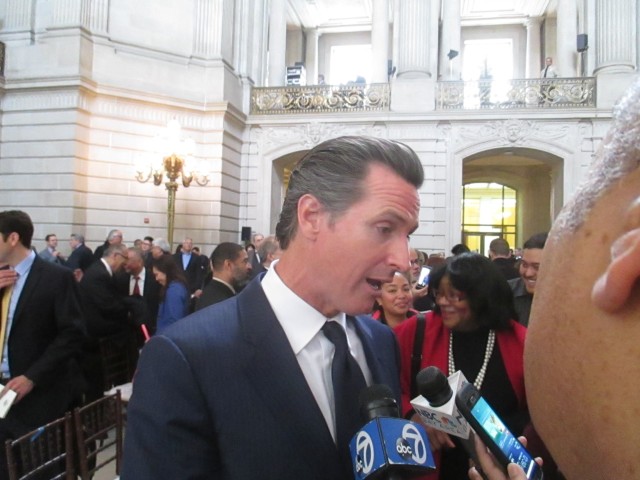 One of the big concerns of any state mandate like this: It forces the city to spend resources that don't exist on a complex situation that could go badly wrong, very quickly.
Forcing people into medicated mental health treatment has a very bad history in this country. The horror stories of the 1950s and 1960s are likely not going to be repeated: The drugs are better, the facilities are better, the doctors know a lot more, and treatment for schizophrenia and other psychotic diseases is far more humane and effective (and getting better all the time).
But medical treatment for serious mental illness, particularly if it requires involuntary confinement, is expensive, and at this point, San Francisco is about $50 million short of what it needs even to begin the program.
That doesn't include the fact that many, perhaps most of the people who would be forced into treatment are currently unhoused. Housing is critical to mental-health treatment, and if, as the Health Department estimates, between 800 and 2,000 people are likely eligible for the program, the city has nowhere near the amount of affordable supportive housing, or hospital beds, or treatment beds, to make this work.
Nor does it include the cost of providing public defenders to represent the people who will be forced into court to provide evidence that they are capable of taking care of themselves and shouldn't be put into forced treatment.
The Homelessness and Behavioral Health Select Committee will hold a hearing Friday/29 on the status of the program. Supervisor Hillary Ronen, who chairs the committee and has expressed serious concerns about the plan, wants information; so does Mandelman.
That committee will also hold a hearing (also sponsored by Ronen and Mandelman) on the Mayor's Office's strategic plan for housing and homelessness:
To understand how the department prepares its approach to homelessness as far as available beds in the system whether permanent or temporary, the number of available openings on the waitlist for each program, how the department maintains its coordinated entry system with the number of individuals awaiting for housing and those who do not qualify for housing, and how the impact of the strategic plan's implementation will have on street conditions over the next five years.
That hearing starts at 10am in Room 250, City Hall.
The full board will hold a hearing Tuesday/26 on the Health Department's plans for Laguna Honda Hospital, an issue that's been before the supes several times since the state and the feds moved to shut down the only public acute nursing and geriatric care facility in San Francisco.
Dr. Teresa Palmer, a geriatrician who worked at Laguna Honda and is active with the Gray Panthers, asked the board to consider:
Given the dire shortage of nursing home beds in San Francisco, the people of our city must be certain that all beds at Laguna Honda will be there for their use. Given the sickness and death, and the horrible stress and expense that the situation at LHH has engendered since 2021 and even before, we ask the Board of Supervisors these questions:
1. How to create a system of oversight for LHH so that repeated profound mismanagement does not persist or recur? The Health Commission was not up to this. We would like to hear a plan. There will be ongoing budgetary incentives to cut corners.

2. Shouldn't any nursing home eligible San Francisco resident who has had to leave the county for care have priority for care in SF? Why can't they get priority at LHH?

3. Will admission of acutely behaviorally unstable residents to LHH from [SF General Hospital] resume? ("The flow project.") The only reason to jeopardize LHH's continued existence with these inappropriate admissions is to jettison hard-to-place people from our county hospital. This is inhumane to all involved. Better services must be developed, and not at the expense of LHH or of these most vulnerable persons that need treatment and shelter.

4.Has CDPH/State of California clarified how ongoing failure to keep up with LHH problems will be rectified? State of California/CDPH's inability to offer timely feedback about problems at LHH contributed to this mess!

5.Can the Board of Supervisors closely monitor the submission of a waiver to prevent the 120 bed loss; San Franciscans cannot afford to lose these beds!
This could be related to the issue of CARE court; one of the issues at Laguna Honda has been the transfer of patients with serious mental-health issues from General to LHH, where the staff isn't prepared to handle them.
The problem: Once people are released from acute psychiatric beds at General, there's nowhere for them to go.
That hearing starts at 3pm.
Fred Sherburn-Zimmer is celebrating ten years of working with the Housing Rights Committee, where she has become one of the most important housing and tenant-rights activists in the city. HRC does incredibly important work, and is holding a party and fundraiser (Mayor London Breed keeps trying to cut funding for groups like HRC) Thursday/28 at El Rio. You can click here to RSVP and here to make a donation. The party starts at 5:30pm.
Brave New Films is holding a premier showing Oct. 25 of "Beyond Bars," a documentary on the impact of mass incarceration on children:
The film simultaneously tells the story of progressive legal reformers who fight for public safety and resist the unjust and racist system designed to lock people up. The film follows the turbulent and ultimately restorative growth of a family impacted by forced carceral separation. Chesa Boudin is only 14 months old when condemned to only see his parents behind bars, an experience that is life altering and fuels his pursuit to change the system and win election as San Francisco's district attorney.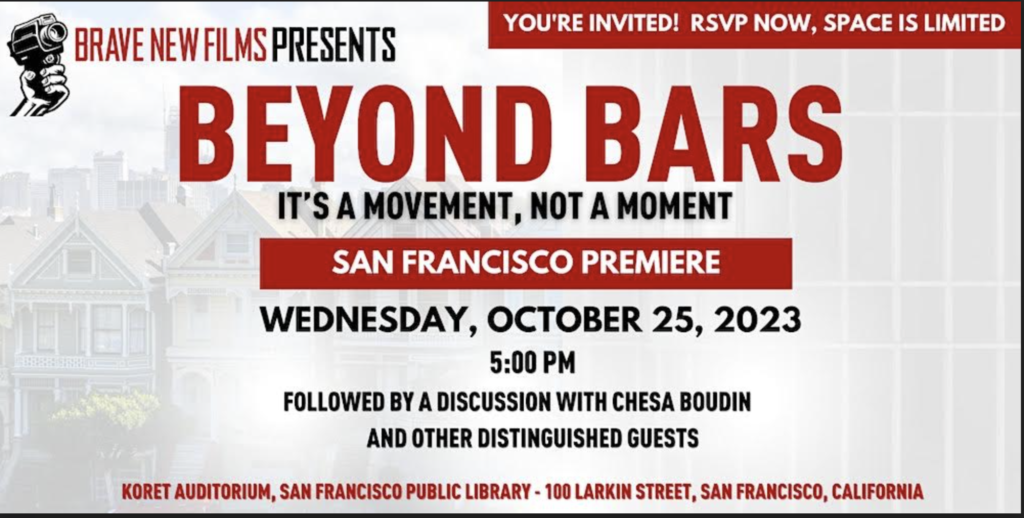 Boudin will be there for a panel discussion after the film. The event starts at 5pm in the Koret Auditorium at the Main Library. It's free but space is limited, so get tickets here.