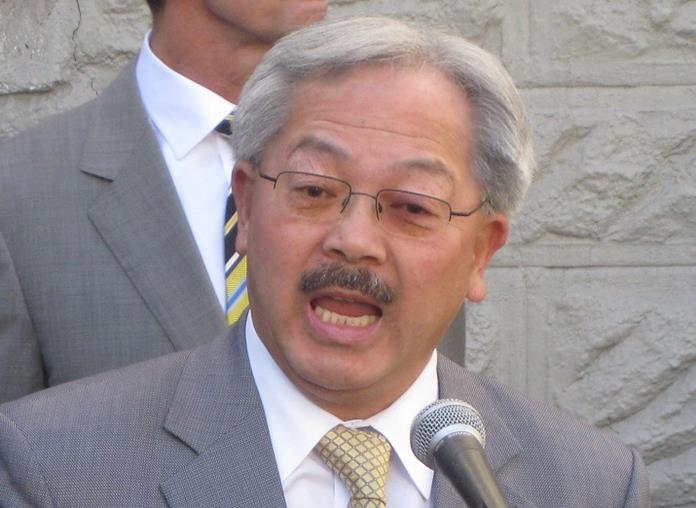 By Tim Redmond

APRIL 21, 2014 — Mayor Ed Lee didn't really say anything new on KQED's Forum this morning, but he gave a few hints of his stand on some important issues, to wit:
The mayor is not going to support a $15-an-hour minimum wage, and clearly opposes the efforts by SEIU to put that pay hike before the voters. He told Michael Krasny that he would consider supporting "up to $15," but wanted the Chamber of Commerce at the table when that's hashed out.
Lee is actually considering changes in Prop. M, the landmark 1986 growth-control law. "It's time to have a review," he said, and determine whether the annual limits on office space are a becoming an impediment to growth. That would be a major step that would require a ballot fight. He mentioned repeatedly that he thinks some of his foes and critics are "anti-growth," harkening back to the days of Dianne Feinstein and Willie Brown, who promoted constant growth in highrise offices as essential for the city's future.
Lee said that the loss of black families in San Francisco is due in part to the decline of blue-collar jobs – something that the tech-office growth he's promoting only makes worse.
He indicated that he doesn't think the city should be enacting any tighter regulations on faux cabs services like Lyft and Uber: San Francisco just ought to share some comments with the state PUC. Oh, and cab companies should be a part of the conversation.
But he didn't even go as far as his own Taxi Commission director, who has called repeatedly for more local – that is, city – regulations. If you want to hear a good argument on why progressives should think twice about these companies, check out this piece by a cab driver on HufPo.
Lee also made clear that he thinks the only way the city can afford to build a substantial amount of affordable housing is to link it to market-rate housing.
And he essentially admitted that the end of metered parking on Sunday's was a political move to increase support for a $500 million Muni and transit bond he wants to pass in November.
As to the overall question of how his "jobs agenda" has harmed the middle class and the poor? Never came up. The mayor has actively attracted, with tax breaks, companies who have brought thousands of new, high-paid employees to the city at a time when there was no vacant housing for those workers – and no surprise, that's created a huge crisis, with massive displacement of existing residents. Should he have made sure there was housing for the new workers first – or made sure that existing vulnerable populations were protected before the boom started?
Nobody asked. Krasny's one of the best talk-show hosts in the city, and normally an excellent interviewer, but he dropped the ball on this one.
The state Assembly's Utilities and Commerce Committee has given the nod to a bill by Assemblymember Tom Ammiano that could help break up the logjam created by Mayor Lee and allow San Francisco to move forward with a clean energy system competing with PG&E.
Ammiano's AB 2159 would allow county supervisors to vote to create a joint powers authority with another agency that's doing community choice aggregation. Marin County has a very successful local clean-power program.
San Francisco environmental and energy advocates have been trying for years to create a Clean Power SF system, but the mayor opposes it, and the SF Public Utilities Commission has blocked it – protecting PG&E's monopoly.
If the bill moves forward, it could provide the city with another alternative. Look for PG&E to fight this viciously – but Ammiano has proven to be effective at getting his bills through both houses. Of course, the governor is another issue.
It's no surprise that Matier and Ross are
complaining about the money that the city spends on homeless services; that's what those guys do. And I must admit, every time I read these numbers I wonder: What if the city just gave every homeless person $34 a day? Cut out the bureaucracy and just put the money where it's needed – in the pockets of the people who need it?
Here's the problem: You can't live in San Francisco on $34 a day.
"The idea is to get people off the streets and into a stable environment where they can improve their lives," and eventually move out, said Human Services Agency head Trent Rhorer.
The problem is that, between the housing market and the type of people in the program, as often as not they don't move on. As a result, the housing fills up, and the street homeless population has stayed pretty much steady at about 7,000 for the past 10 years.
You get the point: It's the housing market that it making this problem so intransigent. How can you possibly get someone out of supportive housing and into permanent housing in this city if people who have lived here for years, and have middle-class jobs, can't afford a place and are being forced out? It's tough for anyone who isn't rich to find a place to live these days; imagine if you're a formerly homeless person trying to get back on his or her feet?
There are also a lot of people who are homeless because of evictions. The housing market is, by definition, responsible for a lot of the people on the streets. I've known people who were perfectly stable residents of San Francisco, living on modest jobs or on public assistance, who became homeless when their income was unable to keep up with the rent. Thirty years ago, you could actually live on SSI; that is, pay for an apartment and still eat. But SSI doesn't even cover an SRO hotel these days.
That's a bigger problem than any waste or bureaucracy in the delivery of homeless services.