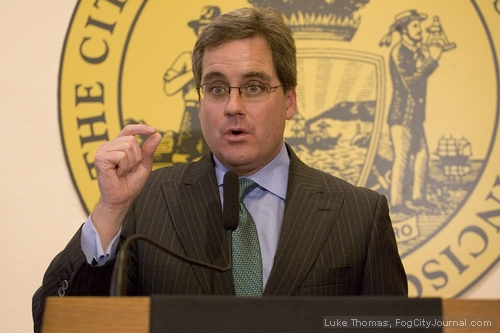 Will the mayor admit that the city attorney was right?Photo by Luke Thomas

By Tim Redmond

The accrediting commission that's been trying to shut down City College just warned San Francisco that the school's appeal will be rejected.
At least, that's what I got from the oped in Sunday's Chron by the two top officials of the ACCJC. And the Chron's Nanette Asimov seems to agree with me.
In essence, Sherrill Amador, chair of the accrediting panel, and Steven Kinsella, the vice chair, are arguing that City College should abandon all hope of winning its appeal and keeping its accreditation. Instead, they suggest the school start over – which would mean giving up accreditation and applying anew.
Why an out-of-control panel that clearly wants to force the state's largest college to downsize radically would accept a new application, and why it would consider granting accreditation to a college it clearly wants to shut down, is something of a mystery.
But the message is clear: The appeal won't succeed – which means the only thing keeping City College open for the immediate future is City Attorney Dennis Herrera's lawsuit.
For a year now, Mayor Ed Lee and the imposed chancellor, Art Tyler, have played nice with the ACCJC, ignoring the agency's real mission and promising to do everything the overlords wanted. Some of us suggested that the strategy wasn't going to fly – the ACCJC was hell-bent on forcing City College to fundamentally alter its mission or close down altogether, and the rest of the language was window-dressing. The only way to stop it was to fight back, hard.
But no: The mayor didn't like the idea of Herrera suing, and wanted to keep playing kissy-face … and here's what he got: Slapped in the face. Now, suddenly, Tyler is saying that he won't go along with the ACCJC. But it may be too late.
Unless someone in Congress can get to the education secretary, Arne Duncan (Hello, Nancy Pelosi?), the fate of one of the most important institutions in Northern California is in the hands of the courts. I wonder: If Herrera wins, and City College survives, will Lee ever admit that the city attorney was right?
Sup. David Chiu has introduced his long-awaited legislation to regulate – sort of – airbnb and the other web companies that facilitate short-term rentals in the city. The bill would legalize the use of apartments and condos, in buildings of two or more units, for short-term rentals as long as the primary resident lives there 75 percent of the time. That would keep landlords from taking units off the market and turning them into de-facto tourist hotel rooms.
Ted Gullicksen, director of the Tenants Union, is cool with it – but there's going to be opposition, and not just from the private-property types.
For starters, the bill does nothing at all about the fact that airbnb has been cheating the city out of hundreds of millions in taxes for years. There is no suggestion that the company pay its back bills. There is no fine or acknowledgment that the company's entire business plan in San Francisco involves people breaking the law. It's as if none of that ever happened.
Judson True, Chiu's aide, told me that the legislation is "forward looking," and that Chiu supports the idea of collecting back taxes. But he's leaving it to the treasurer and the city attorney to do that.
Then there's the problem that, even if this bill passes, most tenants won't be able to rent out their apartments without violating the terms of their lease or rental agreement; pretty much every lease in the city forbids subletting without the written permission of the landlord. Gullicksen did succeed in getting language into the Chiu measure that prevents eviction based on subletting; the landlord can only issue a 30-day notice to cure and correct. But it specifically states that the law doesn't trump lease agreements.
And if I'm not wrong, the city Planning Code still bans short-term rentals as a matter of zoning. Even in the downtown district, where hotels are a permitted use, you have to get a conditional use permit to open a hotel. The legislation amends the Planning Code to ensure that units used as short-term rentals are still defined as "residential," and maybe that solves the problem … but the bill will still have to go to the Planning Commission for discussion and approval. In theory, the commission might have to amend the zoning laws for just about every part of town.
The bill would require anyone renting through airbnb or one of its rivals to register the unit with the city – and that registry would be public, but only if someone files a sunshine request and asks for it. That, True said, is to protect the privacy of the renter.
The City Planning Department, in a Feb. 25th memo, suggests that the city is missing out on as much as $1 billion a year in unpaid hotel taxes for these (now) illegal short-term rentals. That's a big chunk of change. (This has been going on for five years – so the city's lost $5 billion? Seriously? And nobody thinks collecting it should be part of any legalization deal?) The department is up for ways to legalize the units, but suggests much stronger controls than what Chiu's ordinance contains.
Among other things, the department suggests that the city develop and online registry that's easy for anyone to access and browse; that there be a limited number of permits issues for short-term rentals; that those permits be issued only in limited zoning districts; and that stiff penalties be assessed for violators, including the revocation of their permits; and that the hosting platforms (that's airbnb) provide the city with all the information needed to enforce tax and zoning rules.
Calvin Welch, who has been active in housing policy in San Francisco for more than 40 years, told me he's talking about a ballot initiative for the fall that would regulate short-term rentals even more strictly. He wants to require anyone registering a unit for short-term rentals to prove that the landlord knows and has approved, that there's adequate insurance – and that the use as a short-term rental be in compliance with all zoning and land-use rules. "Airbnb should have to do what every other developer does: Go to the Planning Commission and get a permit," Welch said.
The nascent media empire of 48hills.org and the San Francisco Progressive Media Center has finally arrived as a Player; we got attacked by Michael Petrelis! I have always tried to be cordial to Petrelis, even when I had good reason not to be, and he can say anything he wants; I am a Media Mogul, and very fair game.
Always happy to have new candidates jump into the District 8 race, but honestly, I don't think he is going to be an effective opponent to Sup. Scott Wiener. David Waggoner, who had been making noises about running, has decided not to. So last week I suggested that the only real supervisorial race is in District 10, where Tony Kelly, who almost won four years ago, is taking on Sup. Malia Cohen.
Now I hear that some activists are calling on Sara Shortt, who runs the Housing Rights Committee, to enter the race. If Wiener is vulnerable on tenant issues, Shortt has the ideal credentials to challenge him. She hasn't agreed yet, but her name is out there. "I sent her a Run Sara Run note," former Sup. Aaron Peskin told me.
Oh, and this exhaustive TechCrunch story on SF housing policy – which generally takes a libertarian, market-oriented approach, but isn't wrong about everything (esp. about Peninsula cities building office space with no housing) – chides me for suggesting that we seek to remove as much housing as possible from the private market. How would we do that? How much would it cost? I don't know – but if we don't at least set a goal, we have no hope of reaching it.