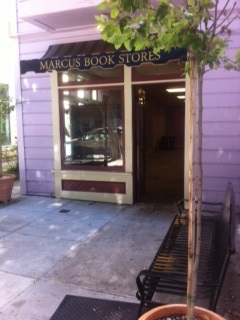 By Denise Sullivan
NOVEMBER 14, 2014 — It's been said that ghosts haunt the majestic purple Victorian on Fillmore and Post Streets. People who can see such things have reported as much: Translucent figures emerging from walls, in particular an old miner/forty-niner guy, crying to be released from whichever strange netherworld he's been consigned. No doubt he's throughly confused by what's happened to his historically landmarked property, the Marcus Bookstore — darkened for six months now following its eviction and the displacement of the previous owners, Karen and Greg Johnson, and four generations of their family, from their upstairs residence to Oakland.
Efforts to preserve and protect the building and its contents "by any means necessary" (according to a 2013 Board of Supervisors resolution) following a report by the Historic Preservation Commission proved to be no protection at all from the speculators who purchased the place. The only bidders at the foreclosure auction at which the property was sold, the buyers have yet to do anything with it. Meanwhile, life on the 1800 block of Fillmore goes on, less rich, less literate, and certainly less interesting and alive than before it housed the nation's oldest operating Black bookstore.
But tomorrow, Nov. 15, the Johnsons shall return home triumphant: Claiming The People's Plenary Award at the first annual Howard Zinn Bookfair, they will announce their plans for Marcus going forward: "We expect to re-launch the bookstore in February 2015," Greg Johnson told me in an email this week, as he confirmed the details on a lease he's holding at a to-be-disclosed new location. It is also expected the city of San Francisco will play a role in reestablishing the store: It's a way to highlight the David Campos and Mark Farrell-proposed Legacy Business Registry, a kind of much-needed antidote to the hemorrhaging of small businesses from the city.
"City Hall has a responsibility to protect successful businesses from the unnatural economic pressures created by the affordability crisis," said Campos in a statement issued at a press conference last month, announcing the legislation.
If you're local small business lover, you know the drill: Your favorite corner store, watering hole or small boutique that serves you daily suddenly and unceremoniously vanishes. According to the report commissioned by Campos and released last month, San Francisco will lose an astonishing 4,378 small businesses this year alone, a sharp increase from the usual three figures annually. So whether you've lived here a lifetime, a short time, or some time in between, chances are one of the small businesses you regularly patronize is going to end up on the missing list at some point.
The Legacy Business Registry, much like the recently established Legacy Bar and Restaurant program, aims to boost business by directing tourists and newbies to places revered by us locals. But what small business advocates are finding is that guidebooks and bronze placards aren't enough to keep businesses afloat in an environment where speculative real estate dealings, predatory lending, and a craven urge to disrupt everything that was once holy and sacred–especially in the under-developed neighborhoods—is business as usual.
Adding further stink to the situation is the replacement of old businesses with shiny simulacra of their former selves and in particular, bars and restaurants (too many, for my taste anyway, with sideways shutters and washboards passing for décor and jars standing in for glassware). What we need are culturally relevant spaces—like bookstores—and we need more, not fewer, of them.
In a city that once stood for and prided itself on its diverse arts and culture landscape, the facts strongly support the massive disappearance of community and cultural resources: The scarcity of special interest bookstores–a service to all humanity–is alarming, but the city continues to lose these stores and other businesses that once gave us our unique character at rapid clip.
In hopes of avoiding the kind of evisceration of culturally and community-minded businesses that the Western Addition and Fillmore has seen over 50 years, and especially recently, the neighborhood association Calle 24 (24th Street below Valencia) achieved cultural and historic designation for its district this year. But following the Campos-commissioned report and the undeniable escalation of hostile rent-hikes and evictions, a need was established for something more binding.
"I am taking the displacement of our small businesses very seriously," said Campos in his statement last month. The Legacy Business Registry is open to service providers of all kinds that have been established for 30 years or more and demonstrate an importance to the immediate community or to the city as a whole.
To continue using Calle 24 as an example, the historically Latino district houses long-established arts institutions like the Brava Theater and Precita Eyes, as well as Roosevelt's Tamale Parlor and La Palma mexicatessen. The street has also become a sort of second home for bookstores, displaced and otherwise; San Francisco Poet Laureate Alejandro Murguia has suggested it might even become known as "bookstore row."
Lower 24th is where Adobe Bookshop reestablished itself following its displacement from 16th St. (following the Jack Spade wars) and where Alley Cat, an adjunct of Valencia's Dog Eared, opened in 2011. It is also where the 43-year-old progressive bookseller Modern Times chose to relocate that year in the face of unsustainable rental terms at its longtime Valencia St. location.
But a pending rent-increase in 2015 puts Modern Times at further immediate risk, although it is currently among the businesses under consideration for legacy status. Certainly there is an argument to be made that the store has filled the gap left by the shuttering of the queer-focused A Different Light in 2011; it is dedicated to serving the Spanish-speaking community and specializes in labor and political economy titles.
But Modern Times is presently on its last legs, scurrying to restructure in order to survive. Changes in the publishing industry notwithstanding, and before citing failure to adapt to 21st Century business practices or a lack of interest in books by the public–the same accusations waged at Marcus–let us consider this: From the Fillmore to the Mission, the aforementioned small businesses are situated in districts where gentrification is a major contributor to their changing fortunes. What are we going to do as civic and cultural leaders to further help sustain these keepers of our history, holders of community space, and places that light the way for the literacy and enlightenment of our city's readers of the future?
Join the discussion on Supporting Local Bookstores in the Time of Gentrification with Denise Sullivan, Karen and Greg Johnson and Kate Rosenberger at the Howard Zinn Bookfair at1:30 PM, Mission High School. Admission is free.