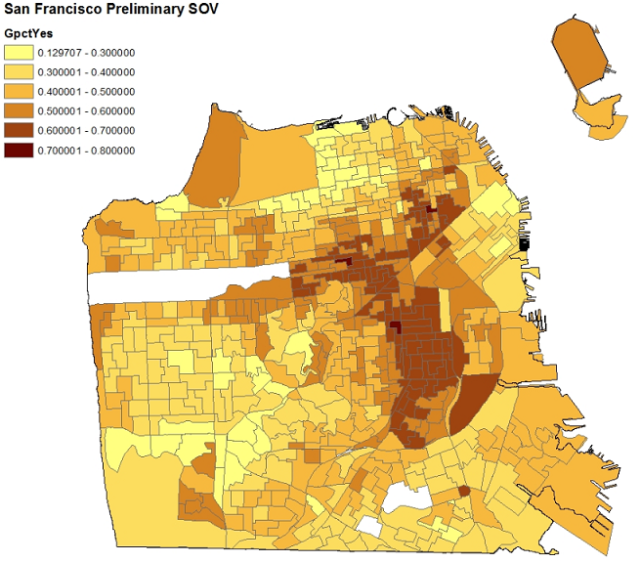 By Tim Redmond
NOVEMBER 11, 2014 – The Next Big Thing in San Francisco politics will be the reshaping of the Board of Supervisors, which could start to happen as early as Dec. 1, when Sup. David Chiu resigns to join the state Assembly.
The Examiner has the pretty predictable discussion here: Mayor Ed Lee will appoint a new District 3 supe, and the name most commonly heard is Planning Commission President Cindy Wu. Her name's been circulating almost since Chiu entered the race; if he had lost, she might well have run for his seat in two years anyway.
Wu works for the Chinatown Community Development Center and has been a good planning commissioner, most often on the progressive side of issues. From my (limited) experience with her, I'd say she might very well turn out to be more aligned with the progressives than Chiu, certainly on land-use and housing issues – especially since she won't start her tenure with her eyes immediately on advancement.
(If Chiu hadn't become board president in his first term, I think he would have been a better supervisor. The power got to him, and he proved he would do what was necessary, including cutting a deal with the conservatives, to keep it. Then he ran for mayor, and then for Assembly.)
Of course, mayoral appointees tend to be loyal to the mayor, at least for a while.
There's a certain amount of gaming that will go on – if the mayor waits until early January, and leaves Chiu's seat open over the holidays (when nothing happens anyway), his appointee could serve the remainder of Chiu's term and then two full terms, or ten years. Long time.
And of course, there will be a vote in December for board president, and then another one, by law, in January, when the new board is seated, which will be the same as the old board, except for a change in D3.
So who's the interim president, and who gets the nod in January for a two-year term – and does the D3 appointee make a big difference?
The standard line is that Sup. Mark Farrell (conservative, but collegeial), Jane Kim (progressive on some issues, not on others) and London Breed (in the middle, maybe a fallback if nobody else can win) are all in the mix.
I don't know what Breed is thinking about the future, but Farrell and Kim both have very obvious ambitions for future office, and the board presidency is a high-profile job.
(Although when you look back at modern history, board presidents don't tend to get elected mayor. Quentin Kopp, John Molinari, Matt Gonzalez, and Chiu all tried to run from that position and lost. Dianne Feinstein became mayor after the assassination of George Moscone, but never ran successfully before that.)
So let's have a little fun and play this out. Nobody at this point has a clear six votes, and I would be very surprised if anyone won on the first round (unless progressive Sups. David Campos, John Avalos, and Eric Mar all got behind a single candidate — say, Kim — who also had a couple of moderate backers.)
Suppose, for example, Campos – who everyone knows is honest and can be trusted to do what he says – threw his hat in the ring. (I haven't talked to him, don't know if he wants the job, this is all my personal speculation.) He'd get Avalos and Mar and himself – and maybe, if Farrell can't put together six, he'd back Campos, whom he endorsed for Assembly.
That's four. Only two votes short.
In other words: It's wide open today.
Now, we're talking about December here. The person who wins then doesn't necessarily win again in January, but has a decided advantage. Probably Wu (or Lee's other pick, whoever that might be) isn't on the board yet.
Who's backing Kim? Farrell? Breed?
And could someone take the job for a month and then lose it in January – when, if it's close, Wu will be the deciding vote, and the mayor will be asking her to support his choice (who will not be Campos)?
The board president appoints committee members, which will mean nothing in December but a lot in January. He or she can also change the rules for Question Time, and allow supervisors to ask the mayor questions from the floor, that aren't pre-scripted, and turn this into a real exercise in democracy and debate.
And the board president appoints members of some key commissions.
So it matters. When Chiu was first elected board president, it was a late compromise – he was new, he claimed to be a progressive, and nobody knew much about him. So the left wing of the board went with Chiu, who soon showed that his loyalty was elsewhere.
That's not going to happen this time (unless the truly unlikely happens, and the new mayoral appointee gets the job). We will all know what we're getting. For better or for worse.
There's an interesting, if not surprising, pattern to the election results: Campos beat Chiu handily on Election Day. Prop. G won Election Day voters, 41,253 to 39,626. But Chiu and No on G won so many more of the Vote-By-Mail ballots that the Election Day totals weren't decisive.
This is nothing new; the VBM votes have always been more conservative. A sizable number of people who are registered as permanent VBM live on the West side of town, vote in every election, and are, at best, moderates, particularly on economic issues.
But there were far more VBM votes this time around than Election Day votes, and that's becoming standard, especially in lower-turnout elections. There were about 80,000 Election Day votes on Prop. G, and more than 100,000 VBM votes. The progressives have never seemed to figure out how to win the VBM.
Part of that is just reality: If we didn't have VBM, those conservative voters would have gone to the polls and we would have lost them anyway. But part of it is a rapidly changing landscape: Election Day Get-Out-The-Vote efforts, where the left has always done well, can't compete with VBM GOTV, that happens in the month before Election Day.
In the past, the Election Day VBM ballots – that is, the people who get their ballot in the mail but wait until the end to fill it out and turn it in – have tended to break about the same way as the Election Day votes. Not so this time; Campos won close to 57 percent on Election Day, but the Election Day VBMs broke more than 55 percent for Chiu.
I'm not sure why. It bears some serious thought.
Because the way things are going, pretty soon everyone's going to vote by mail (or someday, on the web), and traditional Election Day strategies are going to be useless.
Problem is, VBM outreach is more expensive. You can't just sent a crew out on one Tuesday. You have weeks to cover. You have to find the voters, make sure they got their ballots, and make sure they turned them in. It takes more than one day of volunteer (or paid staff) work, which is why well-financed campaigns tend to have better luck with it.
The Campos campaign had a stunning Election Day effort, with more than 500 volunteers across the district. The Chiu campaign had paid staff making sure that the absentee vote count was in.
That's going to happen with the mayor's race, no matter who runs. Election Day is now a month long. We're going to have to figure out how to deal with it.
There are two political events I'm not going to miss this week: The Jobs with Justice forum called "What's Left," looking back at the election, featuring Neva Walker from Coleman Advocates and SF Rising, Emily Jieming Lee from Families for an Affordable San Francisco, Mike Casey from UNITE HERE Local 2, and this guy named Tim Redmond.
It's Thursday Nov. 13, 7pm, at the Bayanihan Center, 1010 Mission.
Then there's the memorial for Ted Gullicksen, the city's leading tenant organizer for many years who died this fall. We're celebrating his life Sunday, Nov. 16 at 2pm at Mission High School; the venue and parking opens at 1:30. See you there.