An early chance to get involved in the giant Mission District March on City Hall — and is "naturally affordable" housing for real?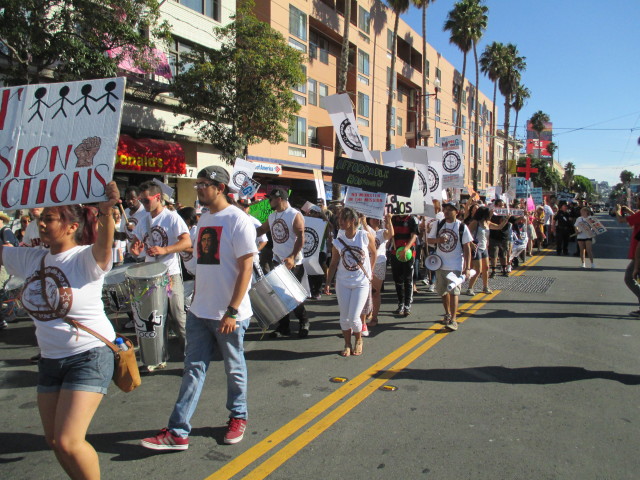 By Tim Redmond
APRIL 27, 2015 – The Mission District has become Ground Zero for the eviction battles in San Francisco, the place where Google buses and evictions clash with a long-established community that includes many lower income people and locally owned Latino businesses.
That's why Sup. David Campos is talking about a moratorium on new development while the city and the neighborhood figure out how to protect existing vulnerable communities.
And it's why hundreds of Mission residents and workers will descend on City Hall Friday May 8 to demand an end to the evictions, more affordable housing, and no Monster in the Mission. Should be a giant rally that will demonstrate how much anger is boiling up.
Among the sponsors: ACCE , Calle 24 Latino Cultural District, Eviction Free SF, Our Mission No Eviction , Plaza 16 Coalition, Poor Magazine, and more.
But you don't have to wait until May 8 to get started and get in the mood for demanding change. There's a flash mob dance rehearsal starting Tuesday May 5– and the level of experience required is "zero to tons."
Help us save local journalism!
Every tax-deductible donation helps us grow to cover the issues that mean the most to our community. Become a 48 Hills Hero and support the only daily progressive news source in the Bay Area.
You can get the details here.
There's a very odd Tenderloin development project working its way through the San Francisco planning process, and it's slated to come up before the Planning Commission Thursday/30 (although it might be continued until June).
The proposal involves the construction of two eight-story buildings that will contain 238 "group housing" units – that is, SRO hotel rooms – on what are now parking lots.
Sounds good, right? The project sponsor says that because of the size and type of the units, they will be "naturally affordable."
But there's always a catch or two here – and when it was first proposed, the project was going to allow the owners of several residential hotels to convert their rooms to tourist use – eliminating 238 rent-controlled apartments. Along the way, the developer wants to see if young tech workers are willing to pay a fairly high price (more than most SRO tenants could ever pay) to live in places with shared bathrooms and no kitchens.
A lot of tech workers don't cook at home anyway – they get fed at work, or go out to eat. So it's not that much of a stretch to think that SROs in the Tenderloin could be worth thousands of dollars a month.
Now the project sponsor says the deal to convert 238 existing SROs is on hold – but not dead. It could come back at any time.
And then there's the concept that this market-rate housing project wouldn't have to set aside the usual 12-15 percent of rooms for affordable housing or pay the city the requisite fees.
Randy Shaw, who had some problems with the original project, now thinks it's only fair for these projects be exempt from the affordable housing fees. I think it's safe to say that much of the affordable-housing community disagrees.
This is part of the much larger question about housing, gentrification, and possible displacement in the Tenderloin. As long as most of the low-cost housing is owned by nonprofits and is off the private market, low-income people will be able to stay in the Tenderloin and the Sixth Street corridor. The stores and restaurants may get more fancy (and on the upside, the streets might get safer) but there won't be widespread evictions.
That, of course, is an argument to get as much housing as possible out of the private market.
But there's also a lot of privately owned housing in those areas, including private SROs, and there are people living around the edges (say, in mid-Market) who have turned what was once unwanted office space into housing – and with the Twitter tax break spreading displacement further and further into what were once considered low-rent areas, we are going to see more and more of this sort of project.
Which says to me that the notion of "naturally affordable" is becoming a joke.
Oh, and this: I am hearing that John St. Croix is going to leave his job as the head of the Ethics Commission. So somebody will get a post where he or she could have tremendous influence over campaign finance, corruption, and the direction of ethics at City Hall.
Start thinking of good candidates.