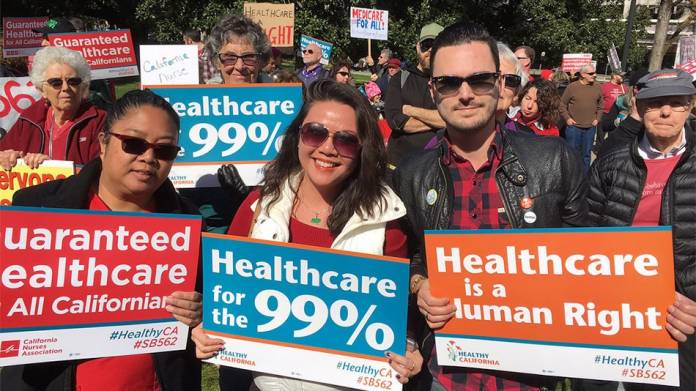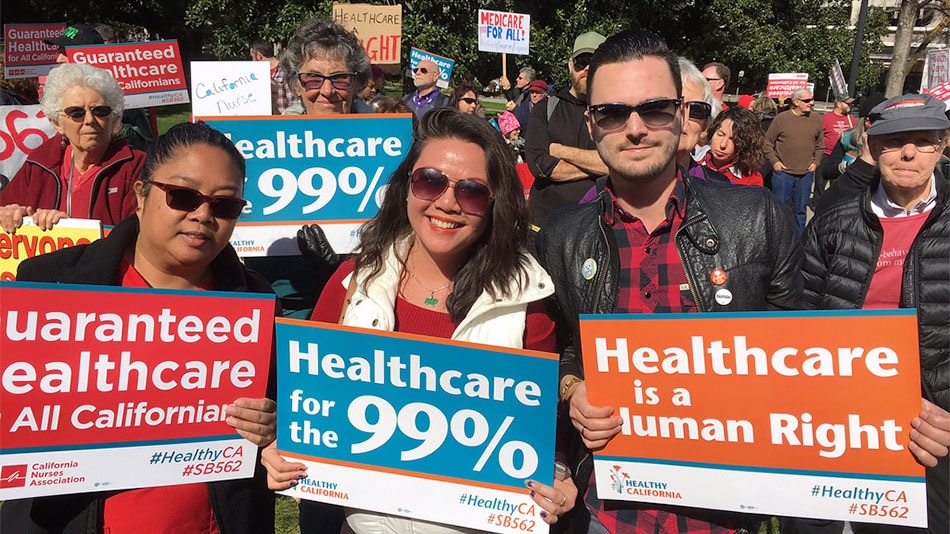 A measure that would transform health care in California and set the stage for a profound change nationwide comes before its first committee Wednesday/26.
SB 562, by Sens. Ricardo Lara and Tony Atkins, could be the most important piece of legislation in the state this year.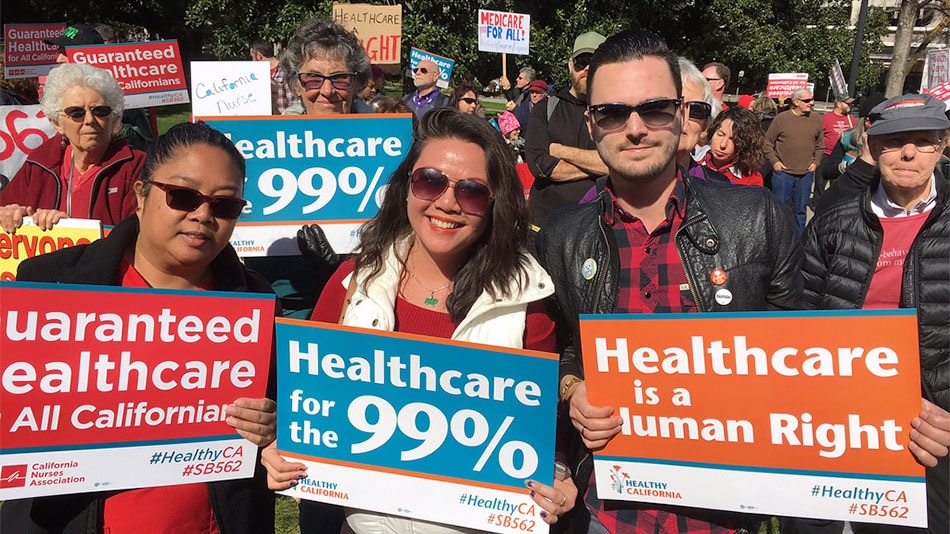 It would guarantee free health care to every Californian, replacing the expensive, ineffective current system of private health insurance.
It would be the equivalent in the nation's biggest state of the Medicare for All proposal touted by Sen. Bernie Sanders in his presidential campaign.
For the millions of people who are either stuck with individual plans under the Affordable Care Act, which are better than nothing but in many cases not affordable, or have no insurance at all, this would of course be a huge benefit.
It would also be a huge help to California businesses. Employee health care is a major cost factor, particularly for smaller companies; eliminate that expense and businesses at every level would become more competitive, able to pay better salaries and to offer products and services for less.
Local governments spend a fortune providing employee health care; the savings would be in the billions of dollars.
Much of the startup money could come from existing programs (assuming, for example, that Washington lets California take over some federal health-care programs). At some point, the Legislature and the new nine-member board that would oversee the program would need to find revenue sources, and that will get tricky – except if we can manage to get the message out that the money businesses save from single-payer, and the money individuals and local governments save from not paying inflated health-care costs to prop up the profits of the insurance industry, will far exceed any new taxes to pay for the program.
Single-payer health care in North America started with one province in Canada in 1947, and spread across that country. The same could happen with California – but we need to make clear that the idea has major popular support. Gov. Jerry Brown is dubious, and even if this clears the Legislature, the governor could be a problem.
Still, in the Age of Trump, this is a remarkable opportunity. The California Nurses Association is leading the fight, and will be holding a rally and march to the state Capitol starting at 11 am. The hearing is at 1:30. Buses will leave San Francisco at 7:50 am, one from the Zoo and one from Civic Center; you can RSVP here.
The heated battle over affordable housing in SF is back at the Planning Commission Thursday/27, and it's pretty clear that the deck has been stacked in favor of the plan favored by Sups. Ahsha Safai and London Breed – and the developers.
The Planning Department staff has already come down on the side of the Safai-Breed plan. But affordable-housing advocates will, I suspect, be at the commission meeting to point out that when you allow higher-priced units to count as "affordable" housing – even when they are targeted at the middle class that so desperately needs places to live – you are doing developers a favor.
And they should pay for more in exchange.
It's going to be a crazy busy day at the Supes Government Audit and Oversight Committee Friday/28. (Interesting that since President London Breed stacked the committees to give power to the more conservative supes, this panel, along with Public Safety and Neighborhood Services, have become the go-to places for interesting and progressive legislation and hearings).
In this case, check out the agenda:
First, Sup. Jane Kim has called for a hearing on the city's enforcement practices around residential evictions. That's going to play into her move to ensure more accountability for landlords who do fake owner-move-in evictions – and may be the start of a discussion around the need for more enforcement authority and inspectors at the Rent Board.
Next: Sup. Aaron Peskin wants to look into the funding and oversight of the Fine Arts Museums of San Francisco – which will no doubt bring up some of the issues around former DeYoung honcho Dede Wilsey, whose tenure was marked by all sorts of issues.
Then we are back to the Leaning Tower of Soma, and Peskin's ongoing efforts to figure out why the city approved and a developer constructed a giant luxury housing tower that is now sinking and keeling over to the side.
This week's chapter should be good: The full board has accepted Peskin's request to issue a subpoena to Hardip Pannu, an engineer who was one of those who reviewed the project's plans. Pannu told the developers that the project needed further review, particularly in terms of its ability to withstand an earthquake. He's do nothing wrong – in fact, he may be able to explain how this fucked-up building got developed in the first place. But without the subpoena, he was apparently reluctant to talk.
Finally, Peskin will continue his inquiries with a hearing into the city's (weak) enforcement of short-term rental laws, which will be a chance to review the existing legislation, Airbnb's efforts to circumvent it, and the city's inability to stop thousands of housing units from being turned into hotels.
That meeting starts at 10am. It will go on for a while.