PARTY RADAR Yes, there are cannabis clubs — but are there cannabis clubs? There certainly are pot parties: Sparc regularly features DJs, and often when I walk past Urban Pharm in the evenings, there's fun music and a line to get in. And when it comes to feeling like you've entered one of the sleekest nightclubs in town, you can't beat Apothecarium.
Yet when it comes to bridging the dispensary and the dancefloor, well, that's all in the pipeline, complicated by smoking rules in nightclubs and still-being-worked-out complexities of legalization, not set to be fully implemented until next year. 
Leave it to the queers to take a pioneering, colorful route to cannabis clubbing utopia, or at least one very popular version of it: Puff (Thu/6 and first Thursdays, 7pm-10pm, $5-$10. The Stud, SF) a monthly queer cannabis evening, brings together a diverse crowd from all over Northern California to take in burlesque, drag, dancing with DJ Sergio, and live rock and roll by the incredible shredding Maria Konner and Not From Jersey band plus special guests — all while exchanging info on the latest cannabis edibles, accessories, and fascinatingly innovative products. (Yes, there are cannabis suppositories.)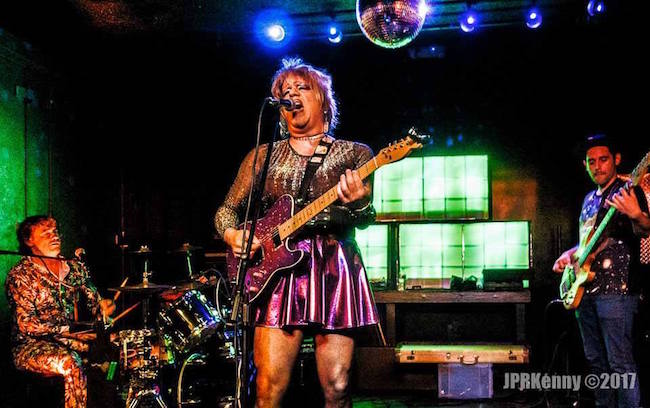 "I created Puff after I realized that there were so many LGBTQ folks working in the marijuana industry alongside straight people," Puff daddy DJ Dank told me. "They were not looked down upon or anything like that. They were accepted, but there was nothing out there that was about the queer folk who like weed.
"We were initially drawn into the cannabis community when we heard about cannabis lube and suppositories by Foria. That got my attention! My show, Under the Golden Gate, went out to investigate the cannabis world, and we were so impressed with all the local people we met and their products. So far we've featured Foria, Alchemy Vapes, Lady Chatterley's Lover (a delivery service aimed at women), Evoxe, Flower Power, Swerve Confections, Jetty Extracts, Tuttle's Treats, Newa, The Bloom Room SF, and even Good Vibrations. It's been fun to mix sexy things with local products and put on a show. Join the queer cannabis revolution!"
[Sponsored] Need a car to get there? Rent one in your neighborhood on Getaround. Sign up today, and enjoy $50 off your first trip: http://get.co/48h.  
Help us save local journalism!
Every tax-deductible donation helps us grow to cover the issues that mean the most to our community. Become a 48 Hills Hero and support the only daily progressive news source in the Bay Area.
THURSDAY, JULY 6
DREW MCDOWALL "A former member of Coil and Psychic TV, Drew McDowall's recent industrial excursions draw as much from the grit and energy of the modern New York City underground as they do from his lengthy career in experimental music." At the Surface Tension party with Hiro Kone and Carlos Souffront. Thu/6, 10pm-3am, $10-$15. F8, SF. More info here. 
MAKE ME A MIXTAPE Stop moping — or start! This awesome emo singalong night floods the Knockout with anthems of angst. Thu/6, 9:30pm. The Knockout, SF. More info here.  
FRIDAY, JULY 7
NITE JEWEL Synthwave fave returns to the too-cute Popscene to slay with cool looks and relatable tunes. With Geneva Jacuzzi and Harriet Brown. Fri/7, 9pm, 18+, $13 advance. Rickshaw Stop, SF. Tickets and more info here.  
OUTPOST THREE-YEAR ANNIVERSARY Techno on the outskirts has never sounded so endearing. The monthly, wonderfully affordable Outpost party goes big for its third, with Sage Caswell, Justin Peoples, and more. Fri/7, 10pm, $5. Elbo Room, SF. More info here. 
DESPERATE LIVING Queer punk? Sure! Record release and live performance by rock and roll weirdos Muñecas, plus performances by Suppositori Spelling, Per Sia, and more. Fri/7, 10pm, $10. The Stud, SF. More info here.  
VAGUE TERRAIN Another of our outlandish, unbounded, yet wholly affordable techno parties hosts local selector Jason Polastri, plus residents YNV, Elexos Park, and DJ CZ. Fri/7, 9pm, $5. UndergroundSF. More info here. 
SATURDAY, JULY 8
OCTAVE ONE The legendary Burden brothers from the Motor City have been at the techno game for more than three decades. Their energetic sound goes deep, and makes me miss Detroit so much. Sat/8, 10pm-4am, $10-$20. Halcyon, SF. Tickets and more info here. 
FRENCH FRY FEST LOL I love Broke-Ass Stuart so much, and his latest shindig deserves a bit of grease. French Fries served from an abundance of different food trucks, with optional all-you-can-drink sangria and beer, plus disco funk jams all day long? Fry me up! Sat/8, 11am, $5-$35. SoMa StrEAT Food Park, SF. Tickets and more info here.  
PHONOGRAPHIC MEMORY This is an awesome free series that features DJs and storytellers playing and talking about their history with records — and it's going out (possibly?) with a bang, with an outdoor party and festival featuring some awesome players: Davey D, Equipto, Cassidine, and more. Sat/8, noon-4pm, free. Bernal Recreation Center, SF. More info here. 
ROMAN FLUGEL The German has been so pervasive in the techno scene since the '90s that he inspired a whole mini-trend of throwing his records out the window and posting pics (OK that was just a bunch of my friends tired of "Geht's Noch?"). That doesn't mean he won't melt the walls. Sat/8, 9:30pm-3:30am, $17. Public Works, SF. Tickets and more info here. 
ISTANBUL CONNECTION "A Bay Area musical collective formed when thirteen members of the hottest Balkan and Latin bands were gravitationally pulled to visit the city of Istanbul." This is a live band surely made by the gods! Sat/8, 9pm, Rickshaw Stop, SF. Tickets and more info here.  
POUND PUPPY Arooo! The gay scruffs abound, dancing to techno or wagging their tongues on the Eagle's generous patio. With special guest DJ Jordee. Sat/8, 10pm, $10. Eagle SF. More info here.  
SCUBA I was jazzed by this often-volatile DJ's recent stand against sexism in the techno industry, which put even more shine on his essential DJ and producer skills. It will be a deep and groovy Lights Down Low party with him at the helm. Sat/8, 9pm-3am, $16-$20. Tickets and more info here. 
FLEURS DU MAL The darkest tunes played darkly from the depths of … Hayes Valley? You betcha. Bar Muka (I love it) hosts this edgy electronic gathering, with Nine (live) and DJs Its Own Infinite Flower, C.L.A.W.S., and Tyrel Williams. Sat/8, 10pm, free. Muka, SF. More info here.
[Sponsored] Need a car to get there? Rent one in your neighborhood on Getaround. Sign up today, and enjoy $50 off your first trip: http://get.co/48h.