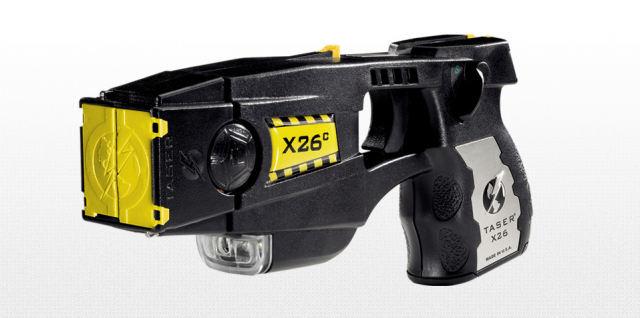 The San Francisco Police Department hasn't by any means given up on getting Tasers — apparently, Chief William Scott is a big fan of the zapping weapons. The Commission has declined to approve the request in the past, but it's back — and there will be two key public hearings in the next two weeks.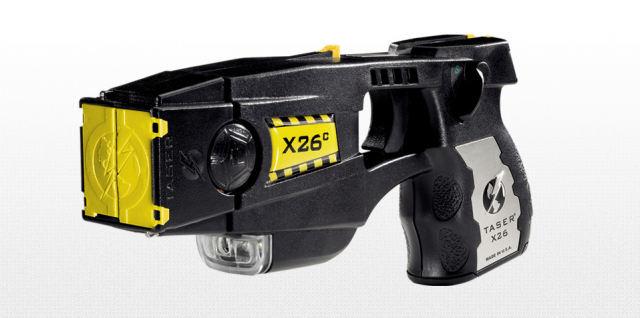 The first one, Tuesday/12, is at Bill Graham Auditorium at 6pm. The second one is Tuesday/19, at the City College Phelan Campus Student Union, Lower Level. The department wants you to sign up in advance, which you can do here.
The cops say that Tasers will help them avoid shooting and killing people, which they've done a lot in the past few years. If there's a "less lethal" alternative, they argue, it makes sense to have it available.
But some of the shootings we've seen were instances where even a Taser would have been inappropriate, where the situation could have been deescalated without any sort of excessive force. 
And, of course, Tasers can be lethal, particularly if they are used incorrectly — and sometimes, even if they are used correctly.
Some critics also note that if cops have Tasers, they will use them — not as an alternative to a pistol but as an alternative to calming down, avoiding violence, and finding alternatives. Lots of people are going to get zapped — not just those who present a deadly threat. Tasers, critics have found, become a crutch.
It's going to take a lot of community resistance to keep the stun guns out of the SFPD. That starts Tuesday night.
The One Oak issue is back at the Board of Supes Tuesday/12, after Sup. London Breed held a series of meetings with the project sponsors, city planners, and Jason Henderson, who filed an appeal of the environmental impact report.
At issue is not just one 304-unit condo building; the decisions around how the city analyzes traffic impacts could affect Muni service all over the city.
The developer will no doubt offer some concessions, including more affordable housing, but the supes might want to ask a few questions about the existing deal. The developer has given three lots in the Octavia corridor to the city and will underwrite the construction of at least 70 units there — but some critics are raising questions about the financing. Is Build Inc, the project sponsor, really going to fund 100 percent of the cost of building those 70 units (at least $40 million)? I don't see that amount of cash in any of the documents on file so far.
The hearing's at 3pm, unless the parties reach a deal and it's called off.
Sup. Malia Cohen wants to stop the city from issuing medical cannabis permits for 45 days (and these interim controls tend to become year-long controls). She argues that the state is still figuring out how to deal with legalization — and so is the city's cannabis office. Will existing medical dispensaries get permits to sell to anyone over 21? How will the city issue licenses for new permits to sell recreational weed?
The problem, as the Small Business Commission points out in an Aug. 22 letter to the board, is that there are 27 applications for MCD permits that are already under review by the Planning Commission. Those applicants played by the rules, put up a substantial amount of time and money into their applications, and, that commission argues, they should at least get a hearing and a chance to get a permit.
The city has 39 dispensaries. Some of them may apply for permits to sell recreational cannabis. This, I suppose, is alarming to some people. But according to a quick check with the the state Department of Alcoholic Beverage Control, there are 89 active permits to sell booze in a retail outlet just in my zip code, 94110. There are another 53 in 94117 (the Haight) and 42 in 94114 (Castro).
The Sunset, which seems to be adamantly opposed to any cannabis dispensaries, has more than 50 off-sale liquor licenses.
In other words, the number of outlets that can sell you a bottle of bourbon is vastly greater than the number that can, or with current applicants, possibly could, sell you cannabis, which by many accounts is far less dangerous than alcohol.
Just something to think about.
Cohen's moratorium bill is at Land Use and Transportation Monday/11 at 1:30 pm.