At the Ed Lee memorial Sunday, a string of politicians who are not at all humble talked about the humble side of the late mayor. The event featured at least two people who are seeking higher office; Lee was remembered as a reluctant politician.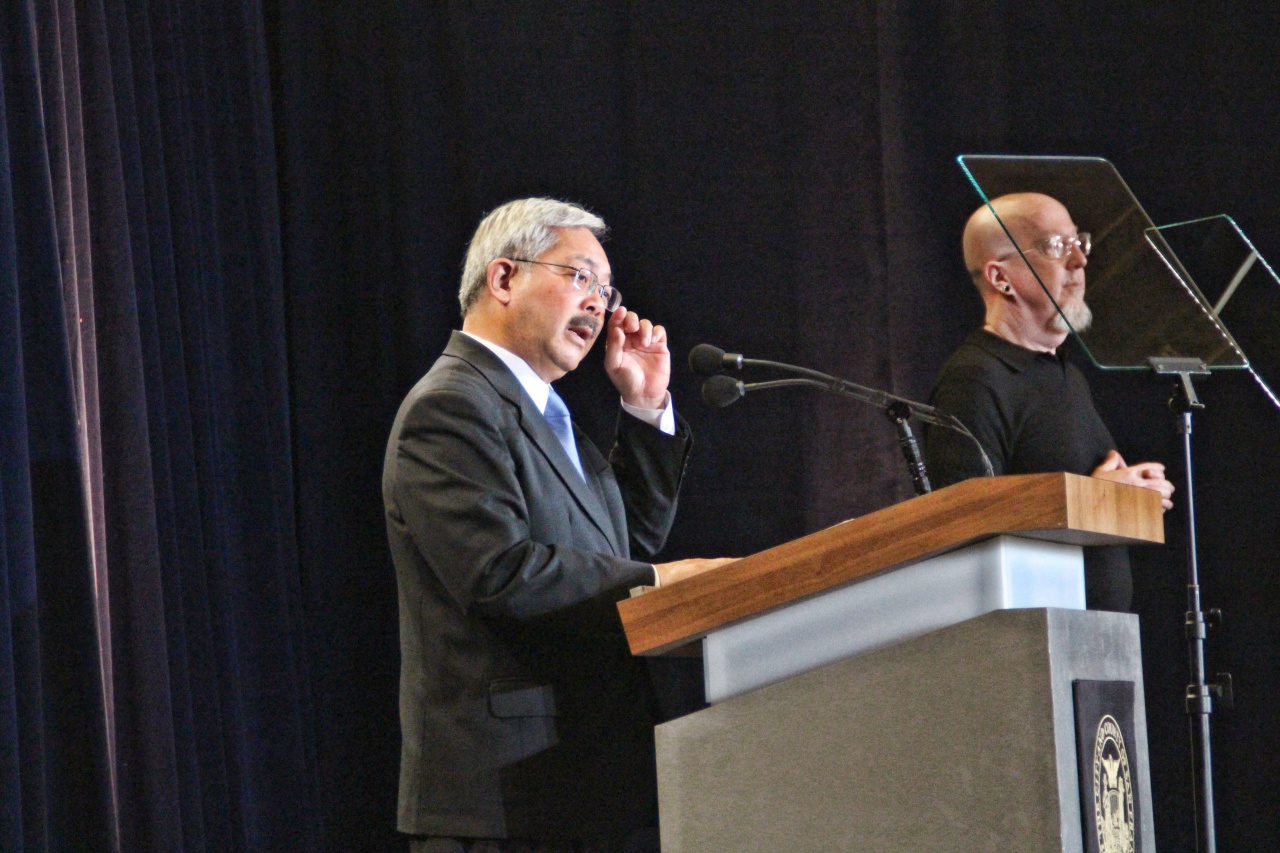 At the Chron, Carolyn Said at least noted that Lee had promoted an economic boost that also increased economic inequality. On KPIX Sunday night, Melissa Caen said that Lee brought the unemployment rate down – but "unintentionally" created the housing crisis.
These were some of the responses from City Hall and the news media on Lee's legacy.
I get Melissa Caen's "unintentionally." I don't think Mayor Lee sat down with his advisors and decided that it was a great idea to drive 400,000 San Franciscans out of town and create the worst eviction epidemic and economic inequality in the city's modern history.
But I find it hard to believe that anyone in his administration believed we could bring in 140,000 tech workers, many of them from out of town, at a time when there was almost no vacant housing, with no impact on the housing market.
If that's the case, it was the greatest "unintentional" policy mistake that I've seen in many, many years.
Randy Shaw, who has always been close to Lee, made the remarkable claim that
Ultimately, Ed Lee laid down the foundation for San Francisco to avoid becoming a city of only the rich and rent subsidized poor. This was his greatest gift to the city, and the core of his legacy.
Is there a single working-class tenant who believes that? I don't know any of them. All I know is that renters all over town are terrified that they are going to get an eviction notice and be displaced.
Ed Lee didn't ask for the invasion of speculators who have been getting rich by destroying the lives of long-time San Francisco tenants. He often said publicly that he opposed them. He supported the repeal of the Ellis Act.
But his policies created the turf that the speculators played on. His effort to address unemployment by importing tech companies and high-paid workers (as opposed to doing economic development based on the skills and needs of existing residents) set the stage for a brutal assault on every non-rich San Francisco resident.
All of this discussion of the Lee legacy, which we will continue to examine in detail over the next few days, comes just as the Planning Commission gets the latest Housing Inventory Report Thursday/21. Most city boards and commissions are in recess for the holidays, but Planning is still meeting this week, and while there is no action item on the housing document, it's worth reading.
Among other things, the report shows that San Francisco developers added 5,046 units to the housing stock in 2016. That's what Lee wanted, and what the Yimbys want (although they want more); adding more housing ("of all kinds, the Yimbys say) will bring down prices –- but prices have not come down.
In fact, in San Francisco, developers tend to build more housing at the same time that prices go up.
It's no secret that I am not a fan of the supply-side, trickle-down argument that letting the private market determine the city's housing future will get us anywhere near where we need to be.
But let's look at the data – because it shows how housing actually works in San Francisco.
When prices are flat or low (typically only during recessions) developers don't want to build; the rate of return is higher if they put their money somewhere else. They only want to build when prices are high.
The Yimbys (and the folks in Mayor Ed Lee's administration) argue that more housing will bring prices down – but the city's own data indicates that when prices go down, developers stop building. The market won't solve this.
The Housing Inventory also shows that only 16 percent of the total net housing that's been built is affordable. That's less than half of what every expert agrees the city needs.
Shaw is right that San Francisco isn't the only city facing a housing crisis. Big demographic trends that have been playing out for decades have made cities more attractive to young, educated, high-paid workers.
San Francisco is also not the only city with a housing and homeless crisis.
But rather than being on the cutting edge of progressive policy, San Francisco in the past seven years has been the single worst example in the country of bad planning, hyper-gentrification, and radical displacement.
Could Ed Lee have done anything about that? Yeah: He could have made the protection of existing vulnerable communities a higher priority than creating jobs for people who didn't live here. Was it necessary to turn SF into the tech-boom center to emerge from a national recession and create jobs? Was there another approach that would have kept people who had built lives and communities in town from leaving in droves?
I think so. Maybe I'm wrong. But let's at least talk about it.
Oh, and as we think about the glories of the Tech Boom, it's worth looking at new story on Wired, by Erin Griffith.
She argues that Big Tech (and even startups) still don't get what I (not Griffith) might call San Francisco Values.
Outside the bubble, things are different. We're not egging on startups that willingly flaunt regulations. We're wary of artificial intelligence and its potential to eliminate jobs. We're dubious of tech leaders' promises to make their products safe for their kids to use. We are all sick of the jokes that no longer feel funny: lines about the lack of women in tech, about obscenely rich 20-somethings, about awkward coders with bad people skills, about "hustling" and growth at any cost. It all feels inappropriate.
This industry is the savior of our city?