Mark Leno formally filed his nomination papers for mayor this morning, and promised a "fundamentally new direction for City Hall."
He told a group of supporters and news media that "I believe the voters will have a clear choice in this election between fundamental change and the status quo. I intend to shake things up at City Hall."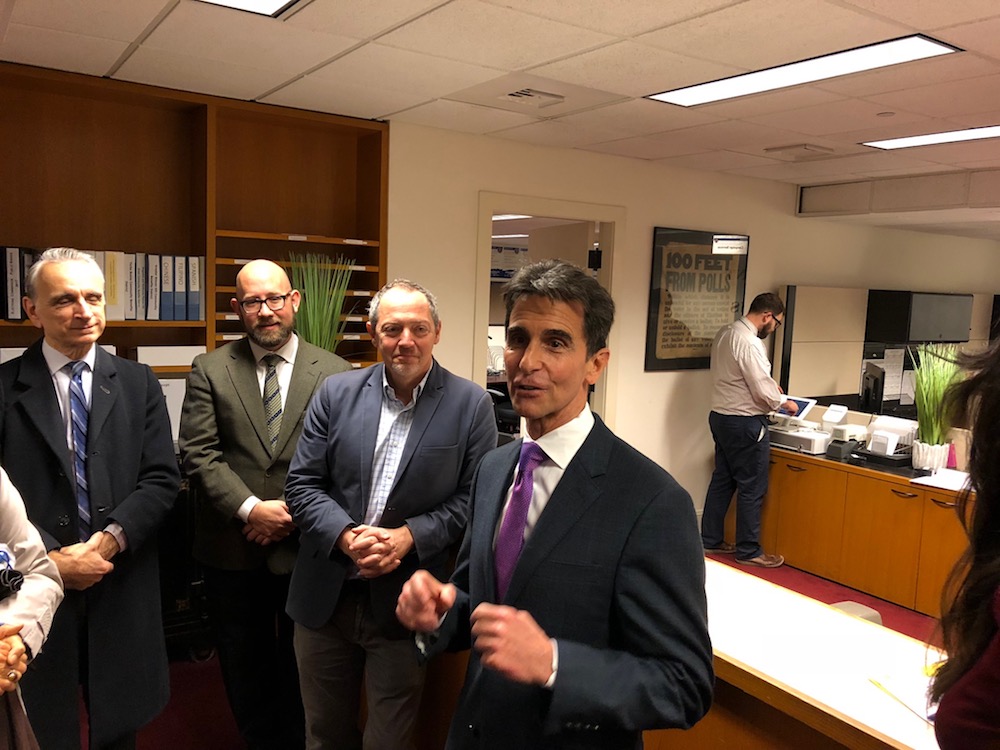 Sup. Jane Kim is set to file her papers tomorrow (Tuesday) morning.
The two candidates – along with City Attorney Dennis Herrera, if he decides to file – are positioning themselves as the progressive alternatives to Board President and Acting Mayor London Breed.
Although Leno never mentioned the names of any other candidate, it's clear that the allies of the late Mayor Ed Lee are behind Breed, who is most likely to continue the policies that he promoted.
Leno also called on all of the candidates to support a pledge to "denounce, renounce, and reject" all "SuperPAC" independent expenditures, which in recent races have become a defining factor.
Big Tech moguls like Ron Conway and Reid Hoffman have poured hundreds of thousands of dollars into attack ads targeting candidates they don't like.
There are also, in some cases, much smaller independent-expenditures by labor and community-based groups. They are typically dwarfed by the Big Tech and Real Estate money.
There's nothing anyone can legally do to stop the practice; the US Supreme Court says it's legal. But candidates can discourage their backers from going ies.
Safe to say that won't happen with Breed, who is going to benefit from almost unlimited spending by Big Tech.
Housing and homelessness will be a central issue for all the candidates, and Leno started off big: He said the city needs to "build and refurbish at least 50,000 units of affordable housing" in the next ten years. That's a big project, and will require a large amount of money. But, he said, "we can't play softball with affordable housing anymore."
Leno told reporters that he supports the idea of an interim mayor who would not be in the race. "San Francisco deserves a fair and open mayor's race," he said. I have not been lobbying members of the board on my behalf."
Progressives were well represented among those present, with Sups. Aaron Peskin and Sandra Lee Fewer and Community College Board members Tom Temprano, Rafael Mandelman and John Rizzo standing with Leno as he filed his paperwork.
Tomorrow is the final day to file, so by 5pm we will know exactly who is and isn't in the race.