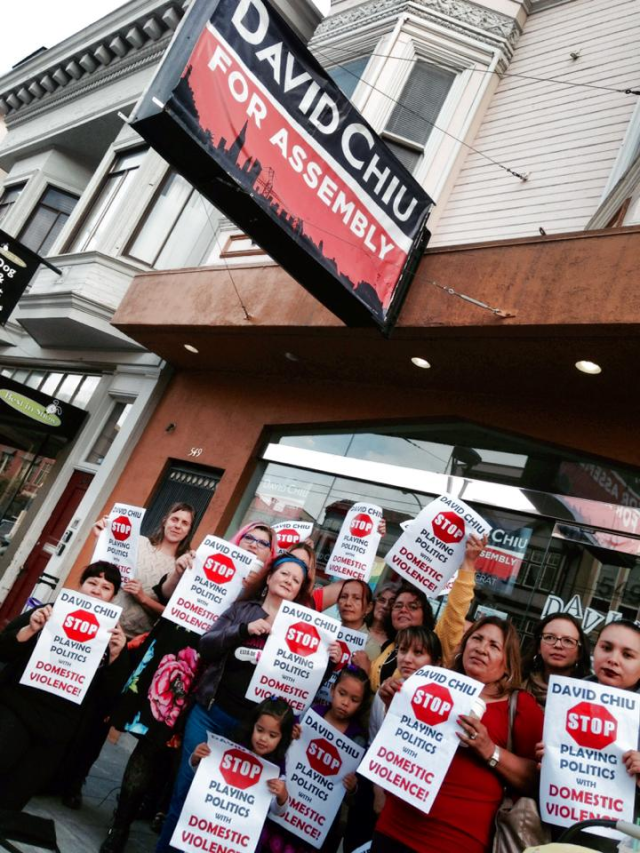 By Tim Redmond
OCTOBER 21, 2014 — I always suspected that the independent expenditure attack on David Campos would start to backfire. For one thing, been there done that: The same allegations (Campos voted against the mayor's effort to oust elected Sheriff Ross Mirkarimi) were spread all over the city in the spring primary. You can only say the same thing so many times before people stop paying attention.
For another, Campos has a lot of women supporting him, and a lot of people are getting sick of the idea that Reed Hoffman and Ron Conway can use their tech money to buy an election.
So now there's a Facebook page and a twitter hashtag called Shameonyoudavidchiu – and it's got the names of a long list of women who think Chiu's allies are exploiting the very serious domestic violence issue for political gain.
Chiu has every right to make the Mirkarimi vote an issue in the race: He voted one way, Campos voted the other. In a contest where the Chronicle, buying into a ridiculous narrative, says the candidates aren't very different, every vote where they disagreed is relevant.
But while Chiu has made it clear that he and Campos were not on the same side on this one, his campaign – the campaign he is accountable for – is not the one doing the dirty work.
That's the independent expenditure committee funded entirely, to the tune of $600,000, but the two tech titans – one of whom would have been taken a serious financial hit if Campos had succeeded in forcing Airbnb to pay its back taxes.
We've been over and over the Mirkarimi vote. You can argue that the supervisors who refused to go along with the mayor were allowing a guy who pleaded guilty to a crime that stemmed from a domestic violence incident to go on serving in law enforcement. You can argue that what Mirkarimi did was inexcusable – but under the City Charter, his conduct (which happened before he became sheriff) wasn't "official misconduct." That's what Sup. Jane Kim said – and Chiu has endorsed her re-election. Conway and Hoffman haven't put a penny into opposing her.
You can also argue that the City Charter provision that gives the mayor the right to unilaterally suspend from office another elected official on any grounds he or she finds relevant creates an immense imbalance of power – the supervisors can't suspend or impeach the mayor, no matter how awful the person holding that office is – and that removing an elected official ought to be the business of the voters, which is why the state Constitution contains the right of recall.
Can you imagine what Willie Brown could have done with this power, which wasn't in the Charter when he took office?
(BTW: If the mayor, instead of suspending Mirkarimi, had asked his tech buddies to fund a recall election, Mirkarimi might well have lost. At that point the sheriff's approval ratings were terrible. Now, he's reunited with his family, doing what many would consider a good job, and running for re-election.)
That's what Campos was getting at with his vote: The voters elected this person, and it ought to be up to the voters, not the mayor, to remove him – except under the most extraordinary circumstances.
Those are all legit positions. You don't have to be an Ed Lee acolyte to say Mirkarimi behaved horribly; you don't have to be soft on domestic violence to say this law wasn't properly applied.
But those are subtleties that don't play well in political campaigns. And frankly, if you want to do a hit on Campos, the pickings are pretty slim; the guy has lived a clean life and has an impressive story.
So Conway and Hofman have tried to tar Campos by sending out fliers suggesting that he condones domestic violence.
Here's the thing, though: When the state tried to cut spending on DV programs, Reed Hoffman and Ron Conway were not there. "Mr. Hoffman, where have you been on stopping cuts to domestic violence services, fighting for women's equality and justice, aiding tech women and their families who have been harassed from their homes," asked Patty Bellasalma, president of California NOW. "The answer is nowhere."
In fact, I don't think either of these guys has ever tried to save any social program – they're all about tax breaks for tech, allowing the Google buses to park in Muni stops. … that sort of thing.
And they like David Chiu.
So who likes David Campos? Here's a list. Many of these women were victims themselves of domestic violence.
They've sent an open letter to Chiu.
We are writing to call upon you, David Chiu, to stop playing politics with domestic violence. We are survivors of domestic violence who are offended by the smear campaign that you and your supporters have launched against David Campos.

If you really cared about us, about this extremely difficult and complicated issue that touches so many people's lives, then you would stop using us to win votes. You would tell your billionaire friends to take the $600,000 they have spent on vicious ads filled with hyperbole and lies and instead use that money to directly help domestic violence survivors like us. We need more shelter beds, culturally appropriate crisis intervention lines, and support services to heal the trauma experienced and rebuild our lives.

We deserve respect and dignity and instead you and your supporters are using us for your own political ends that have nothing to do with domestic violence. You are hurting us and you need to stop.
Trisha Fogelman, a DV survivor, told me that she was upset in the spring when the first ads arrived. "I felt like they had photoshopped bruises onto women," she said. "It took me back to a very dark place."
This this fall the barrage started again. "When the two candidates had a debate on KQED, I called in and asked Chiu about it and he ignored me," she said. "The whole think kind of makes me sick to my stomach."
Fogelman, who doesn't work for the Campos campaign and hasn't donated to either candidate, started the Facebook page and it's taken off.
Of course, Chiu can't even acknowledge that he knows that Hoffman and Conway are doing: By law, that campaign has to be entirely independent of the official Chiu for Assembly effort. He could, though, ask his supporters to quit sensationalizing DV for their own purposes, and that would at least send a message. So far, he hasn't.
Chiu isn't talking to me, which is silly, so I can't offer his response – which wouldn't matter much, since he legally can't have any control over these attacks. Some labor groups, including SEIU Local 1000, are also doing an IE, on behalf of Campos, attacking Chiu. Their pitch: Chiu founded a company called Grassroots Enterprises, which helps political campaigns with data management, and the company contracted with some nasty Republican groups. Chiu, the argument goes, was willing to sell out his principles to make money off the GOP.
Again, Chiu isn't talking to me (which is silly) but in the past he has said that it wasn't his decision to contact with Republicans and he opposed it, but he didn't completely control the company. And, clearly, he didn't want to leave a business he had just helped to start.
The labor message: you can't trust Chiu's integrity. The tech mogul message: Campos doesn't care about women who are victims of domestic violence. The way the voters respond ought to be at least a bit influenced by how consistent those messages are with the records of the two candidates.
In the meantime, there are plenty of other issues, ones that impact the lives of thousands of low-income San Franciscans, small businesses, and nonprofits that might be more immediately relevant to the voters.
Chiu supported the Twitter tax break, which brought tech companies and tech jobs to mid-Market – but also helped drive up housing prices and rents for nonprofits.
Chiu pushed a bill to legalize Airbnb, with some regulations. Campos agreed that legalization was a good idea – but only if the $10 billion company paid the $25 million or so in back taxes that it owes the city of San Francisco.
Chiu voted against that part. The back-tax mandate died by one vote.
We're talking lots of money here, money that the tech firms that got the tax breaks can well afford to pay. (I actually had this conversation with an executive at Zendesk, which has done a lot more than most mid-Market companies to help the community. "Did you really need the payroll tax break to come here?" I asked. "Not at all," he said. "We would have moved here anyway.")
Money that could have gone to city services (including DV prevention.)
Oh, and Chiu's campaign strategist, Nichole Derse, is a partner in a firm hired by Airbnb to turn people out at hearings on the Chiu billfs.
Maybe, in the last few weeks before Election Day, that's what the debate should be about.
Full disclosure note: While I try to raise enough money for 48hills to actually pay myself a living wage, I'm taking on outside work. I am a guest lecturer at City College, teach at San Francisco's State's Osher Institute of Lifelong Learning, and recently did a class at USF. I have been paid the princely sum of $50 to speak at a friend's journalism classes at the Academy of Art University.
As a freelancer, I am helping edit the member newsletter of SEIU Local 1021, a union that strongly supports Campos (although as far as I know, 1021 is not involved in the anti-Chiu IE.) I am also on the board of Legal Assistance to the Elderly, which is losing its office space in mid-Market because of tech-driven rent increases; I get paid nothing for my board service. I am volunteering to help the Bernal Heights Neighborhood center restart its bimonthly newspaper, The New Bernal Journal.
I will continue to update any future conflicts in the unlikely event that anyone else out there offers to pay me for anything.