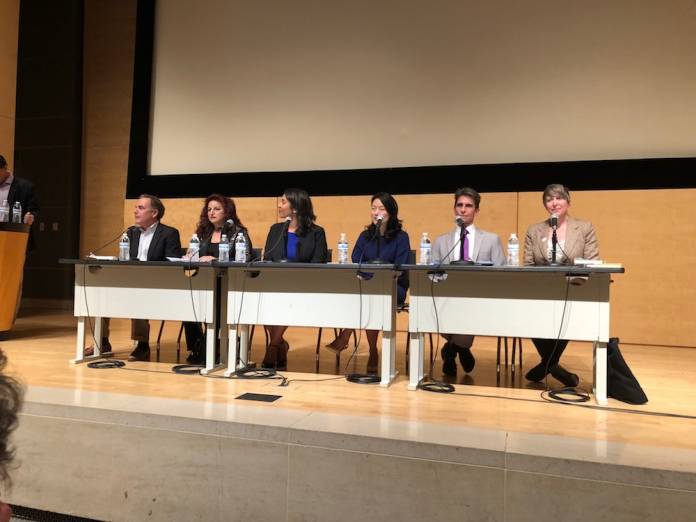 Tom Ammiano called me this morning to say he was going to dial 911. "I just realized I agree with Willie Brown," he said.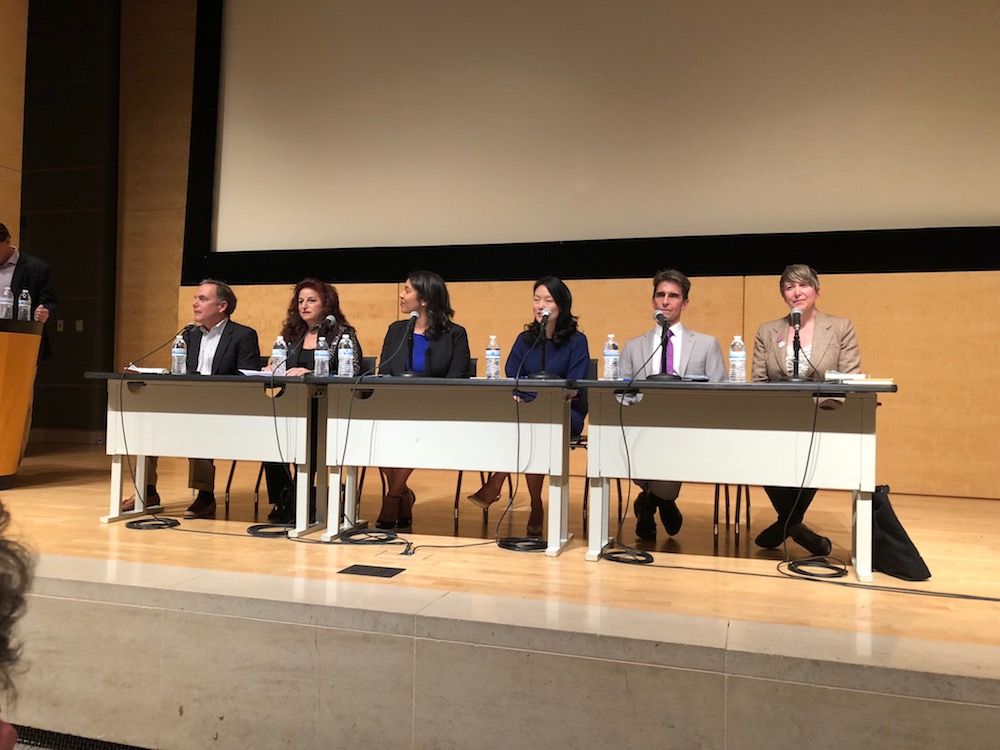 That doesn't happen often to me, either, but I get his point: Brown's analysis of the mayor's race reflects the problem we are seeing with this short-track sprint:
The real story behind all this is that there isn't a cigarette paper's worth of difference between the candidates on the major issues.

All are calling for more affordable housing. All are calling for compassionate but firm care for the homeless. All say auto break-ins have to stop and that traffic is terrible.

But none of them has a concrete answer for how they will do any of it.
That was my response to the first debate, where there was too much agreement and none of the candidates stood out.  It's still the problem today.
Brown is, of course, wrong in his overall position: There are very significant differences between the candidates. Mayor Jane Kim or Mayor Mark Leno would take the city in a very different direction than Mayor London Breed (or, in her wildest imagination, Mayor Angela Alioto).
But the voters don't know that yet – and the election comes closer every day.
We may see that change Wednesday/14, when the first forum organized by progressive groups takes place at the Women's Building. The forum is hosted by he SF Progressive Alliance, The SF Latino Democratic Club, The Harvey Milk LGBTQ Democratic Club, San Francisco Tomorrow, Latin@ Young Democrats of San Francisco, The SF Berniecrats, The SF Green Party, Progressive Democrats of America SF, South Beach D6 Democratic Club, SF For Democracy, and more.
Here's the question I would ask, if I only got one: Do you believe that rapid growth has been good for San Francisco, and that job growth in the tech sector – encouraged as a key policy by the administration of Ed Lee — has had a net positive impact on the city's economy, on social justice in the city, and on the quality of life for all residents?
I said "net positive impact." Don't tell me there are upsides and downsides; on balance, are we better off as a city then we were before Ed Lee too office and Ron Conway began calling the shots at City Hall? Yes or no. Don't waffle.
The event starts at 6pm.
The Board of Supes Finance Committee once again takes up a huge complex set of campaign-finance and ethics reforms Thursday/15, and the supes are in a strange situation: If they don't approve everything that the Ethics Commission has proposed, that commission has the ability to put the issue directly to the voters, as is.
The more I learn about this, the more frustrating it gets: Almost everyone on the progressive side of things agrees with 90 percent of the reforms, and those are the most important ones. (The reforms that we really need, dealing with independent expenditure committees, aren't in the package, in part because of the US Supreme Court and in part because that doesn't seem to be the priority of Ethics right now.)
But Ethics is insisting on a couple of elements that directly impact nonprofit organizations, many of which are doing important work in the community. 
The key issue is "behested contributions," which means that a city official has asked some individual or group to give money to a nonprofit (or in some cases, a government agency). The problem is that big corporate donors can do a favor for, say, the mayor by supporting his or her favorite charities – but since it's not a direct campaign contribution, the amount is unlimited.
Ethics wanted to ban the practice entirely, but wound up settling for a set of disclosure rules that are going to discourage some people from giving money to nonprofits.
As a working group for local charities notes, the legislation
dramatically expands current law in ways that would create major impediments for public officials who engage in charitable activities to support nonprofits in our community
The legislation as written says that anyone who in any way seeks to influence city policy can't give money to a nonprofit at the behest of a public official without both the individual and the official filing a report.
That means, for example, that someone who goes before the Board of Supes to testify at a hearing in favor of Sanctuary City can't give $1,000 to a nonprofit without filing forms – if a member of the board asks for the donation.
The city just enacted a similar provision, written by Sup. Aaron Peskin; it became law Jan. 1, 2018. It defines "interested party" as someone who has a financial stake in a public-policy decision, not just someone who (like a huge number of San Franciscans) testifies on some issue at a board or commission. From the nonprofits memo:
The broad definition of interested party will be impossible to track or enforce. It would apply to anybody who speaks at a hearing, calls or writes their legislator, participates in a public rally, or even signs a petition. It fails to draw a distinction between advocacy around a financial interest with personal gain versus the public expression of one's opinions under the First Amendment. It would apply to people who speak only at a subcommittee hearing outside the public official's presence, and speakers who exercise their right to testify anonymously.
The other issue is that the law, as proposed, would make it impossible for a lot of nonprofit board members or staff to serve on any city commission.
Board members (and I know this from serving on two nonprofit boards) are supposed to help raise money for the organizations. If you are also on a commission, and you call people and ask for money for your nonprofit, you start to fall into the area where this new legislation would put you in potential legal jeopardy.
The threshold for triggering that reporting process is $1,000. And both the donor and the official have to file the report. (48hills doesn't get many $1,000 donations, and I'm not on any commission, but I can tell you that if I told those donors they would have to file a report, they would probably say: Well, then never mind.)
Again, from the memo:
These requirements are overly onerous, duplicative to the public official's filing, create a disincentive to charitable giving, and imply to donors that their contributions are somehow suspect. This requirement will most surely result in a decline of charitable contributions by any potential donors defined as interested parties – which as we highlighted in the section above, would apply to a dramatically expanded group of people – with minimal benefit to the public. The proposal may also result in sanctions when a donor fails to file the required report, even if the public official fails to notify the donor of the reporting requirement. This new double-reporting standard just creates a set of potential traps for unwary donors who simply are willing to make a $1,000 donation to a local charitable organization.

In contrast, we are supportive of reasonable reporting requirements for recipients of major behested contributions ($100,000+). While this provision would impose additional compliance costs for those organizations, contributions of this magnitude are rare and large enough to justify additional scrutiny.
More tricky: I also know that some people like to give money to nonprofits anonymously. No commissioner who is also on a nonprofit board could ask for a contribution from someone who doesn't want their name made public.
There are real issues with behested payments. When Mayor Ed Lee asked big corporations to chip in for the America's Cup and the Super Bowl, he was in their debt. That should at least be reported.
And as Larry Bush, a member of Friends of Ethics and a supporter of the legislation, testified last week, the existing behested-payment filings don't show any small nonprofits; they are all the big guys.
But that's based on the state's definition of behested payments, not the definition that would be in this law.
The nonprofit community – and most smaller nonprofits are not corrupt or creating conflicts of interests – is united against this part of the law. I don't see why Ethics can't, as Peskin asked at the last meeting, give the existing law a chance to work.
Meanwhile, Peskin is proposing that donors to independent expenditure committees – the superPACs that are the real source of political corruption in this city – be required to file economic interest statements. That's a fascinating idea.
But overall, it seems as if the city could enact a strong, much-needed set of new ethics rules, with pretty much unanimous support, without attacking legit nonprofits.
But the supes aren't in control here; Ethics can put this on the ballot anyway. And anti-corruption laws tend to pass pretty easily on the ballot in SF.
The hearing starts at 10am in the Board of Supes chamber.
The full board hears an appeal Tuesday/13 of the Community Plan Evaluation of a proposal to replace a laundromat on Mission Street with 55 units (or more) of market-rate housing.
The issue at hand is somewhat technical – does the project conform with the Eastern Neighborhoods Plan, which means it doesn't need further environmental review. But what's really going on here is that the community has been pushing for the city to buy the site and develop 100 percent affordable housing – and the owner has set the price so high that the city can't do it.
The legalities are difficult here: The supes probably can't say that the developer has to sell to the city or he won't get a permit. But it's tempting.
That hearing starts sometime after 3pm.