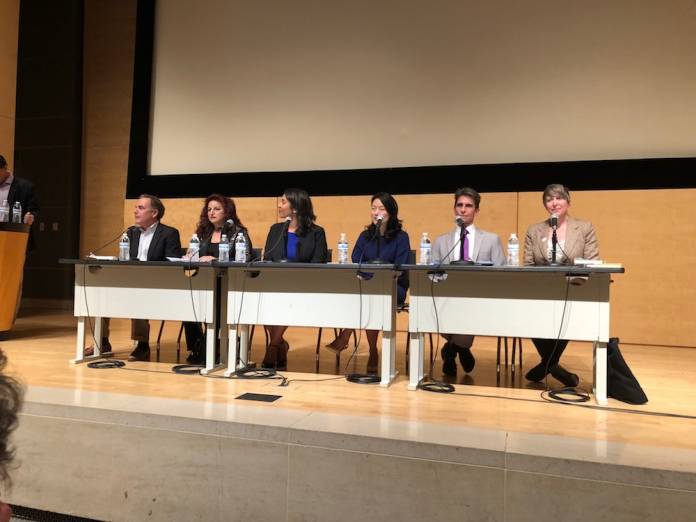 The first mayoral debate of the spring had no clear winners or losers; in fact, none of the candidates stood out as dramatically different from any of the others. That may be in part because this event was sponsored by the decidedly moderate United Democratic Club, with the decidedly conservative Chronicle Editorial Page Editor John Diaz asking all of the questions.
There's clearly a lot of interest in the race: So many people came out on a beautiful Saturday afternoon that the Koret Auditorium at the main library filled to capacity, as did an overflow room, and still people were turned away.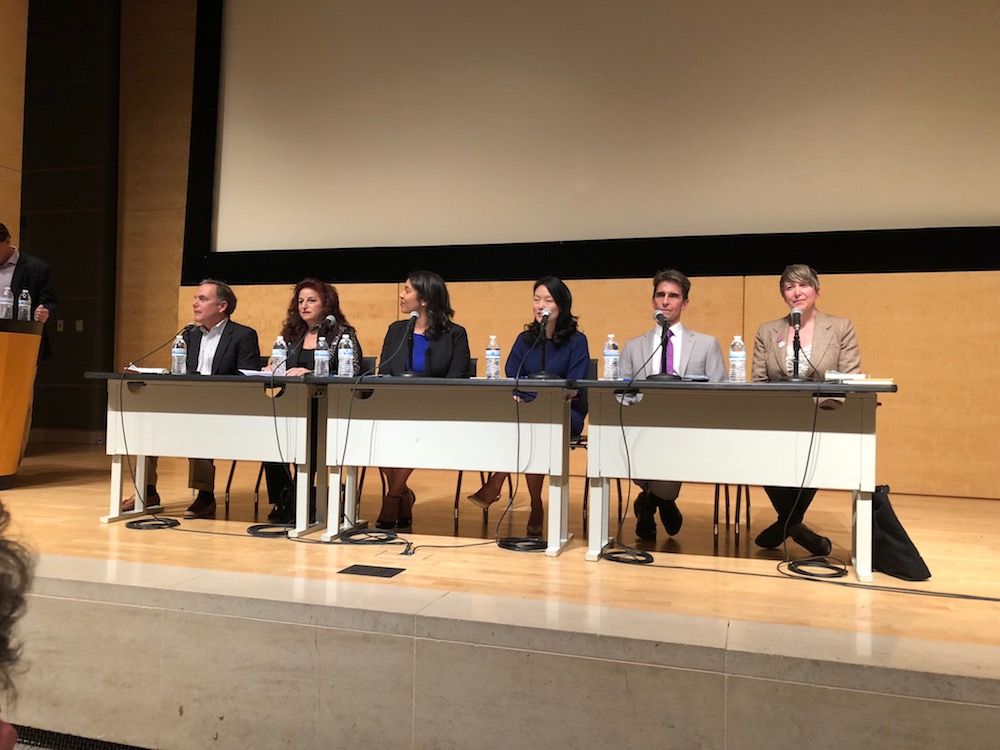 The candidates had a chance to define themselves as different in a crowded field, and I don't think any of them did that.
Mark Leno came the closest: From the start, he said that he is convinced that "we need a new direction at City Hall" and that he would offer "a fundamental change from the status quo."
Sup. Jane Kim, who ran for state Senate as the candidate of the Bernie Sanders left, never talked about radical change. She described how she had supported every single new development in her district, and worked with developers to create much more affordable housing than anyone else in the city.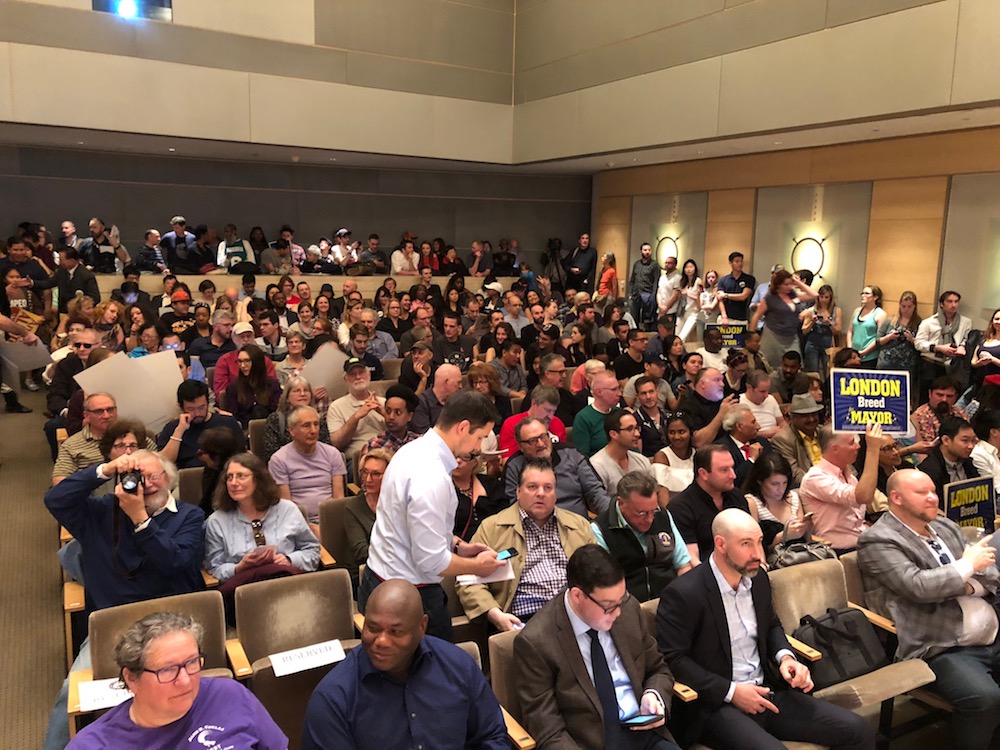 She did say that approving development gives landowners an increase in value and that some of that value needs to come back to the city.
But overall, the tone was set when Diaz asked the really annoying question that the candidates could have used to show why they are not all the same (and they have very different positions on key issues, most of which did not come out at this debate).
Diaz asked about "leadership" at a time when the city is bitterly divided; he wanted to know how the candidates would bring people together. They all said the same thing: I can work with people I don't agree with, I can unite and not divide, we all need to work together for solutions.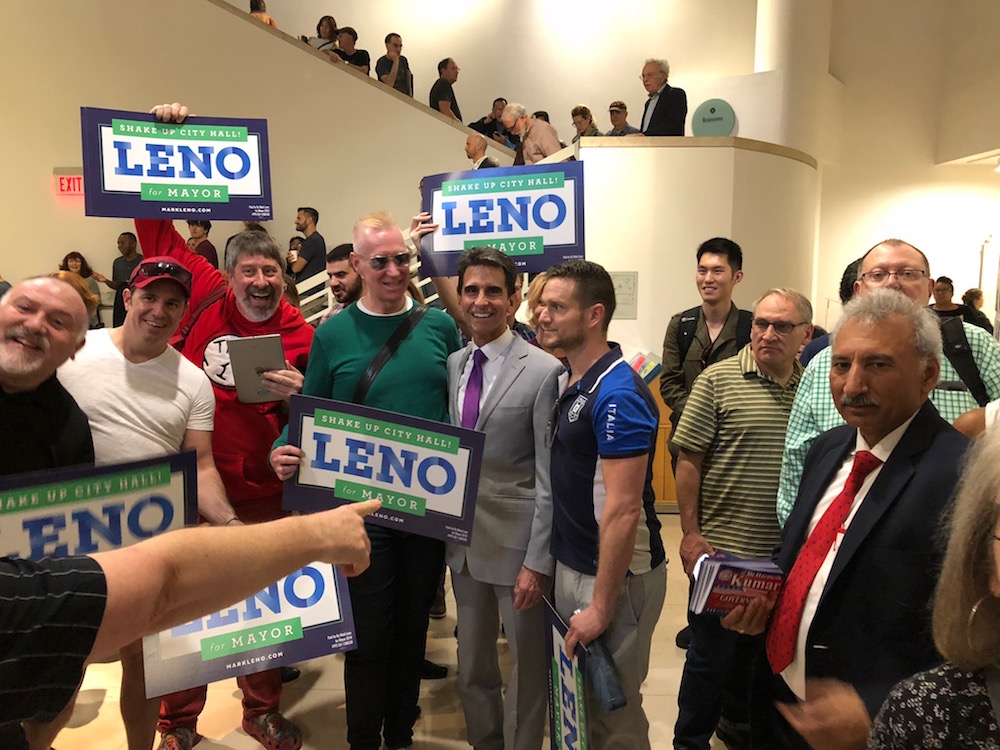 Leno said he worked with Republicans in Sacramento. Kim said she worked with developers to create affordable housing. Angela Alioto said she worked with people "who hate each other" to find solutions to homelessness. Breed said her colleagues who don't always agree twice elected her board president. Amy Farah Weiss said she's an expert in collaborative leadership.
Nobody said this:
It's no surprise that the Chron and the UDC want to talk about bringing people together, because that papers over the central issues. This city is divided because people are under immense, unrelenting pressure, brought on by a tech boom that has vastly enriched a few and impoverished many others, and left the vast majority of the city scrambling to hold on. When you grow too fast, with too much economic inequality, you create divisions; the middle-class folks who just want to buy a home find that the only way to do that is to evict a long-term renter who is a little less well-off than them. People point fingers; people get angry and confused. It's the fault of the past administration that we are in this situation.

It's fine to talk about brining everyone together, but what we need now is a mayor who will kick the billionaires out of the room, kick them out of City Hall, and open the way for the rest of us. If that's divisive, fine; it's the reality we live with. We can't all work together when some of us are using our wealth to wreck the city for everyone else. They're already at the table and have been there too long; we need to defeat them, not embrace them.
I guess that's too much to ask for a mayoral candidate in 2018.
I give Kim and Leno credit: They were the only two who said, when asked about homelessness, that prevention is as important as responding. Both said that we have to stop the wave of evictions; 70 percent of the homeless people in SF once had a home here. It does little good to create shelters and navigation centers if they fill up as fast as you build them because more and more people are thrown out onto the streets.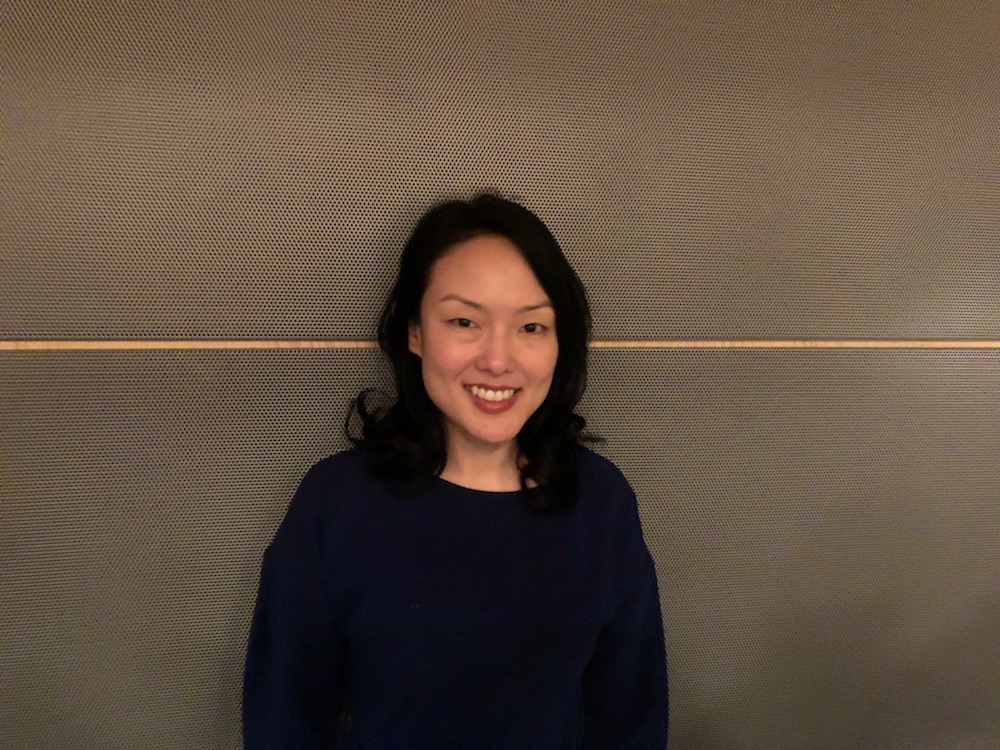 Leno suggested that the city ought to sue the speculators who are abusing the Ellis Act by purchasing building after building and in each case claiming they want to go out of the business of being a landlord.
Weiss correctly pointed out that it does not good to put people in shelters or medical facilities if they are released back to the streets with no place to go. She's a fan of Seattle-style "supportive villages."
I was really disappointed to see that every single candidate in one way or another endorsed state Sen. Scott Wiener's new housing bills. One after another, they talked about the need for density on transit corridors, the need for the private market to build more housing (with some percentage affordable and some protections, which are not yet in the bill and I can't imagine will be effective, against displacement).
They all seemed to be buying into the concept that all growth is good, and that we don't need to control or moderate it.
What nobody said:
We have a housing crisis in part because City Hall under Ed Lee decided that attracting tech companies and their high-paying jobs was more important than protecting existing vulnerable communities. That was a mistake. We also have a housing crisis because we have allowed SF to become a bedroom community for Silicon Valley.

Wiener's bills will allow more luxury housing and more displacement in this city, where there are a lot of transit lines. Cupertino and Mountainview, where there is less robust transit, won't have to build as much dense housing.

And yet, they are allowed under state law and Wiener's bill to approve as much commercial office space as they want, and collect the revenue from it, without building any housing at all.

Why should Peninsula cities and tech companies be allowed to outsource their housing problems to San Francisco? Why aren't we demanding limits on commercial development in cities that won't allow new housing? Why is our response based on accepting the status quo and not challenging it? Why do we make it easier for Peninsula cities and tech companies to screw up our own housing market by allowing them to run luxury shuttles from our neighborhoods?

Why don't we realize that building market-rate housing in places like the Mission inevitably leads to the displacement of both residents and long-term community-serving businesses, that these projects Wiener would fast-track are gentrification time bombs?
I guess that's too much for a mayoral candidate in 2018.
When it came to traffic congestion, we saw a few minor differences. Breed is not in favor of a London-style toll system that charges drivers for the right to head into congested areas; Kim and Leno said that's an idea worth pursuing. Breed then said that the city is going to have to deal with the massive increase in Uber and Lyft vehicles, although that's a new position for her: In most of her time on the board, she has made little or no effort to regulate these companies. Kim, in one of the high points of the debate, noted that "it's hard to imagine the growth in this city in the past five years. We have added one-eighth of the population. Our city is just not built for that many cars." She supports congestion pricing. Leno pointed out that there are 50,000 Uber and Lyft vehicles in the city every day, making 170,000 trips. Planning at the MTA, he said, "is not working."
Much of the rest of the debate was entirely predictable. Everyone thinks car break-ins are a crisis, and that we need more cops on the streets (well, Weiss said that putting more money into cops wouldn't solve the problem, and that we need to address economic justice, which is true, although it appears that a lot of the car thefts are part of a big crime ring).
Everyone supports sanctuary city.
Everyone said it might make sense to change the City Charter so that the board president can't also be the mayor for more than a short period of time. Leno went further and suggested that the mayor shouldn't be able to appoint supervisors.
But I walked away thinking: None of these candidates told me why they are different, really different, from the others. They all talked about bold leadership, but didn't take on bold policy challenges.
The reality is that Breed has a very different record than Kim, and has a very different approach to issues than Leno (and frankly, those are the three candidates who are going to be at the top in June).
I'm glad Leno and Kim have signed onto a pledge to reject superPAC money; it's too bad that Diaz didn't ask about that, and put Breed on the record.
I have watched, been a panelist on, and monitored mayoral debates for 30 years, and some of them have had a dramatic impact on the races. But tonight? If I were an undecided voter, after listening to a 90-minute debate, I would still be undecided. And the election is only four months away.