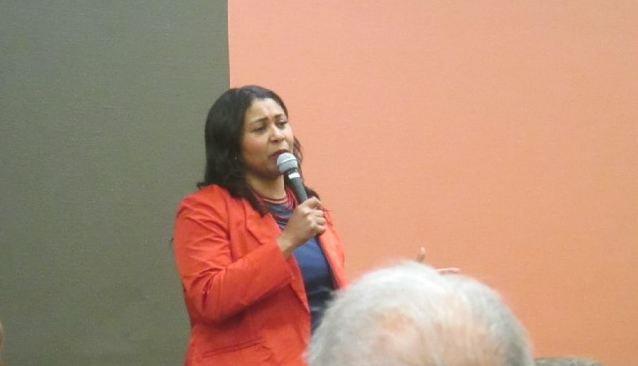 The independent expenditure committee backing Sup. London Breed for mayor and attacking Mark Leno has filed its first documentation, which shows that the majority of its money comes from three women, two of whom have ties to the real-estate industry.
Susan Lowenberg, Mary Powell, and Rina Alcalay each donated $5,000 to the ie, known as "It's Our Time, Women Supporting London Breed for Mayor," Ethics Commission records show.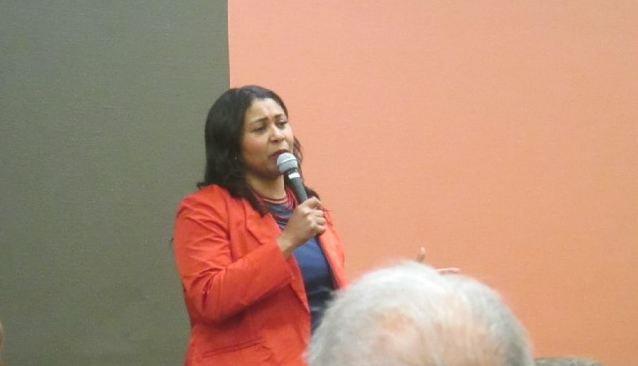 That's most of the $16,900 the committee reported raising. The money has gone to a pair of web ads.
Lowenberg is president of the Lowenberg Corporation, a major real-estate operation in the city. She is married to Joyce Newstat, a political consultant and former policy director in Gavin Newsom's mayoral administration.
Alcalay is married to Oz Erickson, one of the city's larger real-estate developers.
Powell is an employee benefits lawyer with Trucker Huss.
Lowenberg has long been an active donor in the local political world. She supported Breed for supervisor in 2012 and also contributed to a superPAC that attacked Breed's opponent, incumbent Christina Olague. She's given the maximum $500 to campaigns for Ed Lee, Scott Wiener, Malia Cohen, Ahsha Safai, and Jeff Sheehy.
Oddly, last May she gave $500 to Mark Leno for Mayor, although her money is now being used to attack him.
Alcalay likewise has given money to numerous candidates; she was a big supporter of Natalie Berg, the former Community College Board member, and has given the maximum $500 contribution to most of the moderates on the board, including Katy Tang, Scott Wiener, Ahsha Safai, Julie Christensen, and Breed. She also supported Christina Olague and David Campos.
Powell's only political contribution in the past ten years (other than this one) was $250 to City Attorney Dennis Herrera.
The other ie supporting Breed is sponsored by the firefighters' union, and hasn't reported any contributions.
There are at this point no other superPACs involved in the mayor's race.
The Chronicle story on Ron Conway today quotes him saying that he's too busy to get involved in local politics. That would surprise me; he's got too much at stake here. Conway's heavily invested in companies that have been or could be subject to local regulations that would impact their bottom line. He's already endorsed Breed. It's not a hard-hitting story, and doesn't call Conway the plutocrat that he is. It also includes this:
Conway also was angered when four progressive supervisors voted in 2012 to let Ross Mirkarimi>keep his job as sheriff, in spite of a domestic violence conviction. He poured $29,000 in cash and $20,000 in-kind contributions into an independent expenditure committee called San Francisco Women for Accountability and a Responsible Supervisor, designed to punish former Supervisor Christina Olague for her vote. Olague, who was appointed by Lee, was facing a tight race against London Breed for the District Five seat. Two years later, Conway pitched in $85,000 to defeat David Campos, who also voted to retain Mirkarimi, in his unsuccessful bid for state Assembly. Conway then threw $200,000 at an independent expenditure committee to trounce Jane Kim, another Mirkarimi ally, in her 2016 state Senate race against the moderate Scott Wiener.
Conway may very well have been angry about the Mirkarimi vote; he was also angry that Olague, Campos, and Kim defied the mayor. But there's more to the story.
Campos and Kim were actively involved in efforts to tightly regulate Airbnb; Conway holds a significant stake in that company, and if its home city shut down a lot of its illegal units, that stake would have shrunk in value.
David Chiu and Scott Wiener were big supporters of Airbnb, and Chie allowed Airbnb's lobbyist to help draft the legislation that legalized the company's activities. So I suspect there was more than just the Mirkarimi vote involved here.
As former Sup. John Avalos told us when we did a big piece on Conway at the Bay Guardian: "Conway is all about the bottom line of his industry, and nothing more."