ARTS FORECAST This weekend heralds another massive Outside Lands—the first in its 10-year history to be headlined by a woman, the awesome Janet Jackson. The lineup this year is stacked (Janelle Monae, Tash Sultana, Florence and the Machine, and Perfume Genius will bring some fire). But to survive the crush, you might need a little "mood lightening."
Bay Area food writer Marcia Gagliardi has just launched a new project called My Milligram, which curates lovey low-dosage cannabis products that will increase your positive outlook, though not bowl you over. She's put together a cute and kicky My Milligram summer festival pack: "a neon fanny pack filled with curated low-dose products that are ideal for enjoying festival season in #hellavated style." A perfect lift for when you're waiting on your favorite act in a sea of thousands, or, say, climbing a fence for a better view 🙂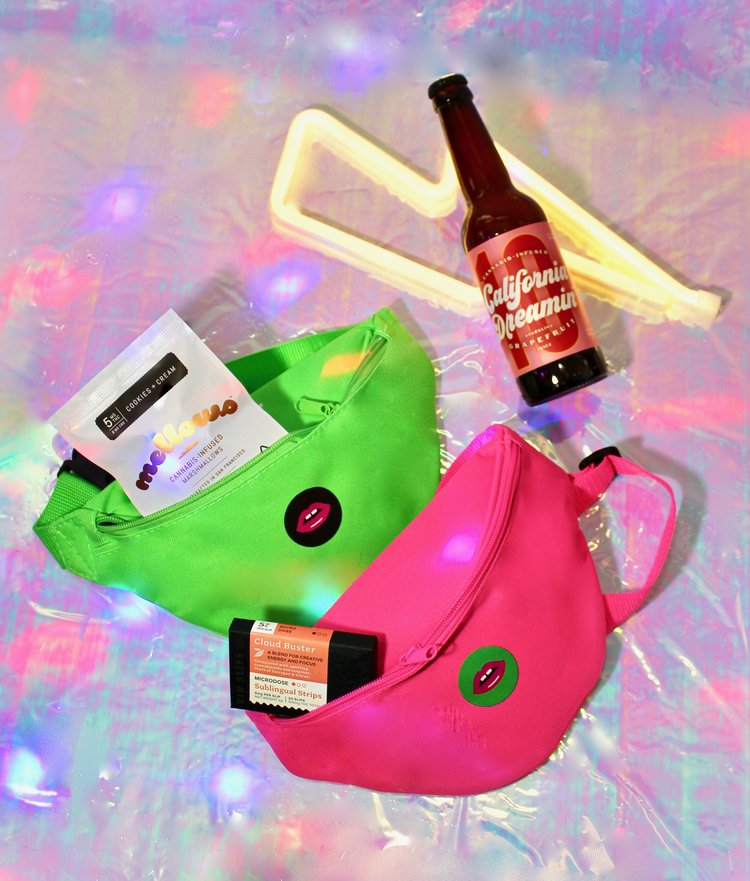 I'll be camping in one of the few parts of Cali that currently aren't on fire right now—shouts out to the firefighters, if not the CA Department of Corrections, which recently bragged about basically using child slave labor in the flame-prevention effort. If you're not in the mood for Outside Lands, here are a few alternatives, or complements, if you like. 
THU/9 NIGHTLIFE EWE BETTER WURQ It's almost Burning Man time, and that means the camp fundraisers are coming fast and furious. This one is actually campy: The Big Ass Amazingly Awesome Homosexual Sheep, aka BAAAHS, is, er, a giant sheep art car/sound system that has lasers for eyes and disco balls for testicles. This party will raise funds to help it graze the playa, bringing sheepish techno to all. With lots of fun DJs and surprises. 7pm-midnight. $10 suggested donation. Driftwood, SF. More info here.     
FRI/10 TALK QUEER ECOLOGY "An interactive workshop with Edgar Xochitl, that will look at ecology from a queer lens and examine heteropatriarchy's role in creating the power and privilege of what is labeled 'natural & normal.'" Presented by PODER SF, "as we prepare for a week of action in defense of Mama Earth and her resources, Sept 8-15, here in SF." 5:30-8:30, $15-425 or two hours of volunteer work at Hummingbird Farm. Secret Garden, SF. More info here. 
FRI/10 MUSIC GLOBAL SOUL: AFROLICIOUS SOUNDYSTEM & BRAZA Wow! Two of our absolute best party crews team up for a sure-to-get-you-dancing experience encompassing Latin, African, and homegrown funk sounds. Live percussion, awesome DJs, diverse and fun crowd. 9:30pm-3:30am, $10-$15. Monarch, SF. More info here. 
FRI/10-SUN/12 FILM/MUSIC HARRY POTTER AND THE CHAMBER OF SECRETS IN CONCERT "Immerse yourself in the magic as you watch a house elf make trouble, a car fly, a giant talking spider, a mysterious diary and much more set to the music you know and love. Don't miss this once-in-a-lifetime event!" Multiple times and prices, Davies Symphony Hall, SF. More info here. 
SAT/11 NIGHTLIFE DEBASER 10TH ANNIVERSARY "Best crowd-surf wins a 'Smells Like Teen Spirit' 7-inch" is really all you need to know about this raucous, perfect '90s tribute party. Well, that, and also that this is its 10th anniversary, and DJs Jamie Jams and EmDee are still playing "songs from a time when 'alternative' meant 'not mainstream.'" 10pm-2am, $5-$10. The Knockout, SF. More info here.  
SAT/11 ART "COMIDA ES MEDECINA" OPENING RECEPTION "Galería de la Raza is honored to present the exhibit, Comida es Medicina. Comida es Medicina considers the topic of food justice from Latinx, Chicanx, Central American, indigenous, and immigrant perspectives. This group exhibition contests white supremacy by uplifting the knowledge, traditions, and practices of immigrant and indigenous members of our communities in relation to food, ancestral knowledge, and respect for Mother Earth." 6pm-9pm, free. (Show runs through November 2). Galeria de la Raza, SF. More info here.  
SAT/11 EMO NIGHT TOUR 2018 A lot sad, a lot happy. "Imagine going to a show and hearing Taking Back Sunday, Fall Out Boy, Panic! At The Disco, My Chemical Romance and many more, all only playing their best songs! The folks at the Emo Night Tour 2018 are giving you just that. All the sing-a-longs, dancing, jumping, screaming… well basically all the EMO!" 8:30pm, $10. Hotel Utah Saloon, SF. More info here. 
SAT/11-SUN/12 FESTIVAL PISTAHAN PARADE AND FESTIVAL This is one of my favorite festivals, mostly because I can never stuff enough lumpia into my mouth at one time. I keep trying, though! This celebration of Filipino culture and cuisine features amazing music, dancing, performance, community, and food, food, food. Noon, free. Yerba Buena Gardens, SF. More info here. 
SAT/11 FESTIVAL SALSA FESTIVAL Salsa dancing and salsa tasting! "Salsa tasting (Find your favorite farmers' market salsa!) Salsa dancing with a live DJ Mayky 1:30pm-3pm, and with live Cuban Music from 10am-noon with La TropaSon. Live music from local youth bands (including Three O'Clock Rock) from noon-1:30pm. Art and crafts vendors, plus A BOUNCE HOUSE!" 10am-3pm, free. Martin Luther King Jr, Civic Center Park, Berkeley. More info here. 
SAT/11 LIT WRITERS WITH DRINKS: MARGARET WILKERSON SEXTON Love this tipsy literary salon, hosted by Charlie Jane Andrews! "Born and raised in New Orleans, Margaret Wilkerson Sexton studied creative writing at Dartmouth College and law at UC Berkeley. Her debut novel, A Kind of Freedom, was a 2017 National Book Award Nominee, a New York Times Notable Book of 2017 and a New York Times Book Review Editor's Choice." Also with Hannah Pittard, Laura Antoniou, Marlee Jane Ward, and more. 6:30pm-9:30pm, $5 to $20, all proceeds benefit the Center for Sex & Culture, MakeOut Room, SF. More info here.  
SUN/12 MUSIC RONNIE SPECTOR AND THE RONETTES The one, the only, the queen of rock and roll soul brings her wall of sound to the free Stern Grove Festival. 2pm-5pm, free. Stern Grove, SF. More info here. 
TUE/14 READING PRIVACY VS. THE RISE OF SURVEILLANCE TECH "Join award-winning tech reporter Cyrus Farivar reading from his newly released Habeas Data: Privacy vs. the Rise of Surveillance Tech. His work shows how the explosive growth of surveillance technology has outpaced our understanding of the ethics, mores, and laws of privacy. The evening will also feature a special performance by activist, organizer, lawyer, DJ, MC, music producer, and recent congressional candidate Shahid Buttar. 7pm-9pm, donation requested. Octopus Literary Salon, Oakland. More info here.