ARTS FORECAST What was your first introduction to "nice" restaurants? Not nice as in fancy, but nice as in somewhere warm and interesting, somewhere that made you feel like an adult for choosing to dine there?
The question popped into my head when I heard that Pauline's Pizza is closing December 21, after 34 years. (This followed hard on the heels of news that estimable soul food joint Farmerbrown in the Tenderloin had suddenly closed.)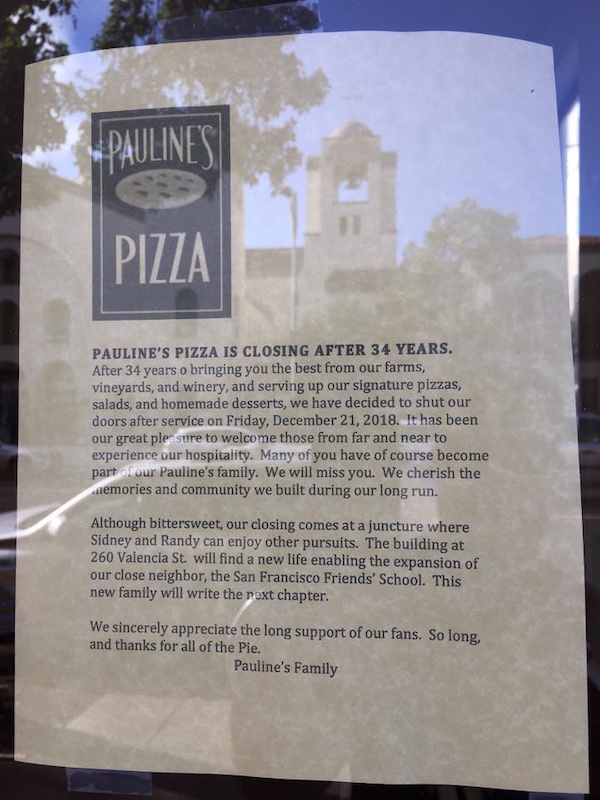 I come from Detroit, where the pizza toggles between classic trash delivery (both Domino's and Little Caesar's have Michigan roots) and delicious deep-dish Greek pizza from Greektown (like Chicago deep dish but full of spinach and more cheese) when you could afford to run over there. And of course, I'd been to plenty of old school suburban Italian pizza parlors after soccer games and such.
But Pauline's was the first clean, lovely, white-tablecloth pizza joint I went to, shortly after I moved here—a true forerunner of the California pizza kitchens that soon mushroomed all over America. Plus, the subtle French touch, family feel, and intriguing ingredients made it seem so much more than just another pie spot. I felt grown up eating pizza, joined by a table of friends over several carafes of wine: a feeling I'll never forget.
I can't really be mad at Pauline's owners. They want to move on to other things, and they're not converting the building into luxury condos. (The space will serve as an expansion of the next-door Friends School.) And nice pizza places aplenty thrive throughout the city, though not with Pauline's exact charms. I'll just have to stop in for one more pie and some sweet, smoky nostalgia.
PS Speaking of eatery nostalgia, Mission staple Boogaloo's reopened a few months ago, with its fantastic vegan menu intact, and some of those good ol' hipster vibes of yore. 
UPCOMING ARTS EVENTS
THU/6 LIT KIESE LAYMON  "Kiese Laymon visits Marcus Books Oakland to read from his remarkable new book Heavy: An American Memoir, a layered and time-bending coming-of-age account of growing up in Jackson, Mississippi. Joining him is local poet and educator Tongo Eisen-Martin (Heaven Is All Goodbyes), whose dynamic recitations match the sustained emotional intensity of Laymon's prose." 1:30pm at SFSU's Poetry Center, SF and 6:30pm at Marcus Books, Oakland. Free. More info here. 
THU/6 EVENT DRAG QUEENS ON ICE One of my absolute favorite traditions of the year, when some of SF's most beloved gender clowns take to skates and dazzle us with feats of frozen prowess. A treat for the whole family. 8pm-9:30pm, free. Union Square Ice Rink, SF. More info here. 
THU/6 MUSIC/LIT NOW WE'RE HERE "Enjoy acoustic performances of more than a dozen classic Queen songs interpreted by Bay Area musicians in a beautiful restored 1881 Hayes Valley Victorian, the site of concerts, film shoots, and unique performance events. The salon-style concert celebrates host/author Jim Provenzano's Queen-inspired sixth novel, Now I'm Here. 7:30pm-9:30pm, $20-$50. The F'Inn, SF. More info here.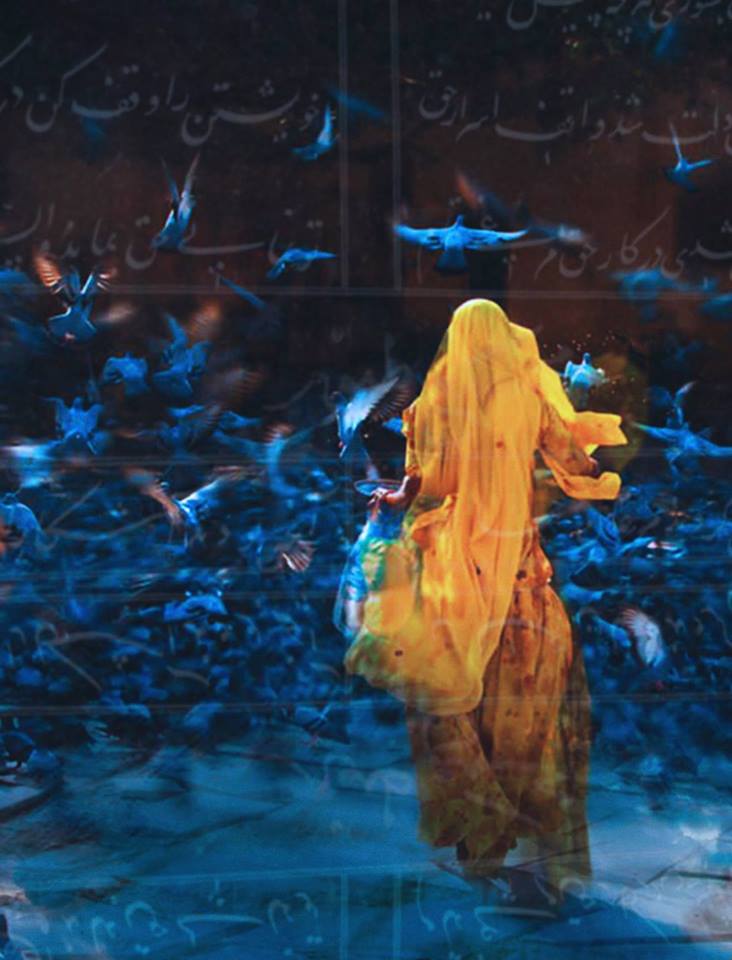 THU/6-DECEMBER 16 STAGE CONFERENCE OF THE BIRDS "In a Kingdom with no ruler, 10,000 birds set out to find a king none have ever seen. Led by the wise Hoopoe, the birds journey through dangers, distractions and difficulties, their Conference growing smaller each day. This Ubuntu Project world premiere from Sholeh Wolpé, adapted from Attar's celebrated Sufi poem and directed by Giulio Cesare Perrone, is a lyrical parable providing a timeless reflection on the search for meaning on a journey toward something larger than ourselves."  Various times, $15-$45. Brooklyn Preserve, Oakland. More info here. 
THU/6-DECEMBER 30 STAGE DEAR EVAN HANSEN Emo theater nerds (and those who love them) rejoice! The acclaimed Broadway musical tale of viral high school shenanigans in the face of a bully's death is coming to the Curran, with a heartthrob cast of course, and all the singalong angst and superb melodrama you can handle. Various times and prices—also there is a $25 digital lottery for seats here! Curran Theatre, SF. More info here. 
FRI/7-SAT/8 COMEDY THE RETURN OF CHICKEN SCRATCH If improv comedy terrifies you, you simply must come to this reunion show of one of my favorite troupes of all time. Their show will cure you of any allergy to comedy—and if you're already a fan of big yucks, you may already know how awesome they are. 7pm, $10. Piano Fight, SF. More info here. 
FRI/7-SUN/9 DANCE SCOTT WELLS & DANCERS: CONSENT FORMS "Consent Forms will be three evenings of performances around the theme of consent. After decades of men's dances SW&D is commissioning women choreographers, including Miriam Wolodarski and Liz Boubion, to make work about consent. Includes workshops and panels, curiosity and conflict." Various times, $20-$28. Mission Dance Theater, SF. More info here.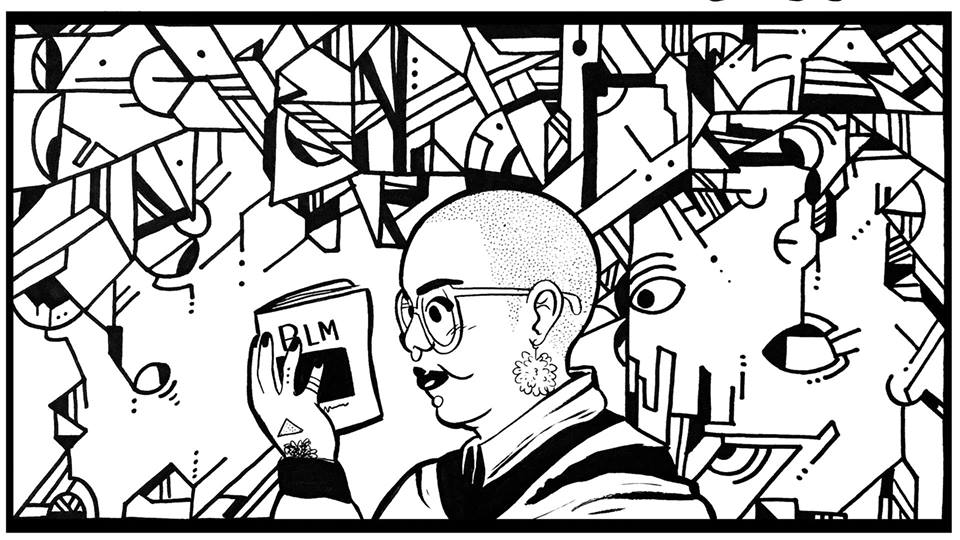 SAT/8 LIT/SHOPPING EAST BAY ALTERNATIVE BOOK & ZINE FEST The ninth annual installment of this awesome fest brings dozens of Bay Area underground authors, publishers, and zinesters together with people who like cool stuff. Go support! (Plus there's an incredible afterparty). 11am-5pm, donations accepted. Classic Cars West, Oakland. More info here. 
SAT/8 MUSIC ANIMAL COLLECTIVE DJ SET The Inner Richmond's Neck of the Woods venue is really stepping up its programming game lately, and this big-name score—featuring one of the golden age of indie's most beloved bands behind the decks—is proof. 10pm, $20. Neck of the Woods, SF. More info here. 
SAT/8-SUN 9 HOLIDAY SHOPPING SPIRITED MARIN HOLIDAY MARKET "Spirited Marin Holiday Marketplace is a unique and festive shopping village focused on the fresh voices of its Marin-based sellers and raising money for Marin-based nonprofits. It is two vibrant days of discovery, shopping, tastings, a very special Artstream photography exhibit, and charitable giving." 10am-5pm, free. Marin County Mart, Larkspur. More info here. 
SAT/8-SUN/9 FILM THE DARK CRYSTAL Jim Henson's magical, surprisingly dark fantasy epic comes back to the big screen. "On a faraway planet a stalwart Gelfling, Jen, sets off on a quest to find a piece of a magic gem with the power to bring balance back to the world, along the way battling wicked Skeksis." Various times, $9-$13. Roxie, SF. More info here.