SCREEN GRABS Though it doesn't get the same international nostalgic attention these days accorded similar movements in the US, Europe, and elsewhere, one of the most inventive and important 1960s film movements was Brazil's Cinema Novo. Breaking away from the purely escapist nature of that nation's existing movie industry, its makers experimented both formally and thematically, introducing a neo-realist-type focus on an unsentimentalized working class, and political content that grew more radical as the "turbulent Sixties" rolled into the radical early '70s.
Among the epoch's most important talents was Nelson Pereira dos Santos, who died last year at age 89. The PFA has shown his films before, and now it offers a posthumous retrospective with Remembering Nelson Pereira dos Santos, a seven-week series starting this weekend.
The Sao Paulo native's early films predated and inspired the accepted start of Cinema Novo: Rio, 100 Degrees (1956) and Rio, Zona Norte (1957), both showing at the PFA, are equal parts samba musical and gritty favela realism. Their harsh takes on life below the poverty line stirred some controversy at the time. The movement was officially underway by the time of 1963's Barren Lives, a stark adaptation of Graciliano Ramos' best-known novel, in which an impoverished rural family is exploited by employers and harassed by police at every turn.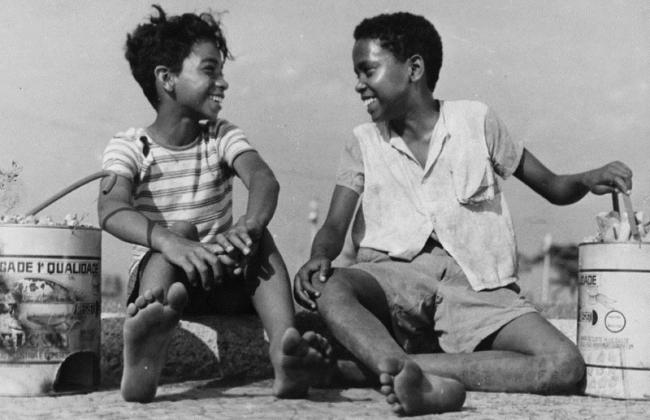 But as arthouse cinema around the globe began to leave "peasant suffering" themes behind for more complicated intellectual and aesthetic pursuits, so did Cinema Novo, and dos Santos with it. Hunger for Love (rakishly subtitled "Have You Ever Sunbathed Completely Nude?) is no mere nudie-cutie but a four-character psychodrama mixing Ingmar Bergman with elements of the "new permissiveness." Transitioning to vivid color, the director's 1970 A Very Crazy Asylum is a goofy dress-up period parable of the "Who's really nuts, the lunatic or his society?" ilk, one almost overwhelmed by an intense dissonant musical score.
Dos Santos' most famous film, the more artistically successful colonialist-era fiction How Tasty Was My Little Frenchman (1971), is regrettably not included in the series. But he continued to explore race, power and history in films like the ambitious 1977 satire Tent of Miracles, as well as darker chapters in Brazilian politics via 1984's Memories of Prison (another Ramos adaptation).
In later years he turned largely to the documentary form, with 2011's Music According to Tom Jobim (about the late bossa nova genius) representing that output in the PFA program. Remembering NPsS runs Fri/15-Fri/May 3 at the Pacific Film Archive. More info here.
Commercial openings we didn't get a chance to preview this week include two crime dramas at Landmark Cinemas: Yardie, a period piece set in Jamaica and London that's the feature directorial debut for actor Idris Elba, and The Highwaymen, which has Kevin Costner and Woody Harrelson as Depression-era cops on the bloody trail of Bonnie & Clyde.
One film I did catch, more or less, was Chilean director Sebastian Lelio's English-language remake his own 2013 Gloria as Gloria Bell, with the very glam Julianne Moore taking Paulina Garcia's role as a very ordinary divorcee. If you feared a watered-down, prettied-up Hollywoodization of the exceptional original…well, let's just say I left after 40 minutes, and leave it at that.
Other events of interest include the Albany Film Festival, which runs in that East Bay burg Sat/16-Sun/24 (More info here); and a two-day Castro Theatre run (Mon/18-Tues/19) of the hit biopic Stan and Ollie on a bill with the 1934 Sons of the Desert, probably Laurel & Hardy's best feature.
Elsewhere (all opening Friday at area theaters unless otherwise noted):
The Inventor: Out for Blood in Silicon Valley
This latest from prolific documentarian Alex Gibney's (Enron, Going Clear, Steve Jobs, et al.) is essentially about snake-oil. Elizabeth Cohen managed to start a multibillion-dollar company with an irresistibly altruistic mission: Creating portable blood-testing "magic boxes" that would revolutionize the medical industry, drastically reducing cost and wait-time for consumers and patients. At just 29, Holmes was lauded as a female role model in a male-dominated industry, her firm given sky-high valuations, its 800 employees housed in a building she reportedly designed herself.
Protected by the combination of buzz and secrecy that often surrounds startups, Theranos nonetheless had a wee flaw at its center: The promised technology was little more than wishful thinking, particularly compared to what had been promised. There was almost no "there there" at all. "You can't just bend the laws of physics [with] a great marketing campaign," one eye-rolling former employee says, recalling the stonewalling of serious "box" development problems. Qualified biochemists and designers who actually worried about functionality issues were dismissed as "old-fashioned," replaced by others with increasingly little relevant expertise.
Once accusations of fraud began to circulate, Theranos collapsed like a house of cards. This didn't happen in ye olden, "naive" days of Silicon Valley—it was less than three years ago. Is Holmes a con artist, or delusional? Perhaps, like her idol Steve Jobs, she became so convinced of her genius that she could not recognize it was principally a genius for self-promotion. She managed along the line to win such allies as Henry Kissinger, George Schultz, and a host of A-list CEOs, all of whom simply believed the hype she was selling because they believed in her.
We increasingly live in an era that rewards certain types of delusion, narcissism and grandiosity. The Inventor provides a striking case study: Holmes (who's still just 35, and god knows what she'll get up to yet) may or may not believe she's actually some sort of entrepreneurial savior. But one suspects that on the deepest level, she believes the most important part is that she plays that role well. Opens Friday, Roxie. More info here. 
Ash is Purest White
A leading Chinese filmmaker whose early films were made independent of an industry heavily dependent on state approval, Zhangke Jia has managed to retain his edge of sociopolitical critique in the fifteen years since his projects began being embraced (however reluctantly) by the mainland government. This latest again stars his wife, Zhao Tao, as a woman pushed (not always willingly) along a narrative course of nearly 20 tumultuous years.
Pretty but no empty eye-candy, Qiao is the tough, loyal girlfriend to Bin (Liao Fan), a big-fish gangster in the small pond of a coal-mining burg. When she impulsively takes an action that quite possibly saves his life, she gets a five-year sentence, emerging from prison only to find that nothing—and nobody—is waiting to reward her for that sacrifice. Yet this is not the woman-scorned revenge tale you might expect, but something more complicated and bittersweet. Qiao's story is one not just of personal resilience, but of a society undergoing drastic changes that are subtly backgrounded and commented upon here. It's all held together by the lead actress' contained, formidable performance. Opens Friday, Embarcadero & California Cinemas. More info here.
R.I.P. Albert Finney
Though he first rose to international notice as an archetypal "Angry Young Man" in 1960's Saturday Night and Sunday Morning, Albert Finney proved one of the most enduring and endearing among British actors of his generation. This single-day Castro tribute to the beloved actor, who passed away at age 82 last month, isn't exactly what we'd pick as career highlights—though it's hard to argue against Oscar-winning Tom Jones (1963), in which he played the titular 18th-century rogue.
At least he was good in 1983's The Dresser, an inevitably stagey film translation of that backstage-drama play, and did his best as Daddy Warbucks in John Huston's elephantine 1980 movie of the Broadway musical Annie. You'll have to host your own screening party to revisit such favorite Finney vehicles as Wolfen, Shoot the Moon, A Man of No Importance, Erin Brockovich, or even the 007 adventure Skyfall (2012), in which he gave his final performance. Sing-a-Long Annie/Tom Jones/The Dresser: Sun/17, Castro. More info here. 
Next of Kin
The Alamo Drafthouse continues to mine obscure veins of Australian horror with this 1982 weirdie. A young woman (Jackie Kerin) returns to her rural hometown after a long absence, having inherited the rambling retirement home her late mother owned. It takes her quite a while to realize that things here are mighty…strange, to say the least. Enough that one of the least strange things hereabouts is her old boyfriend being played by none other than John Jarrett, the future terror of Wolf Creek.
It's creepy, then freaky, even if the resolution to the mystery doesn't make a whole lotta sense. Considering the deft atmospherics here, it is strange that director Tony Williams never made another narrative feature (and didn't even make his next documentary for another thirty-one years). Another point of interest is the original score by Klaus Schulze of German prog-rock legends Tangerine Dream. Tues/19, Alamo Drafthouse. More info here. 
Sorry Angel
Christophe Honore has made enough movies (13 features in just 16 years) to be considered a significant French filmmaker, but shouldn't we know by now whether he's a good one? It's a bit late for that jury to still be out. It stays there with this drama set in the early '90s, in which successful writer Jacques (Pierre Deladonchamps from Stranger by the Lake) keeps his new relationship with a much younger man (Vincent Lacoste) at a wary distance while he deals with the likely death sentence of an AIDS diagnosis.
Our protagonist is cynical, self-doubting, not a particularly good friend (or father to his son by a prior relationship), intelligent and attractive yet primarily defined by petulance. "Go to ACT-UP and stop navel-gazing" a long-suffering older friend nags him, aptly enough. This is one of those French films where you'll never stop asking yourself that fatal question "Uh, why should I care about these people?" It's ultimately somewhat affecting, in addition to being well-acted ands well-crafted. But even in this above-average, fairly ambitious effort, Honore remains an acquired taste not necessarily worth the trouble of acquiring. Opens Friday, Opera Plaza & Shattuck Cinemas. More info here.
The Gospel of Eureka
The supposedly sacred and the supposedly sinful are more than usually co-existent in the town of Eureka Springs, Arkansas. Its 2000 or so residents support both a large, elaborate annual Passion Play in a 4,000 seat amphitheater, and a year-round calendar of LGBTQ events. Donal Mosher and Michael Palimieri's documentary makes it appear that the two somewhat-overlapping communities mostly live together peaceably, though there are certainly flareups of political conflict.
Otherwise, it's the kind of ultra-old-school middle-American burg where people diagnosed with cancer just keep on smokin'. This snapshot of idealogical opposites sharing space relies a bit over-much on repetitive compare-and-contrast, particularly between drag shows and the no-less-campy spectacle of the giant passion play. But it's a colorful document, and proof that proximity does, for the most part, remove the sting of hostility between people who think they fundamentally can't get along. Opens Friday, Roxie. More info here.