SCREEN GRABS The ever-lengthening annual period known as "awards season" arguably starts this Friday with the arrival of The Goldfinch, which premiered at the Toronto Film Festival last week.
It's Brooklyn director John Crowley's adaptation of the 800-page novel by Donna Tartt—which I'd be tempted to say was the least-deserving Pulitzer winner of recent years, if it hadn't been followed by All The Light We Cannot See and Less. In any case, Ansel Eigort plays the protagonist who loses his mother in a terrorist attack, then spends the next couple decades bounced around by further arbitrary winds of fate. Nicole Kidman, Sarah Paulson, Luke Wilson, and Jeffrey Wright play other key figures in this tale that sprawls from Manhattan to Vegas to Europe, and which may work quite well as a movie—after all, it practically read like one.
As for the new, more baldly commercial release Hustlers, in which "savvy former strip club members band together to turn the tables on their Wall Street clients," let us simply leave you with this fun fact: "Jennifer Lopez trained for pole dancing in preparation for the movie. She even had a detachable pole in her house." I smell Oscar! Just like the one Demi Moore got for Striptease!
Likewise unpreviewed, if presumably less mercifully, is Benjamin Naishtat's Argentine Rojo, about a provincial lawyer neck-deep in that country's dangerous political intrigue of the 1970s, when many citizens were "disappeared" and never found (at least not alive) again. It opens at the Opera Plaza (More info here).
Landmark is also opening (at the Embarcadero and Shattuck) Hannah Pearl Utt's Before You Know It, an uneven but at times divertingly offbeat comedy about two ill-matched sisters (Utt, Jen Tullock) struggling to retain hold of their lifelong home after the sudden death of their Off-Off-Off Broadway "legend" father (Mandy Patinkin) reveals he didn't even own it. Judith Light plays the veteran soap opera star mother who does, and whose daughters had no idea she was actually alive. (More info here.)
If it seems early for awards contenders, it seems even more so for Halloween. Nonetheless, there's Haunt, a pretty good indie horror flick whose collegiate protagonists find themselves trapped in a haunted house attraction where the thrills are a little too convincingly homicidal. You've seen its ilk before, but if you like such things, you'll enjoy this well-made stroll through familiar bloody terrain. It opens at the Presidio. (More info here.)
Elsewhere, all opening Friday unless otherwise noted: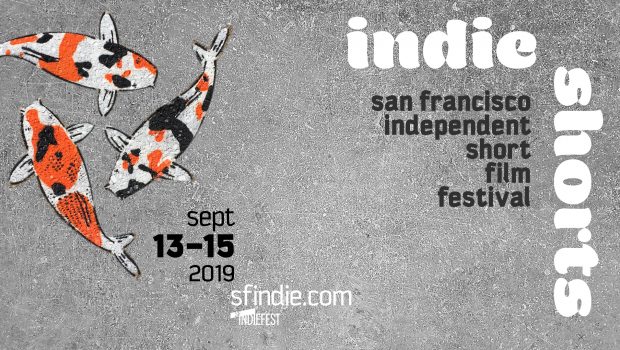 SF Indie Short Film Festival
The Goldfinch is 2 1/2 hours. In that amount of time you could probably watch at least twenty complete movies at this latest offshoot from the giant impersonal local corporation that already gave you SF Indiefest, Docfest and Hole Head. All those by-now-longrunning festivals have always sported shorts programs, so it's a natural evolution that we should get a festival entirely devoted to "the perfect snack" on the cinematic menu.
The twelve themed programs offered this weekend run a wide stylistic and genre gamut, from documentary to animation. Titles featured come not just from local and North American talents, but also China, Iceland, Namibia, Ukraine, Palestine, South Africa and more, with a fair number of filmmakers in attendance. Adding further incentive, every ticket comes with a free beer or other beverage of your choice. But beer is good. Fri/13-Sun/15, New People Cinema. More info here.
Voices Carry: Women in Film
SFMOMA's fall film series showcases recent works by women around the world, only a few of which were seen (however briefly) in Bay Area commercial runs. The uniformly strong nine-week program comprising fifteen features commences this Sunday afternoon with Lucretia Martel's elliptical Argentine period epic Zama, then includes work from the U.S. (Josephine Decker's Madeline's Madeline), Zambia (Rungano Nyoni's I Am Not A Witch), Lebanon (Nadine Labaki's exceptional Capernaum), Mexico (Natalia Almada's Everything Else), China (Cathy Yan's Dead Pigs), Indonesia (Mouly Surya's Marlina the Murderer in Four Acts).
There's also the final film by Chantal Akerman (documentary No Home Movie), the latest by fellow Frenchwoman Claire Denis (sci-fi psychodrama High Life), the horror omnibus XX, and more. We'd give you a direct link to the series info, but SFMOMA's reliably crappy search engine wouldn't let us find one, so you're on your own. Sat/14-Thurs/Nov. 21, SFMOMA. More info here. 
Berkeley Film Foundation and Native American Reelism at the PFA
Two new series launching at the Pacific Film Archive this week spotlight filmmaking of a politically activist, community-oriented stripe. Founded a decade ago, the Berkeley Film Foundation has supported diverse projects, including the six documentaries being showcased here.
Their subjects include Arhoolie Records founder Chris Strachwitz (This Ain't No Mouse Music), the business of Oakland recycling (Downtown Redemption), Robert Reich's insights on the devolving American economy (Inequality for All), classical avant-gardists Kronos Quartet (The Whistleblower of My Lai), at-risk youth mentoring (The Pushouts), and the self-explanatory In the Image: Palestinian Women Capture the Occupation. There will also be several BFF-funded shorts shown. Thurs/12-Sun/Oct. 27, PFA. More info here. 
"Out of the Vault: Native American Reelism" comprises three programs bringing together representations of our indigenous peoples outside the Hollywood mainstream over the last nine decades—going back as far as 1930's The Silent Enemy, a rare indie feature about pre-colonial Ojibwe life made in collaboration with Native actors.
Thirty years later, Kent Mackenzie captured the poverty and alcoholism that beset many urbanized "Indians" in The Exiles, one of the great documentary/narrative hybrids of its era. Ranging from four minutes to an hour, other films in the series include a 1973 Bill Moyers TV investigation (Why Did Gloria Die?), the historical inquiry Report from Wounded Knee, and Lay Claim to an Island, which recalls the fabled 1969 occupation of Alcatraz by Native protestors. Thurs/12-Thurs/Nov. 14, PFA. More info here. 
Monos
Brazilian Alejandro Landes' striking feature is a mix of brute realism and Lord of the Flies-type allegory. In remote mountains of an unnamed Latin American country, eight armed teens comprise a paramilitary "squad" charged with safekeeping "La Doctora" (Julianne Nicholson), a kidnapped American apparently being held for ransom. With names like Rambo and Smurf, these youths are not exactly the most level-headed spokespersons for the vague revolutionary concepts they spout. They're reckless enough to accidentally shoot dead the milk cow they've been entrusted with in a moment of trigger-happy exultation.
When an attack by government forces scares them into a jungle retreat, the "commandos" begin to self-destruct, undone by their own immaturity and the captive woman's determination to escape. A sort of queasy adventure story from which you can glean whatever moral you want (or none), Monos is a sometimes poetical, sometimes jarring portrait of desperation and fanaticism amongst people too young to understand their own ideology—or what they'll be called upon to sacrifice for it. Alamo Drafthouse, SF. More info here.
A Faithful Man
Duly opening with a shot that encompasses the Eiffel Tower, second-generation director Louis Garrel's sophomore feature seems to be competing for the title of Most Thoroughly French Film Ever. He also stars as Abel, a broadcast journalist who lives with Marianne (Laetitia Casta) in her apartment—until she mentions that she's pregnant by another man and needs him to move out so they can live together as a married couple. Surprise! Thus robbed of home, girlfriend, and nearly his sanity in one blow, Abel trundles onward until some years later he hears that Paul (the "other man") has suddenly died.
Very quickly our hero finds himself back in Marianne's life, a situation complicated not only by her precociously odd, even menacing son (Joseph Engel) but by Paul's younger sister Eve (Lily-Rose Depp, another second-generation talent), who unbeknownst to Abel has been obsessed with him nearly all her life.
A Faithful Man was co-written by the nearly 90-year old Jean-Claude Carriere, fabled veteran collaborator on films by Louis Malle, Bunuel, Schlondorff, Forman, Peter Brook, Babenco, and Pierre Etaix. There are several unstable players in this game of love, which can be taken as either a poker-faced farce or slightly absurdist drama. Either way, it certainly packs a lot of plotty incident into just over 70 minutes, and seems consummately French in the way that characters behave with methodical irrationality, taking in stride approaches to relationships that might impress the viewer as near-lunatic. This movie is fun, but if any of its events befell you in real life, you'd run screaming to the nearest therapist. Opera Plaza. More info here.  
Murder in the Front Row: The San Francisco Bay Area Thrash Metal Story
Adam Dubin's documentary, which premiered at SF Docfest this summer, traces the arc of our region's hugely influential thrash metal scene—not just famous acts like Metallica, Exodus, Possessed and Death Angel, but lesser-remembered bands like Laaz Rockit and Vio-Lence, as well as long-gone venues like the Mab, Keystone and Ruthie's Inn. There's plenty of old video performance footage, as well as latterday insights from MVPs like Kirk Hammett and Dave Mustaine.
This 80s flashback provides a good overview of how a punk-influenced club movement gradually came to rival and perhaps finally vanquish the excesses of the "hair metal" era, musically and otherwise. When they won, it was a sad day for the manufacturers of guyliner, spandex and Aqua Net…but a very good day for headbanging music in general. Don't miss this single reprise screening, which is sure to sell out, as it did at Docfest. Sat/14, Roxie. More info here.