Local drag star and owner of SoMa club Oasis, D'Arcy Drollinger's new show "Hot Trash" would probably not have been born under normal circumstances. But when COVID caused the clubs and theaters to close down where the performer and creator of the wildly popular yearly holidaytime production of the "Golden Girls" normally stages her shows, Drollinger had to think fast to stay relevant.
Happily, the weekly current events show—which airs its 11th episode today on Oasis' YouTube channel—has turned out to be a savior of sorts.
"This project has given me life—a creative focus and some sort of normalcy in this crazy time, Drollinger told 48 Hills in an email interview.
She's not the only artist who virtual performances and other kind of streaming through the internet has allowed to stay in touch with audiences—and professional purpose. Indeed, there's hardly a creative individual or organization that hasn't experiment with at least a livestream in the wilds of these pandemic months.
What has emerged is a whole new way to enjoy our favorite vedettes—one that includes the power to pause, fast forward, and rewind.
"Necessity really is the mother of invention," Drollinger said. "It was something that I had really wanted to start doing, but I was always so consumed with the live shows and running the club. Then when everything shut down, it really became the only option." True too, the show's staff is even more stellar than it would be in non-corona times, given the fact that industry professionals are largely out of work for the foreseeable future.
The crew has put together a entertaining weekly ride. "Hot Trash" has elements of Drollinger's beloved live art—the sass, the primetime looks, the off-color humor—applied to today's bonkers headlines, with a sprinkle of digital graphics for good measure. Episode 10 featured NASCAR banning the Confederate flag, Ivanka Trump and Goya Gate, and the poop rumors swirling around Johnny Depp and Amber Heard's breakup.
"It does help process all the crazy stuff going on in the world by commenting on it through the lens of comedy and satire," she says. The premise, given our months of isolation, is comforting. Even if we're currently unable to fling bills at their person, our artists are still here for us—and after the year we've had, that's saying something.
Here's some other local arts and culture programming you can stream from the comfort of home:
"Compton's and the Legacy of Police Violence" panel discussion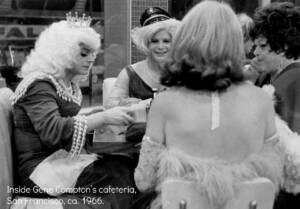 The San Francisco GLBT Historical Society played a pivotal role in renewing memory of the pivotal 1966 Compton's Cafeteria riot, in which trans women of color fought back against prejudiced police officers some three years before Stonewall. Today, a panel of Compton's veterans and other activists consider the legacy of the protest. Susan Stryker and Victor Silverman's 2005 documentary of the event, Screaming Queens, will also be screened.
Wed/5, 6-7:30 p.m., $5 suggested donation. Register here.
DragAlive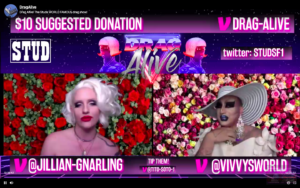 The thriving Twitch channel of the sadly-paused historic queer bar The Stud is where I can go to see all my friends' avatars chatting away. The programming is on point—check the channel's stalwart, the weekly DragAlive variety show in which local kings and queens strut their surprisingly professional video production skills in scintillating numbers. Other one-offs are also a joy, from Nicki Jizz's "Reparations" extravaganza to the GAGATHON Lil' Monster Stud fundraiser.
DragAlive airs Saturdays. Virtual doors open at 6:30 p.m., show 7-8 p.m., suggested donation $10. Watch it and other Stud programming here.
RAWDance Concept salon showcase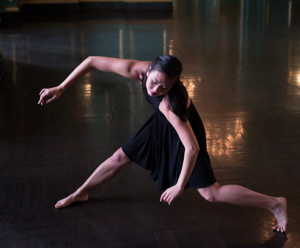 For those who missed the RAWDance salon series Concept—or anyone who is pining for the sensorial immediacy of live performance. The virtual edition will feature brand-new dance films from guest artists like Lone King Projects' Marissa Brown and Detour Dance's Eric García, with a dance party to follow overseen by DJ Rockin' Raul.
Friday, August 14, 6pm, suggested donation $10-25. Register here.
Stern Grove Festival "Best of the Fest" season finale 
The well-missed free open air concert series was not about to lose its 83rd season entirely, and has been airing footage from its considerable archives since mid-June (check out its world music showcase on Sun/9.) To culminate this semi-season, its staging a star-studded, hour-long program headlined by Los Lobos and Michael Franti. On board for the ride is Deaf Cab for Cutie alum Ben Gibbard, Brazilian singer (and daughter of João) Bebel Gilberto, and phenomenal blues group Fantastic Negrito. Watch the fun on the festival's Facebook page for hosting by the season's emcee, radio and TV personality Liam Mayclem.
Sunday, August 16, 4 p.m. Airs on KPIX-TV/CBS and the festival's Facebook page.
Pop-Up Magazine's YouTube channel
Given its success as a live action cultural journalism juggernaut, Pop-Up Magazine's stellar COVID era online offerings come as no surprise. The publication's YouTube channel is full of talented writers and other creatives reflecting on the quirks of their past, like investigative journalist Albert Samaha's tale of his uncle's 1970s Filipino disco group, or creative coping techniques for our current reality, as in a dance video collage featuring purveyor of emoji joy Donté Colley.
Check it out here.
OMCA at Home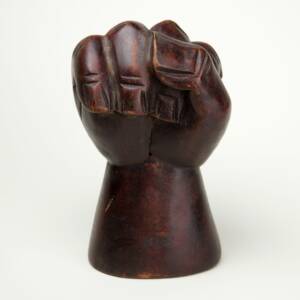 The Oakland Museum of California's website and YouTube channel is home to some real video gems when it comes to learning about the past and present of our state. Among the standouts of the collection is a documentary video that accompanied the museum's "All Power to the People: Black Panthers at 50" exhibition, and even how-to birding reels. You can also tour the museum's current Dorothea Lange and Black Power exhibitions online.