The big announcement came down Tuesday: SF is going to "fully reopen" on June 15. While there are a few restrictions for large events, that means the city is coming in line with the state regarding COVID health regulations. Masking, social distancing, and almost all capacity limits will become things of the past. (Although you'll still need to wear masks on public transportation until September, and CalOSHA has yet to set rules on workplace masking—individual businesses may have separate requirements, too.)
This is all thanks to the sacrifices we've made together—and a consequence of living at the center of a rich empire that made sure we got the vaccine first, of course: The pandemic still rages elsewhere and may eventually come back here, so tiny hurrah. But for now, this is great news for restaurants and bars and arts venues—and even nightclubs, who remain still in a bit in the dark as to exact requirements. (I'll have more on that later this week.)
Meanwhile, yes, the news can be overwhelming after 14 months of Zooming and Twitching and baking and getting baked at home. Best to take some baby steps, yes?
Luckily there are two very neat walks to talk that will get you out and about in San Francisco, interacting with both our natural wonder that is Golden Gate Park (Kronos Festival's SOUNDWALK) and our fabulous urban streetscape (Pop-Up Magazine's "Sidewalk Issue"). Both should ease you back into social atmospheres—or at least outside—while also lessening the anxiety of suddenly plunging into sunlight and noise and expensive cocktails and tiny concert hall seats.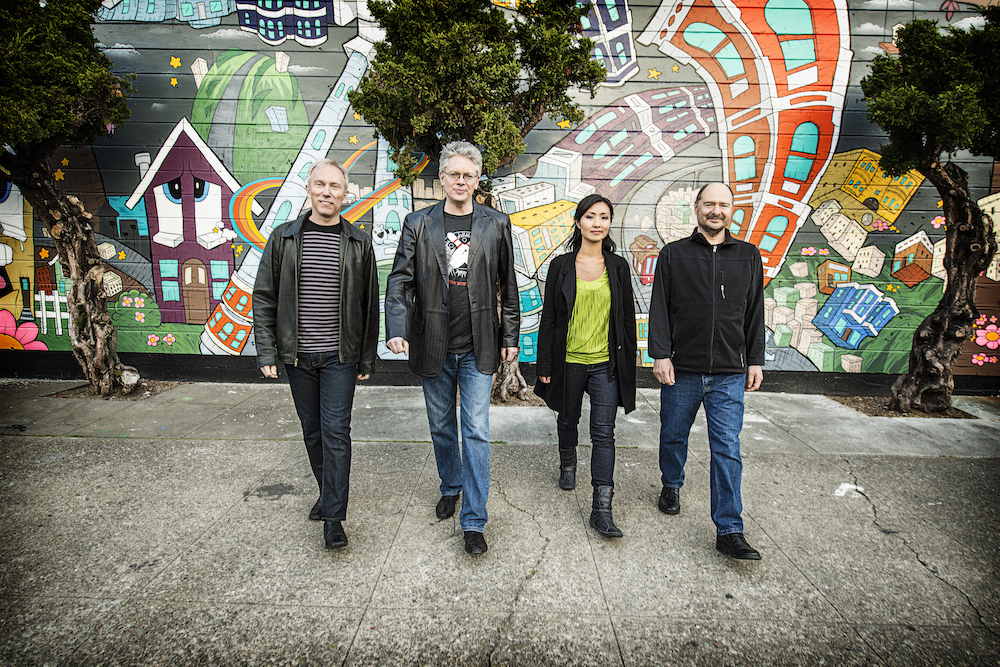 SOUNDWALK: The always revelatory annual Kronos Festival (Fri/11-June 18), spearheaded by our own 48-year-old(!) Kronos Quartet, of course, streams online with it usual exhilarating and ear-boggling array of premieres from global composers, bringing us everything from Kurdish love poems, Gullah-Geechee sacred music traditions, and an "avian-inspired music film" to appearances by the San Francisco Girls Chorus and our poet laureate Tongo Eisen-Martin. There's even a program for kids this year, in which I will gladly immerse myself.
But it does have one "in-person" element, of a sort: composer Ellen Reid's SOUNDWALK, which runs throughout the festival starting June 12. Participants download an app and take a musical journey through Golden Gate Park, following a path set out by Reid's compositions. You can go at your own pace, and there are all kinds of fun "Easter eggs" that feature music performed by Kronos and other musicians during the pandemic lockdown.
"A lot of people in my generation see the Kronos Quartet as a beacon of creativity, they've done so many different things in so many different genres," the young Reid told me over the phone. "I was studying at Berklee College of Music and they came to play a piece by [Bay Area composer] Terry Riley, and that was my first introduction to them. The more you know their work, the more there is to know. I met [Kronos leader] David Harrington a few years ago and he is so full of life, such an inspiring human. When it turned out that this project could come together with Kronos, it was really exciting."
Reid's SOUNDWALKs have opened all over the country, and since their September launch have become a way for people to connect with their city's natural spaces during a time of social distancing. Golden Gate Park's is no exception.
Almost all the music and sound used was composed by Reid, but there are some surprises. (I promised not to say anything, just be sure to visit Strawberry Hill.) "The music was written specifically for the landscape—for instance at the Conservatory of Flowers it felt like there had to be something celestial," Reid told me. "SOUNDWALK is an experience people can definitely do more than once." You can get the SOUNDWALK app here.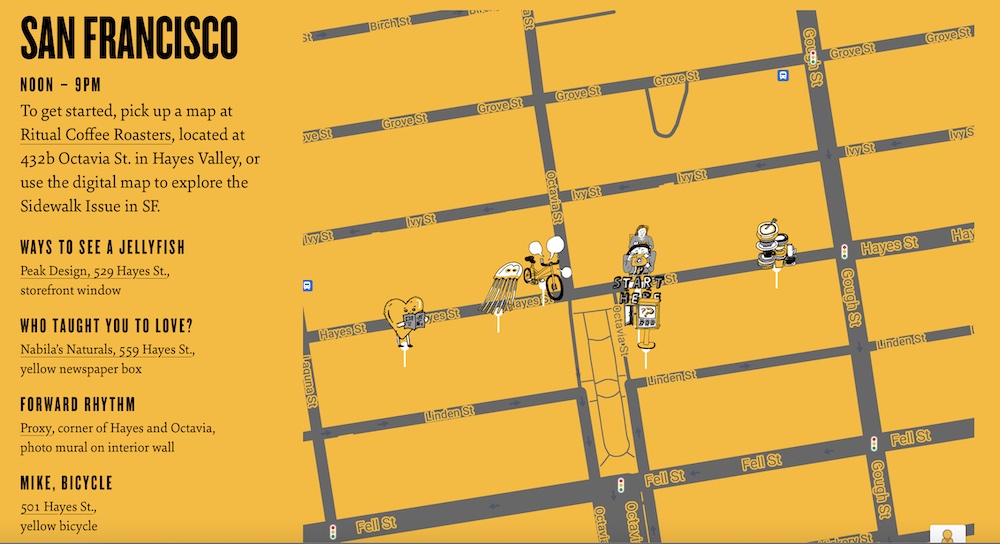 THE SIDEWALK ISSUE: I am a huge fan of Pop-Up Magazine, the theatrical live experience from the Sunday Magazine folks that acts like a fabulous re-enactment of the deeply reported stories and fun features that you encounter on the page. There's even advertisements. And they are funny advertisements.
During the pandemic, the Pop-Up folks got very creative with online cooking shows, storytelling, and other very interesting streaming programs. Now they're taking a step back off the virtual page and onto the streets with "The Sidewalk Issue," (through June 20) which is almost like SOUNDWALK except with stories, which unfold throughout Hayes Valley "across the sidewalks, storefronts, newsracks and even vending machines" using a map that guides you to site-specific installations where you encounter them.
And what stories! "Novelists and artists Brit Bennett (Vanishing Half), Tommy Orange (There, There), Christine Sun Kim, Hank Willis Thomas and the For Freedoms collective share meditations on love; artists Chanel Miller (Know My Name) and Jillian Tamaki tackle the question on all of our minds, "where do we go from here?"; National Geographic photographer Anand Varma, longtime Radiolab co-host Robert Krulwich, composer Kaitlyn Aurelia Smith, and novelist Laura van den Berg take us on a sensory journey with jellyfish," and many more. It's like reading and walking but, like, don't do that at the same time.
You can pick up a "Sidewalk Issue" map at Ritual Roasters, or use the one online here.
OTHER EVENTS OF NOTE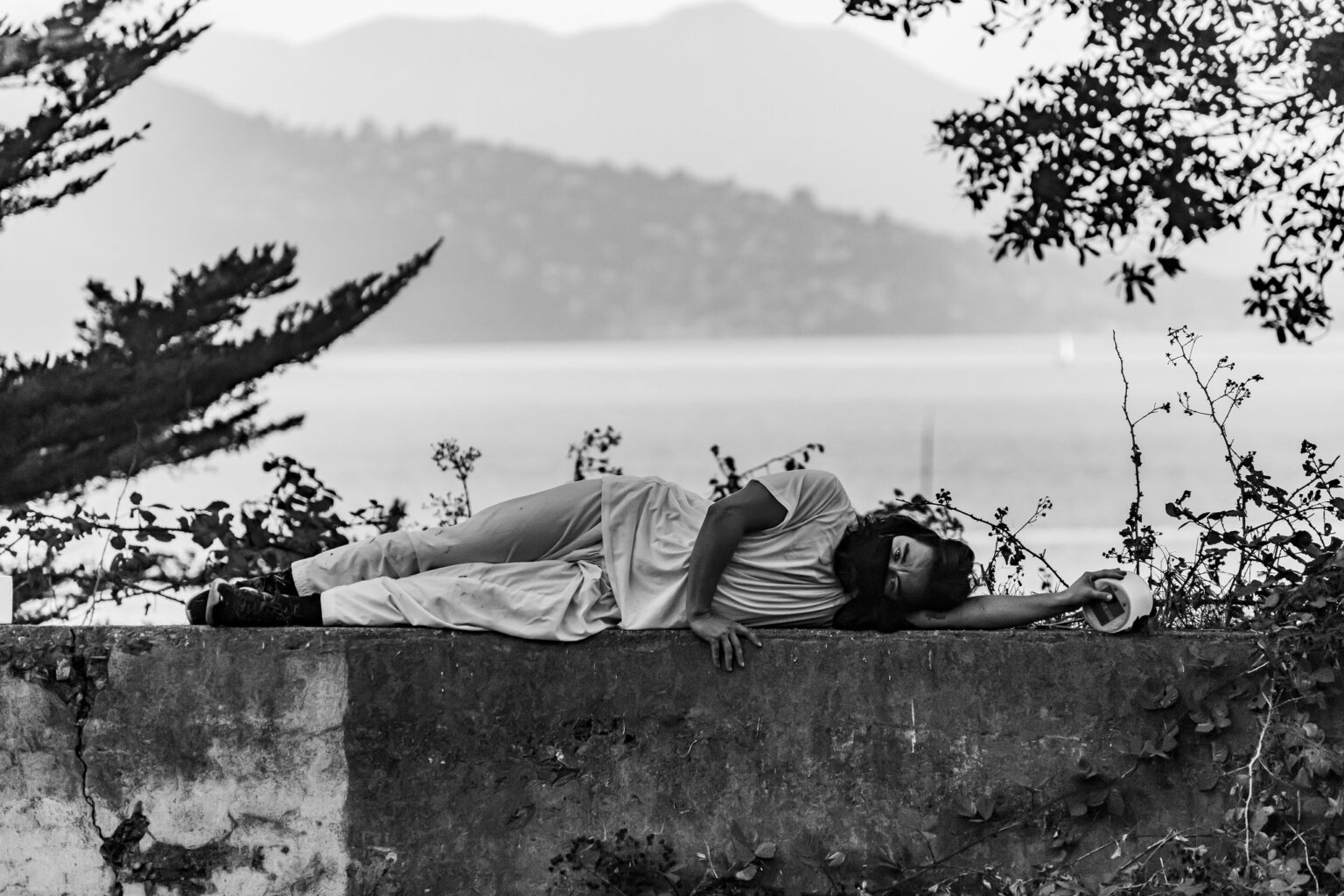 PERFORMING DIASPORA: "TO LEAVE THE LAND" AND "[RE]MEMBER" Movement, storytelling, sonic landscape, and immersive experience come together at CounterPulse (in-person with COVID protocols) to explore the questions, "How is tradition alive? How does tradition move across space, time, boundaries and border?" The 11th annual Performing Diaspora residency presents "To Leave the Land" by pateldanceworks, "a call to understand past and present colonization through movement and storytelling, informed by the Partition of South Asia in 1947"; then, enter a visual voyage in time that paints the tensed stories of the Black bodies resisting slavery and seeking connection with the ancestral wisdom in "[Re]member" by Byb Chanel Bibene/Kiandanda Dance Theater" CounterPulse, Fri/10 and Sat/11 at 8pm, Sun/12 at 2pm. More info here.
SF INTERNATIONAL FLOR Y CANTO LITERARY FESTIVAL On Zoom, Facebook Live, and in-person in the Mission, listen as poetry, prose, panels, and open mics unfold, starting with an invocation to Xochipilli and continuing with programs like "Supernova Voices" (featuring the fabulous Diana Gameros), "Tijuana Power!," "La cuz de la tormenta," "La Palabra Comprometida," and "Un tren llamado Esperanza – A los niños de la frontera." In the Mission along Calle 24 and online, Thu/10-Sun/13. More info here.
SOMA SECOND SATURDAYS "This event is created as a safe, fun afternoon featuring Queer art, kinky crafts, local artisans, and fun vendors, clubs, and community organizations. Folsom Street between 9th and 10th Streets will be closed for this event, which will also encompass Dore Street south of Folsom. SOMA SECOND SATURDAYS! is planned to include 21 booths featuring a wide variety of handmade kink-related items by local artists and vendors." June 12, noon-5pm. More info here.
OUT OF SITE: HAIGHT-ASHBURY This is a very cool "living history" tour that combines performance with queer storytelling. "This year's edition—featuring award-winning actor Tina D'Elia—reveals the untold queer history of the neighborhood of Haight-Ashbury, a name synonymous worldwide with the hippie counterculture that emerged here in the 1960s. Audiences will meet Peggy Caserta, a successful lesbian business owner on Haight Street and inventor of the bell bottom jeans. She was also Janis Joplin's laid-back lesbian lover. The tour will also feature George Harris III aka Hibiscus, the original flower power child who would go on to found the psychedelic pansexual theater collective known as the Cockettes." And more! Haight-Ashbury neighborhood, Fri 11-July 25. More info here.