Okay, now I'm really, really over it.
We had Sanfransicko. We have a "report" paid for by billionaire Michael Moritz on the problems of local government. We have constant repetition in the local news media about the role progressives have played in creating the city's problems.
And now Chron columnist Emily Hoeven jumps in with a column called "Will dumping progressives in 2024 fix S.F.'s problems?"
Hoeven joins the chorus of either clueless or misguided folks who somehow think that progressives have been running San Francisco. Let me make this perfectly clear: San Francisco has a strong-mayor system, and in fact the mayor of San Francisco has more power than most big-city mayors.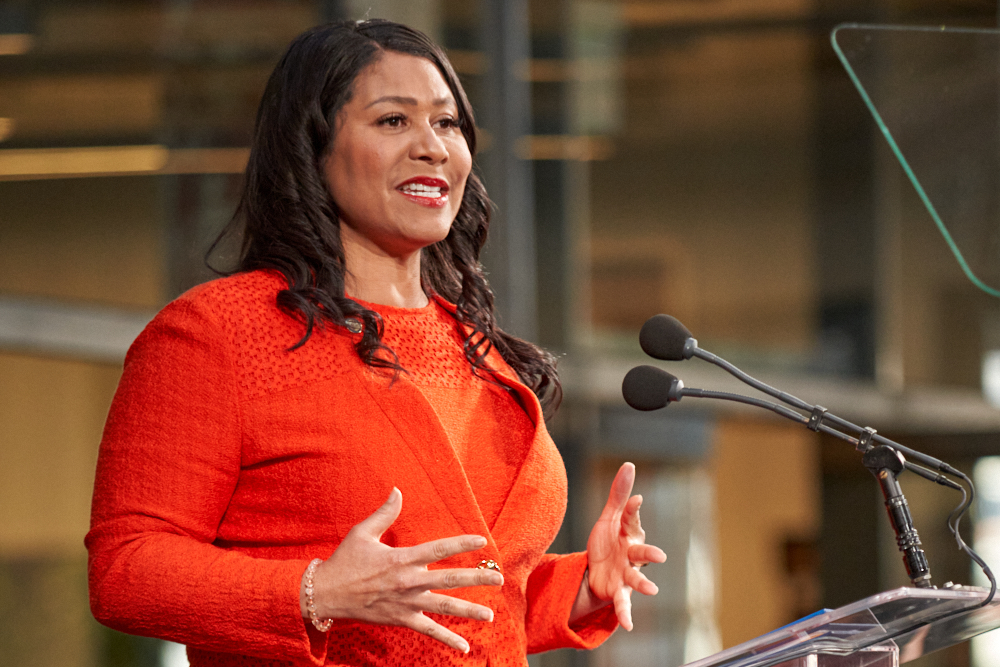 San Francisco has not had a progressive mayor since 1991.
Progressives have not been setting policy. They have not been in charge. They have not created the problems that many are trying really hard, with the direct opposition of the mayor, to address.
Mayor London Breed has appointed the city attorney and the district attorney. The police chief in effect reports to her. She controls the city budget and can refuse to spend money that the supes have allocated to address some of the city's most pressing problems.
What progressives have done, among other things, is promote and pass taxes on the rich that are one of the only reasons the city's budget crisis isn't much, much worse.
So let's dissect this particular screed for a moment.
The essence of the piece is that the problems in San Francisco have nothing to do with the person who has been in charge for six years and the billionaire tech and real-estate moguls who support her and everything to do with the folks who are, frankly, mostly in the opposition.
To prove this, she quotes, in the first 20 paragraphs of the piece:
Breed (three times);
Garry Tan, the right-wing tech mogul (twice);
Bilal Mahmoud, who ran for state Assembly and got 22 percent of the vote;
Tom Radulovich, who is a credible policy person with a long history in local politics but gets a fragment of one sentence about street trees;
Lily Ho, president and founder of the Delta Chinatown Initiative and a member of StopCrimeSF, which promotes a right-wing criminal justice agenda;
Kanishka Cheng, founder and CEO of the right-wing group TogetherSF.
That's it, until Paragraph 25, when she finally quotes Sup. Aaron Peskin:
"There's a long-standing attempt by the so-called moderates to reduce politics in San Francisco to labels," Board of Supervisors President Aaron Peskin, who's widely seen as a progressive and is said to be considering a mayoral run, told me. "They don't want people talking about actual results. Because if they're talking about actual results, they're in trouble."
In only one section, late in the piece, does Hoeven note that Breed has been mayor for six years, and might maybe just a little bit have some responsibility for the city's problems.
The Chron doesn't publish email addresses for its staff any more. And the paper seems to have a policy of not allowing reporters to respond to media questions, particularly not from me. I sent Hoeven a message on what appears to be her best email, and have heard nothing back.
The piece ignores the fact that Breed, Tan, Ho, and Cheng are not just random individuals concerned about the future of the city. They are all connected, in one way or another, to TogetherSF, GrowSF, and StopCrimeSF, which are all funded by the same collection of billionaire plutocrats.
Despite what Hoeven says, TogetherSF is not a "moderate civic engagement" group. It's a group funded by the very, very rich that has as its basic purpose the defeat of progressives who seek some form of economic justice that involves taxing the people who fund TogetherSF.
There's a clear axis of plutocrats who have long had influence over the Mayor's Office in San Francisco but have been frustrated by district-elected supervisors and grassroots ballot campaigns that challenge their hegemony. Some of the members of these groups may be moderates who care about the city and actually believe that locking more people up for longer times, allowing developers to build more luxury housing, and cutting taxes on the rich might solve San Francisco's problems.
The people who are funding these groups are not "moderates."
William Oberndorf, who is one of the billionaires behind Neighbors for a Better San Francisco, is a big supporter of Mitch McConnell. Michael Moritz suggests that things were better when we had machine politics running the city. The two of them, and plutocrat Ron Conway, put up the money to challenge a federal injunction that keeps the city from sweeping homeless people when there is nowhere for them to go.
The end of the piece:
People just want their government to work. They want public officials who prioritize results over rhetoric, who focus on addressing the basics before moving on to abstract ideals and who work with their colleagues on commonsense solutions instead of decrying the concept of compromise.
There is such a fundamental disconnect here. It's not about "ideology" and "common sense." The real debates in San Francisco are, in fact, about what works and what doesn't.
It's not "ideology" or "rhetoric" to say that the private market won't solve our housing crisis. It's not "ideology" or "rhetoric" to say that economic inequality is a massive crisis that threatens social stability, and that taxes on the rich are one of the only ways to address it. It's not "ideology" or "rhetoric" to say the War on Drugs has been a failure. There's really good data to back up all of those positions, which really aren't that radical at all.
Under the Plutocrat Plan, local government won't work for the tenants, the small businesses, the working class, the unhoused …. pretty much anyone who isn't rich.
if local government is going to work for all of us, the "basics" have to include way to keep the handful of rich folks who have their own neoliberal or libertarian agenda from controlling the city. Been there, done that. Those folks have no interest in compromise; they care about their own bottom lines, their own wealth, and ways to grow it at the expense of the majority of San Francisco residents.
All of us want "government to work." The difference is: Work for whom?