The worst mass shooting in US history took place at a gay nightclub in Orlando, a place that catered to many Latino patrons.
Many Republicans, including Donald Trump, are already using the shooting to promote Islamophobia, since the shooter, who was armed with a legally purchased assault rifle, was a Muslim.
This happened just as cities around the nation are starting to celebrate Pride Month.
The horror of the previous three sentences is almost too much to handle.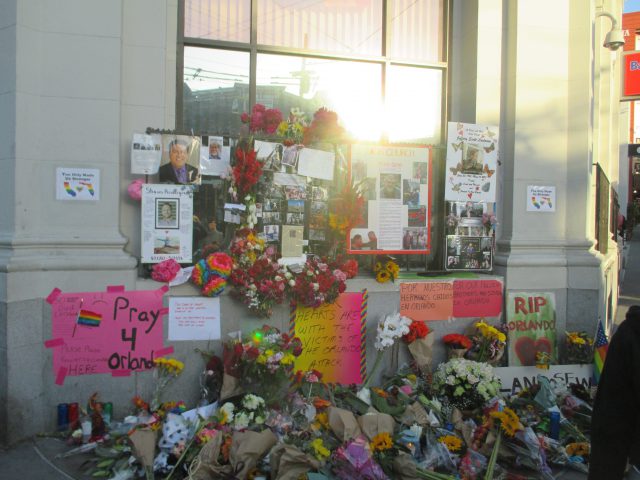 At the Lone Star Saloon in SoMa this afternoon, where a previously scheduled benefit for the Dyke March and the Trans March was also the beginning of an evening of memorials for the dead and wounded in Orlando, there was an unsettled feeling; several people told us that they felt a little nervous, even in San Francisco, to be in a gay bar right now.
But there was also a feeling of solidarity; we kept hearing people say "I'm much happier now that I'm here," with a large, visible, community.
There will be time (and it needs to come soon) when we once again try to force this nation to address that fact that it's way too easy for a person filled with hate to buy a weapon that can kill huge numbers of people very quickly. The is no reason for anyone in this country to be walking the streets with an assault rifle.
But tonight, people in San Francisco were mourning, organizing, and talking about the fact that even in 2016, it's not safe to be an LGBT person in the United States.
President Obama called the shooting an "act of terror" first, and "an act of hate" second. Terror is a term that politicians love to use; it's how the country whips up militaristic sentiment. We don't know what motivated the shooter, not entirely, but if there is any such thing as a hate crime, this was one.
The people at the club were targeted not because they were Americans but because they were gay. The killer's religion is only relevant to the extent that too many religious extremists, including people who call themselves Christians, hold homophobic, even violent homophobic views.
And it will be easy in the next few days for political opportunists to use this incident to further divide already marginalized communities.
Sup David Campos told the crowd:
I feel this so deeply as a queer Latino. This was an attack that hits me personally We've lost the only queer Latino space in San Francisco already. At Esta Noche in the Mission, as a young gay Latino, I felt the two sides of myself coming together. I finally felt at home with myself and others. To see another space like that so brutally torn apart hurts me so much.

But we will not let one act of hatred by an individual or group cause us to run and hide in fear. We will not let this act of hatred against us be used against another vulnerable group. We stand today with American Muslims to say "no more violence."
The audience applauded. Then there was a moment of silence.
This evening, San Francisco responded to the violence with dignity, class – and numbers. At least 5,000 showed up at 18th and Castro for a vigil and march to City Hall. The march at one point stretched nearly all the way down Market, from Castro to Van Ness.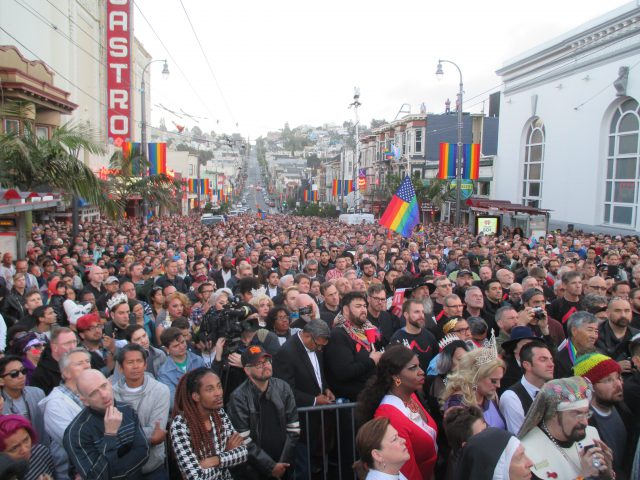 Campos and Sup. Scott Wiener, the two LGBT members of the Board of Supes, were the MCs for the event. Wiener started off by talking about the two diseases that afflict the country – LGBT violence and "the disease of guns whose only purpose is to kill people."
Before the vigil, Wiener had told us, "What happened this morning was horrific, but also depressing in terms of still seeing so much violence against gay people. But this community so resilient in bouncing back. We need to mourn, but then also recommit ourselves to reducing the number of guns in our country."
(We ran into Sheriff Vicky Hennessy backstage, and she said pretty much the same thing: "There is no reason for anyone to be able to buy an AR-15 with this type of bullets," she said. "This is not a Second Amendment issue.")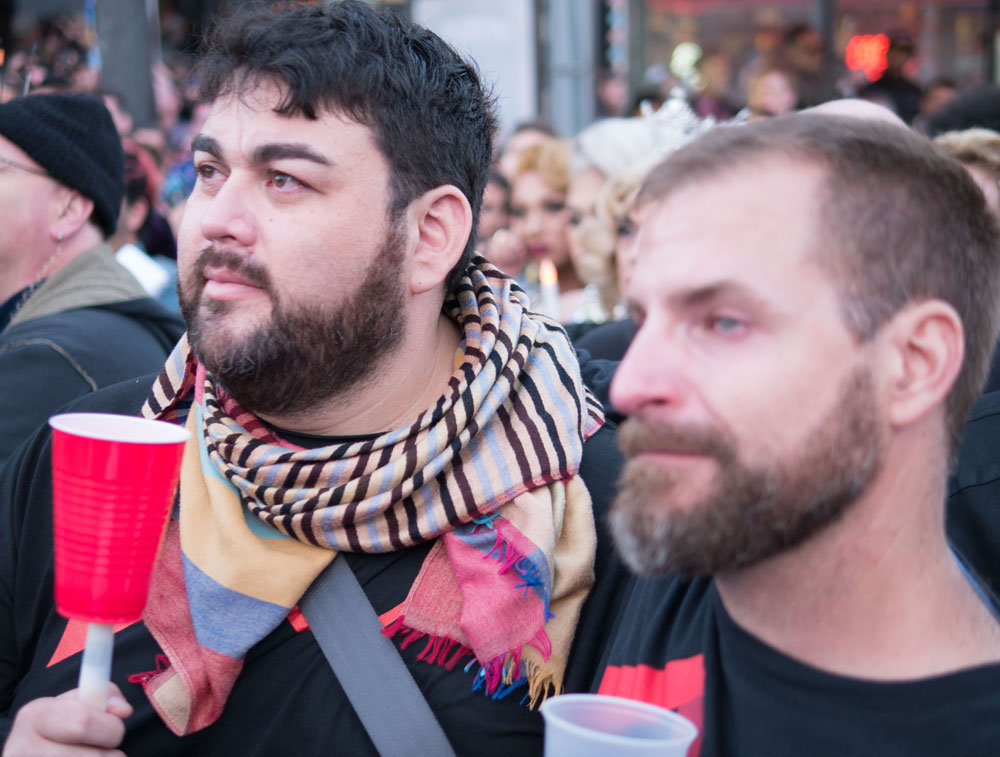 Campos talked about the impact the shooting had on him as a gay Latino man. "The worst mass shooting in US history targeted the queer and Latino community," he said. "I want to be sure the Latino community is not lost in all of this."
He went on: "We think because we have gay marriage that the work is done. But people of color are marginalized even in our own community."
He also pointed out that the current political climate has an ugly side. "To Donald Trump, I want to say that there are consequences when you talk about hate."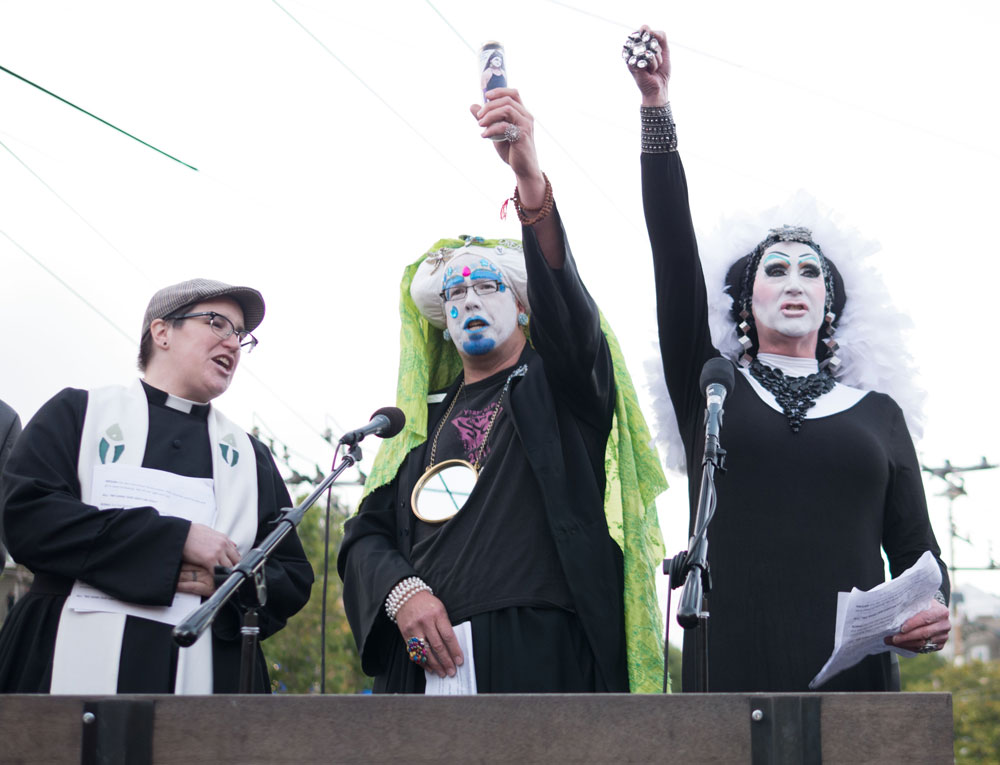 Suzanne Barakat, a doctor at SF General and a Muslim, spoke eloquently about how violence spreads. "Three members of my family were killed in Chapel Hill, North Carolina because of their faith," she said. "The anguish is indescribable. To those who are consumed by hatred, you will not define us."
Campos made a point of calling up leaders of the Latino community, who apparently were not on Wiener's radar when he first started to pull together the event. "We're here because we asked to be here," Lito Sandoval, president of the Latino Democratic Club, said. "Latino leaders were not contacted initially."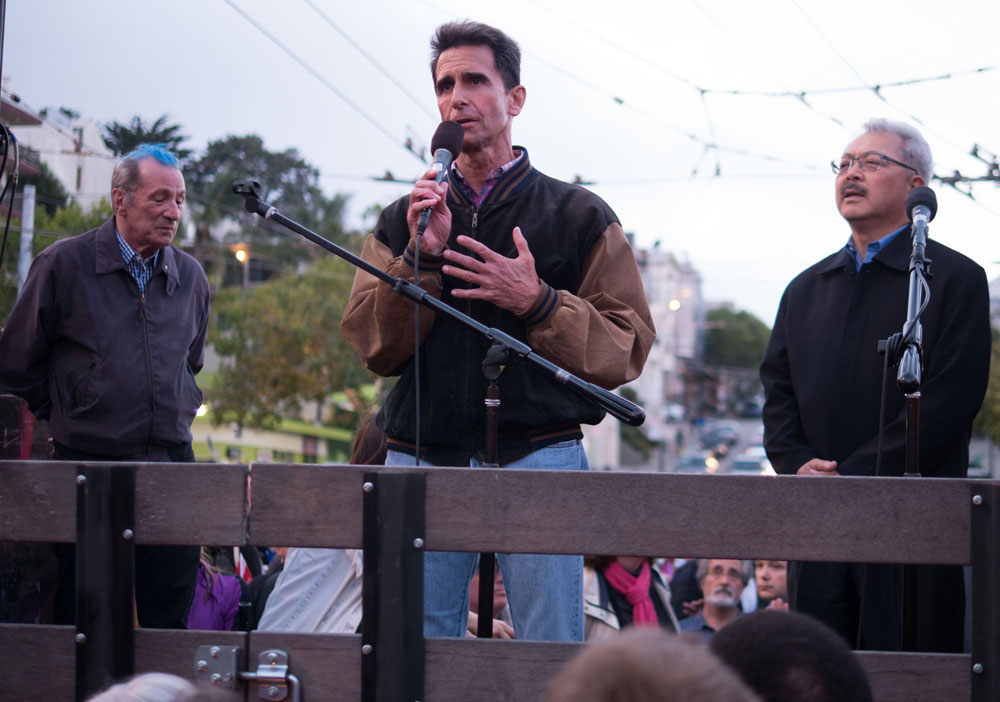 Elected officials took the stage after the community leaders. Mayor Ed Lee made a short, limited speech, which was interrupted repeatedly by boos. State Senator Mark Leno told the crowd that "my breaking heart joins your breaking heart." He noted that "our community has experience so much violence; our history is filled with violence against people who are just trying to be themselves."
He, like Campos, pointed out that this isn't happening in a vacuum, that public figures who make homophobic remarks are empowering violence. And he called for a ban on assault weapons.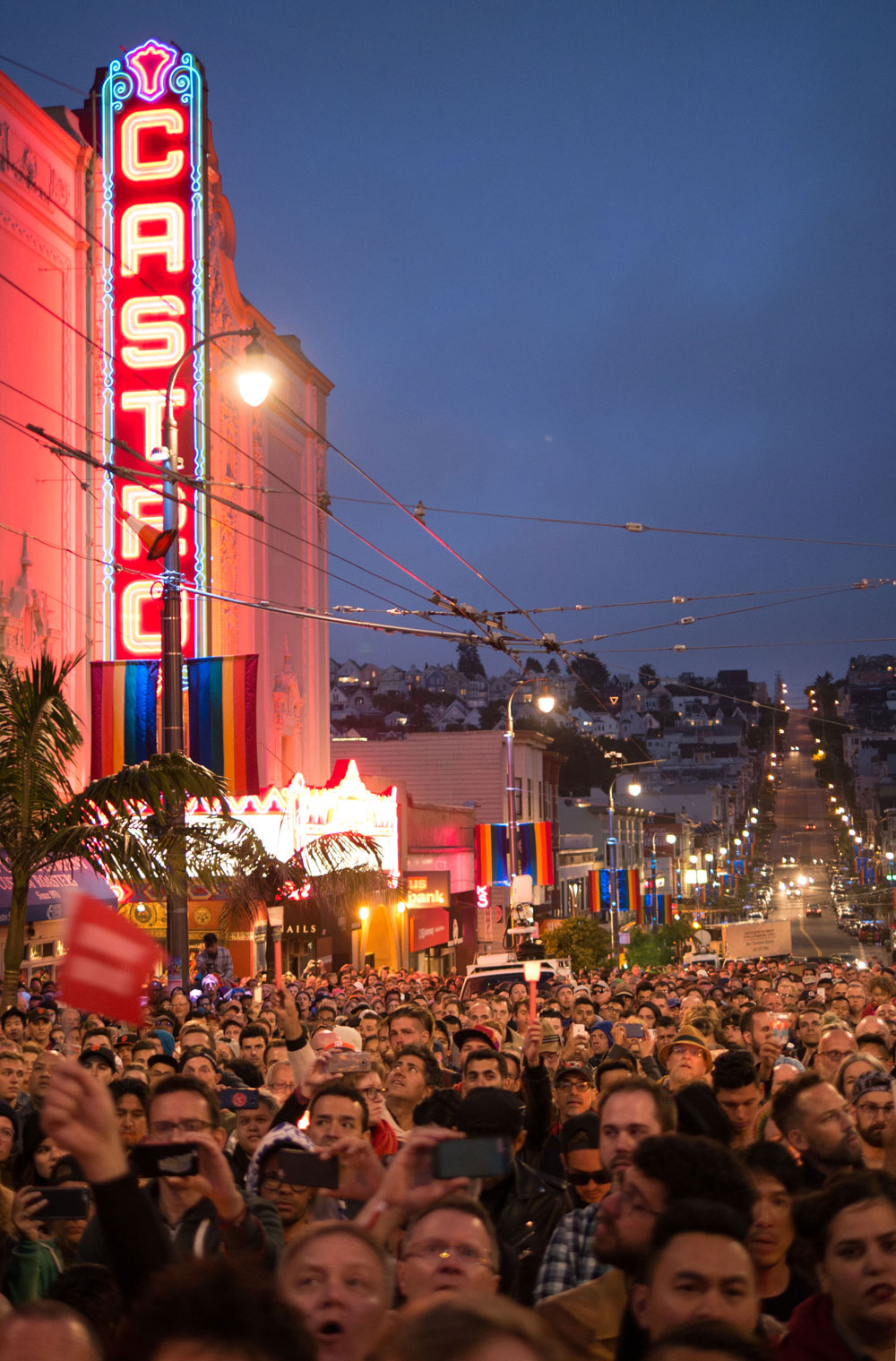 Tom Ammiano took things to another level. "Fuck the NRA," he said as he took the mic. "I am old and queer and full of gay blood, but we are going to fight back."
Then he said that the attack had been provoked by a kiss. "So let's all kiss," he said, turning to Mayor Lee and planting one on his face, then turning to the acting police chief and doing the same.
(Lee did not seem at all comfortable with the situation. When Ammiano was later asked by reporters if he had managed to kiss the mayor on the mouth, he said "my lips are sealed.")
Ammiano then went on to talk about "laissez-faire homophobia" – the comments and positions by politicians and other prominent figures that dismiss LGBT rights. "And I'm talking about the archbishop, too," he said. "The blood is on your hands."
(This, by the way, is why Tom is a civic treasure.)
Ammiano told us afterward that he thinks the first float in this year's Pride Parade should be gay Latinos, with representation from Orlando.
One the last speakers was Acting Police Chief Toney Chaplin. Before he came up on stage, Campos noted that "it's easier for someone to get his hands on an assault rifle than it is for a gay man to give blood." The chief looked out over the crowd and said:
"The NRA is a powerful group. But I sense a more powerful group here."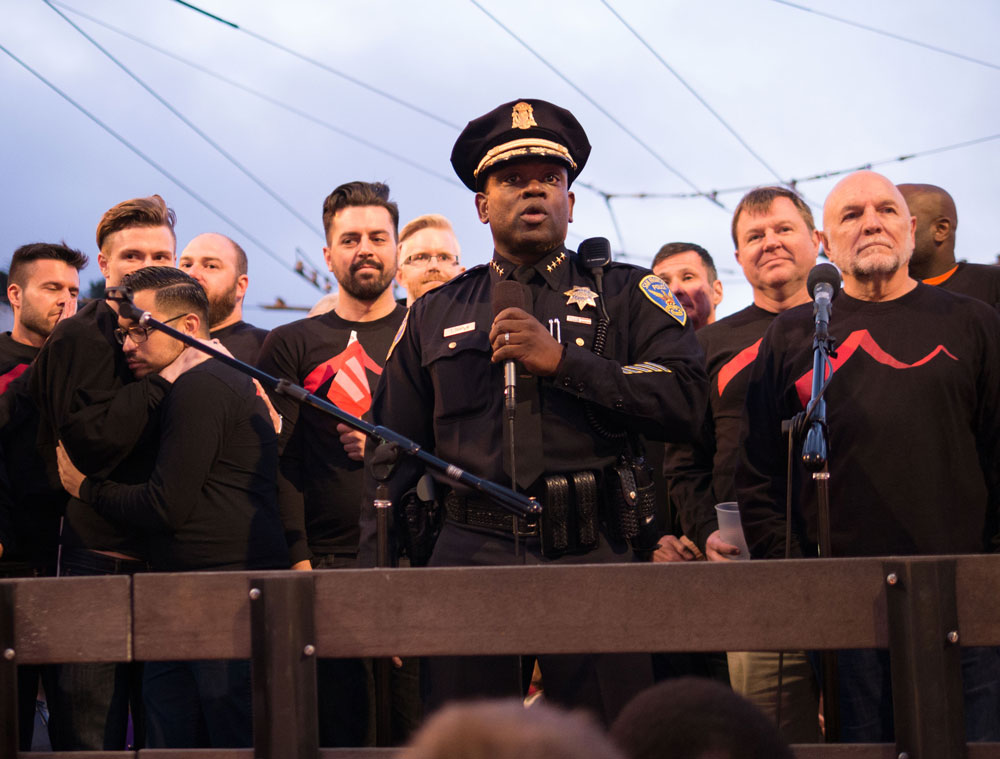 With that, the San Francisco Gay Men's Chorus launched into several heartfelt tunes, and the vigil became a march down Market Street from Castro to City Hall, which was lit up with the colors of of the Rainbow Flag.