PARTY RADAR Starting off this week with some good news: San Francisco's pioneering "Legacy Business" legislation, offering lifelines for longtime businesses in danger of being wiped out by the "red hot" real estate market, has taken effect. Among the first nine recipients of the legacy mantle, there are a couple great nightlife classics — The Lone Star Saloon, Specs' Twelve Adler Museum — as well as some cute faves like Toy Boat and Two Jacks Nick's Place. Basically, the legacy deal is that if the business's landlord agrees to a 10-year lease with no rent hikes, the city will award grants to both landlord and business. Legacy businesses might also qualify for Historic Preservation funds. So this is a very good start to making sure tipsy gay bears and North Beach bohemians still have a place to drink!  Hopefully we'll see more legacy businesses approved soon. Special shout out to Sup. David Campos for leading on this.
HODOR THE DOOR Yes, here it is, the "Rave of Thrones" (Fri/12, 9pm, Mezzanine, SF.) Before he became the beloved hulk of man on HBO's blockbusting, baby-stabbing Game of Thrones, Kristian Nairn was — and continues to be, after that door incident — a not very bad at all DJ. His style can get a wee bit too EDM for me at times, but he knows how to delve into some deep-bass goodness and even calls up a few techno and French Touch classics. Basically, what you would expect House of Whoever folks to be dancing to on the weekends if the show were updated to our universe, and they were all scheming techno promoters. The event sold out real quick, of course, but enterprising folks (or those who can arrive extra early and/or grab some "bottle service") can scheme their way in. Just don't channel the Red Wedding.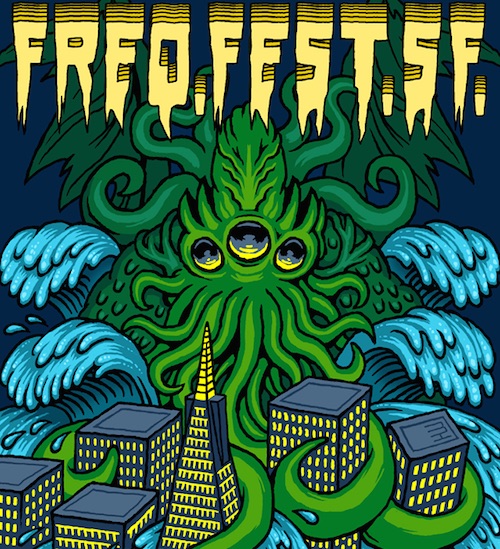 FREQ ALL WEEKEND It's been a while since I checked in with the 8bit crowd, producing cool, twee tunes on hacked and vintage computerware. But hey, we could all use some nostalgia for the days when tech seemed so lovable and cuddly! So let's all follow our Pokemons to FREQ.FEST.SF (Thu/11 and Fri/12, DNA Lounge): "San Francisco's first chip music festival, FREQ.FEST.SF features two full nights packed with a colossal lineup of artists devoted to the craft of conjuring music from obsolete video game and computer hardware." It features a ton of performers, including Casio Dad, Curious Quail, Doctor Popular (yay!), Space Town, Together We Are Robots ….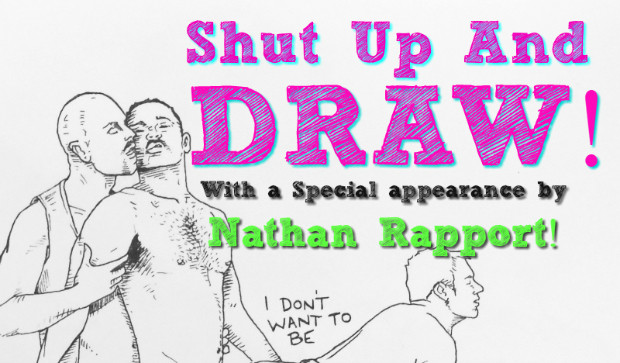 THE NEW QUEEN OF WISTFUL GAY ORGY COLORING BOOKS Bright yet soft-spoken artist and performer Nathan Rapport was a big presence on the gay and drag scene here in the late '00s, before he joined the exodus of almost everyone else cool from this benighted, expensive city a few years ago. But he ended up finding more fame in an unexpected way. Last year, he put out a sumptuous little adult coloring book called Last Night I Dreamt That Somebody Loved Me, a combination of wistful lyrics (The Smiths, Prince, Yaz, Joni Mitchell) and hardcore gay orgy scenes which somehow manages to be sweet (oh look, condoms!) rather than a sardonic commentary on the potential soullessness of random group sex. It's pretty radical! Oh, and there's a line of t-shirts, too.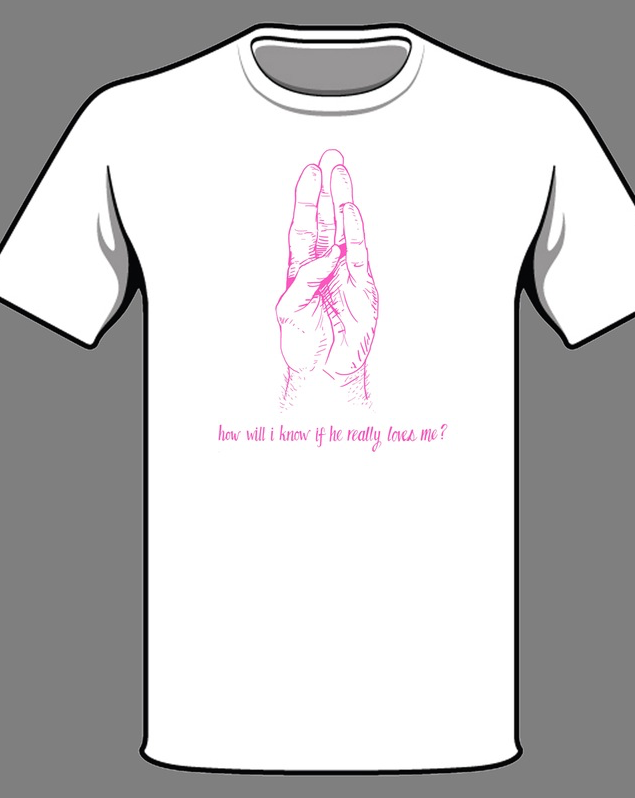 Before he knew it, the book took off: Logo TV, Huffington Post, a book tour around the country. "The coloring book was inspired by a need to make art during a very tumultuous period," Rapport told me.  I was in the process of a difficult breakup, selling a house, feeling unsure about where I was headed with things, and I decided to throw myself into a project after having an idea for a single drawing.  I made the book thinking a few close friends and maybe a few unknowns would buy it, and really just as my own project. I was going through it, and wrapped my head around some stuff by drawing, pure and simple."
Now he's back in the Bay Area for a special appearance at the Castro's fancy new public health clinic, Strut, during Sunday night's Shut Up and Draw event/social hour (Sun/13, 6:30pm-9pm, free.) "I'm really excited to be bringing the book back to my home in a proper way," Napport said. "We will be gathering at 6:30 for a quiet coloring/art hour, followed by a Q&A and book signing where I'll have the book as well as my new t-shirt line available." Go see him and draw a wistful orgy of your own.
FRIDAY, AUGUST 12
AMERICAN TRIPPS FIFTH ANNIVERSARY Has it really been only five years since this "Berlin-style ping-pong party" was unleashed on the Bay Area? I remember the early parties being packed with people lining up for a run around the table, passing off paddles, tippy beer cups overflowing. It felt like the apex of chill wave, but a little frantic. Come hear "resident DJs Beauregard & Nutzeffekt (aka Malcolm + Allan) spinning vinyl fresh from Berlin (and elsewhere)" and get a little exercise? Fri/12, 9pm-1am, $5. Rickshaw Stop, SF. More info here. 
AFROLICIOUS Huzzah, my favorite live/electronic roots party crew is back, supporting their new release "Bring It To The Max." "DJs, dancing,  and many special guests and musical treats to be had. DJs Pleasuremaker and Ozgood return for a night of eclectic rhythms in the Afro-Tropi-Electro-Disco-House style like only they know how to do. With live percussion by Diamond Vibes and MC Freshlife. Zebuel from Smoked Out Soul is opening up the night." Fri/12, 10pm, $10-$12. Public Works Loft, SF. Tickets and more info here.  
OSKAR OFFERMAN DJ babe alert! There's nothing hotter to me than a DJ (no matter the gender) who is confident enough to just let things slow down and heat up. No one would accuse German house spinner Oskar Offerman of racing at the speed of light, but his gorgeous, timeless grooves break into the stratosphere just as well. Fri/12, 9pm-3am, $15. Monarch, SF. Tickets and more info here.  
LAST NITE Fast approaching its third anniversary — hard evidence that the 2000s dance floor revival started in the middle of 2003, retro historians take note — this party is still going strong, bringing back all the starry-eyed indie rock and goofy internet-drunk pop you can handle. It's all stitched together in surprisingly great mixes by DJs Jamie Jams and Rocky, and the crowd laps it up with a Spoon. Fri/12, 10pm, $5-$10. Make-out Room, SF. Tickets and more info here.   
AURICULAR ARRANGEMENTS "The Soundwave ((7)) Festival hosts Auricular Arrangements as a part of the popular Friday Night party series at the de Young Museum. Four artists probe invisible architectures entangled within the iconic museum built by architects Herzog and de Meuron. Returning artist Matthew Howell's "Polyenvironments" augmented soundwalk lets participants explore sonic architecture of varied audio environments in the gardens and perimeter of the Museum. Jeff Cravath activates Turrell's Three Gems with a solo and interactive performance using tone chimes. Amaranth string trio presents a live performance of the 'Companion Guide to Rome' at Wilsey Court, and Yann Novak will create new a site-specific work meditating on the experience of being within the Hamon Observation Tower." Fri/12, 5pm-8:45pm, free. de Young Museum, SF. More info here. 
DUBS ALIVE The incredible Dub Mission, one of our longest running parties, presents this really cool-sounding live band. "The Dubs Alive Band is a San Francisco-based collective of musician-producers who came together in 2014 with a dedication to the fusion of live instruments performing electronic music. The band's sets are musically rich, maintaining dancefloor pumping aesthetics as they explore the relationships of reggae & dub, house, deep dubstep, drum & bass, Afrobeat, and funk. The group's members combine schooled musicianship with minimal electronic sensibilities in live sets made up of completely original music. The band members switch between instruments and perform on bass guitar, drums, guitar, saxophone, melodica, electronic percussion and EFX, all mixed with live dub fading." Fri/12, 10pm-2am, $7-$10. Elbo Room, SF. Tickets and more info here. 
SATURDAY AUGUST 13
SURFACE TENSION: DIAGONAL RECORDS SHOWCASE One of the sharpest labels, with an ear for headier, darker sounds, gets a tribute hosted by our party crew with the likest minds, Surface Tension. From the British label, Powell, Russell Haswell, and Not waving will all perform live, joined by our own Nihar, Jason, Justin Anastasi, DJ CZ. Special backroom takeover by Oakland's Voltage records. Sat/13, 10pm-4am, $15-$20. F8, SF. Tickets and more info here.  
AS YOU LIKE IT PICNIC Could there be anything better than gathering in the (maybe) sunshine with hundreds of SF's quality techno devotees, dancing on the grass to our own legendary soulful house DJ David Harness, joined by David Siska, R. Fentz, and Rob Monroy? Acres of grins. Sat/13, noon-6pm, free (donations accepted). Elk Glen Meadow, Golden Gate Park, SF. More info here. 
POUND PUPPY The dogs are barking — and they want techno. And psych disco. And deep house. This renowned party that welcomes gay pups and trainers (but is really just a fun free-for-all with a canine theme) brings in the As You Like It Crew's Mike Gushansky for a night of electronic depth. Woof. Sat/13, 9pm, $10. Eagle, SF. More info here. 
RHYTHM CONTROL Blissful indie house faves Magic Touch and Laura Ingalls join forces as Raffaello & Palermo to bring the Mission kids (and beyond) a night of "disco, house and techno all night long." Can't really beat that. Throw on some sparkly, ironic leg warmers and hit the floor, please. Sat/13, 10pm, $5. Amnesia, SF. More info here. 
SUNDAY AUGUST 13
ATOMIC BOMB! THE MUSIC OF WILLIAM ONYEABOR The great African electronic innovator's music is perfect for extended outdoor grooving — a picnic at Stern Grove seems just the ticket. "The music of the mysterious West African synth legend William Onyeabor is performed with Jamie Lidell, Luke Jenner, Beastie Boys collaborator Money Mark, Sinkane, and more special guests. Funky Bay Area collective Afrolicious opens the show." Sun/13, 2pm-4:30pm, free. Stern Grove, SF. More information here. 
WERD 9-YEAR ANNIVERSARY The Werd techno crew have made Sunday nights bearable for well-nigh a decade, despite a few venue changes. (So glad they've settled into Monarch.) Were founders Nick Williams and Brandon Wade hit the decks together for the first time in two years, plus many special surprises, we're promised. Word, Werd. Sun/13, 9pm, $5. Monarch, SF. Tickets and more info here.