We are all still sorting through the backroom (and frontroom) deals that went on at the DCCC last night; the panel had to sort through candidates for Board of Supes, School Board, and Community College Board as well as Props. A through X, and at times it got a little punchy.
Some reflections:
It's insane that the committee meets in a basement room in the State Building with no cell-phone reception and no WiFi. The meetings are not recorded. There were dozens of votes last night, some of them really confusing, and except for the minutes that Recording Secretary Rachel Norton will put together, there's no way to double-check what happened. How hard would it be for one of our state legislators to get Wifi installed in that room? How hard would it be to livestream the meetings? Sen. Mark Leno and Assemblymembers David Chiu and Phil Ting are on the committee; consider this a plea from the public to bring the meeting room into at least the 20th Century.
The new chair, Cindy Wu, did a great job with a meeting that could have gotten out of control. The first time she held the gavel, there were bylaws questions, interpretations of Roberts Rules, challenges to her rulings … and she kept calm through it all and did her best to make sure all of the members were heard. She also kept things moving along; the meeting was long, but could have been way worse.
You could tell the difference between the last real-estate dominated DCCC and this one by watching the frustration coming from Tom Hsieh and Mary Jung, who used to get their way with impunity and who are now reduced to complaints and quibbling. In fact, Hsieh went as far as to try to block Wu's efforts to award the contract for producing the DCCC slate card to Jim Stearns, an ally of the progressives.
The slate card contract is pretty simple: You bid to design, print, and mail 120,000 copies of the DCCC endorsements to registered Democrats who are likely to vote. There's an RFP, and consulting firms bid. In this case, 50 +1 Solutions, which tends to work with the more conservative Democrats, had a much higher bid than Stearns. Wu suggested that the contract go to the low bidder.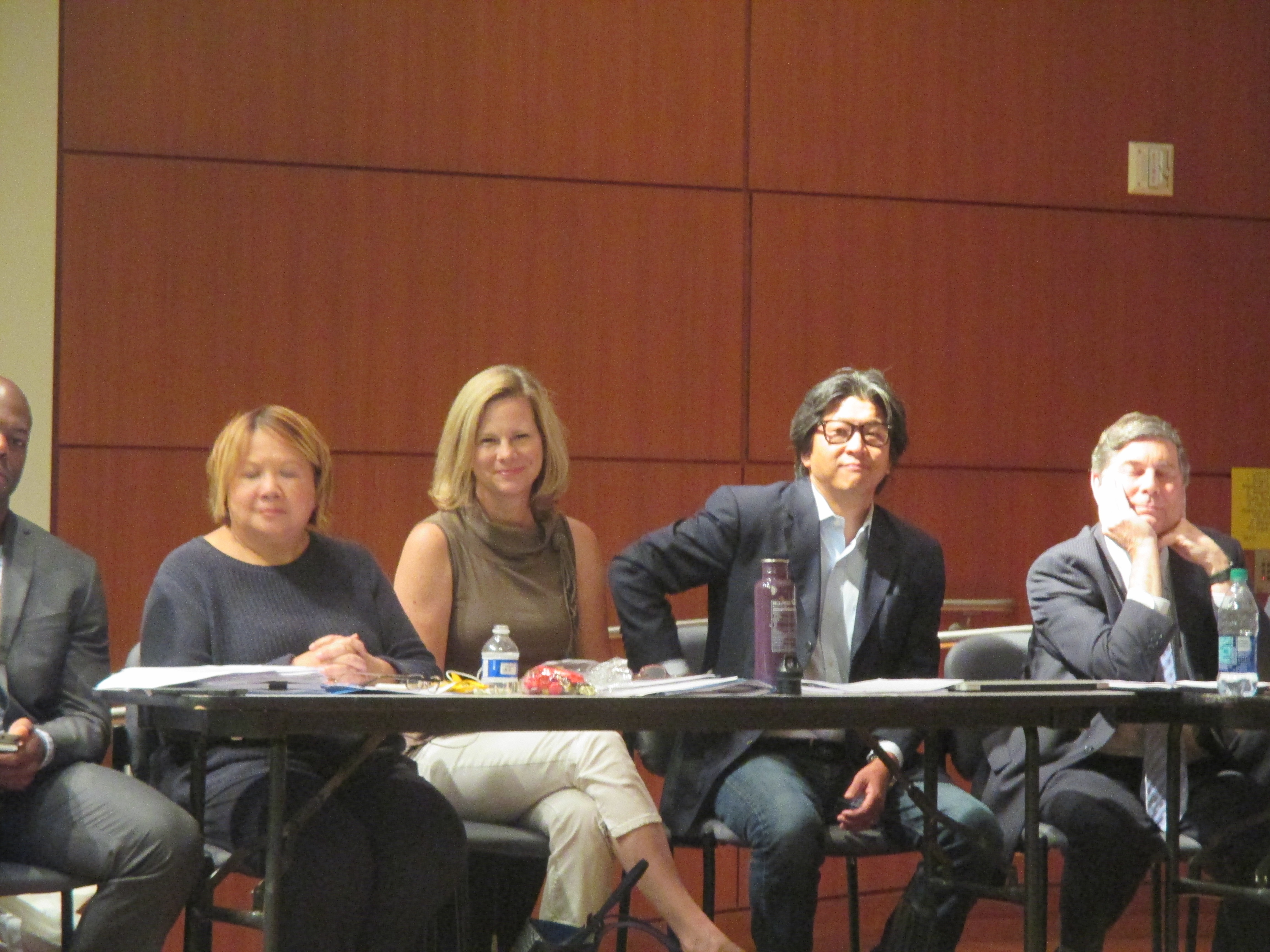 There's political intrigue here, of course: Stearns also works for some of the progressive supe candidates and initiatives, and Nichole Derse of 50 + 1 works for some of the conservatives. Hsieh argued that Stearns couldn't possibly do the job for the amount he bid (about $14,000) since buying the data, printing, and postage would greatly exceed that amount. He suggested that somehow Stearns might be taking money from someone else and that there might be issues of "in-kind" contributions.
I called Stearns today and he told me that postage (about $30K) wasn't part of anyone's bid, and that he owns his own data and got a great deal on the printing. He's not going to make a lot of money on the deal, "but I'm not making an in-kind contribution to anyone."
Of course, Stearns is also doing the campaign for Prop. O, which would exempt as much as 5 million square feet of office space proposed by Lennar Corp. from the city's office-development limits. Most of the DCCC supported Yes on O (although a few, including Tom Ammiano, opposed it). So it's likely Lennar will put up much of the money to pay for the DCCC slate card.
I realize how hard it is to vote against an incumbent supe, and how much sway London Breed holds as board prez. And I saw all the votes from the Ex Officios lining up for Ahsha Safai (why?), and I know that the No Endorsement in D11 was a victory for Kimberly Alvarenga. But I still keep asking: Don't the progressives realize (and I'm speaking to the likes of Aaron Peskin here) that if Jane Kim wins the state Senate seat and the left doesn't take ALL SIX seats, including 5 and 11, that the mayor's folks will be back in charge? Doesn't that trump (sorry, bad word, can't help it I'm a bridge player) anything else that may be involved? I guess not — Dean Preston couldn't even get the nod as a Number Two choice.
Ed Lee wasn't mentioned at all at the meeting, but he was the biggest loser. All of the measures that would limit the power of the mayor won the DCCC endorsement – and I think it's safe to say that his name will be missing from all of the arguments in the ballot handbook.
The arguments against the Public Advocate measure, for example, will be signed by former mayors Willie Brown, Dianne Feinstein and Frank (does anyone remember him?) Jordan, with a mention of Gavin Newsom (who can't sign because he doesn't live in SF any more). The current mayor will not be part of the campaign.
Same with the arguments against limiting the mayor's power to fill vacancies on the Board of Supes and creating a commission to oversee his housing and economic development policies. The name Ed Lee will be nowhere.
It's astonishing that, with three years to go on his term, Lee is so unpopular that his endorsement will be a net negative for any candidate or ballot measure.
The vote on Public Advocate was 18-10, with two abstentions, which means some members of the moderate/conservative faction defied the mayor and his allies and voted Yes. Among them: Angela Alioto (who has suggested she might like the job), and Keith Baraka.  The votes on the other measures that would limit the power of the mayor were also pretty one-sided: The "Elect our Elected Officials" measure, which would require special elections instead of long-term mayoral appointments for supervisors, won 16-11, and the creation of a commission to oversee the Mayor's Office of Housing won 16-8.
So the Democratic Party slate card will be carrying a very different message than it has in the past couple of years. As President Obama is fond of saying, elections matter.