So now we know for sure what Donald Trump and the Republicans have in mind for their first budget:  Cut everything that is good for cities, for the environment, and for poor and working-class people, and give more money to the rich and the military. (Oh, and to his weekends in Florida, which will cost the government more than the cuts to senior services and the arts.)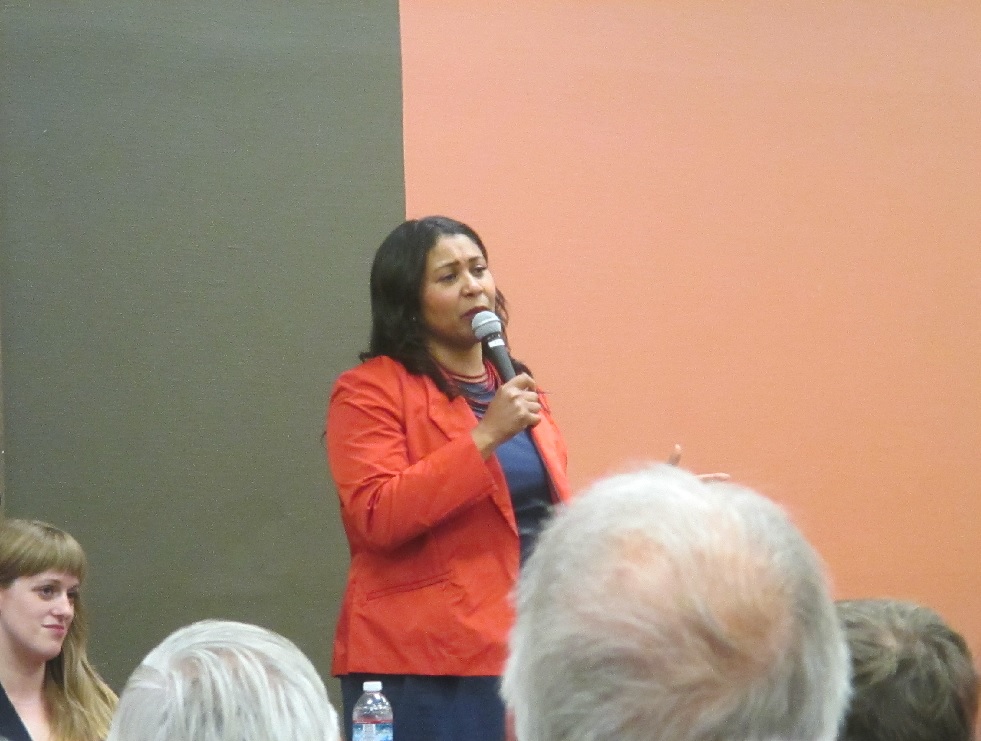 We don't know exactly yet how much this will cost San Francisco, but it's going to be a big number. And equally important, San Francisco will need to spend more money, not less, on protecting vulnerable communities; just think about health care, and how many more people will be lining up at SF General if the Affordable Care Act is repealed.
So far, the mayor hasn't said much about how he's going to address the problem, but we will hear from his office, and from the controller, Thursday/23 at a special Budget and Finance Subcommittee hearing. It starts at 1pm in the Board chambers.
The members of that special committee are Malia Cohen, Jeff Sheehy, and Sandra Lee Fewer. I hope they ask the mayor's people what they plan to do if the city loses a few hundred million dollars this year – and has to pay for health care for thousands more people.
I hope somebody asks whether the mayor is prepared to look at substantial new sources of revenue – and how that burden should be spread.
The mayor appears before the Board Tuesday/21, which ought to be a perfect time for this discussion. But under the ridiculous rules that then-Board President David Chiu worked out with Lee's Office, the supes have to submit questions in advance, and the mayor just reads prepared answers – and this time around, no supervisor from an even-numbered district bothered to submit a question.
At the same meeting, a measure by Sup. Aaron Peskin that seeks the city's support for state legislation authorizing local income taxes comes up for a vote. Typically these things are pretty routine – the city takes stands on state legislation all the time.
But in the case, Sup. London Breed voted against the measure in committee, and appears ready to oppose it at the full board.  It will be interesting to see what new Sup. Jeff Sheehy does.
I listened to Breed's comments at the committee hearing, and I have to say I was a bit startled. Her comments were … well, conservative. I get criticized for describing board members that way – hey, in San Francisco we are all Democrats and supposed to be liberal, and Breed describes herself as progressives. But I have no other way to describe what happened at that meeting.
I encourage everyone to go to sfgovtv and listen to the Government Audit and Oversight Committee meeting of March 15. The item in question comes up at about 40 minutes in.
A little background: Most people who study this sort of thing agree that sales taxes are the most regressive, because they hit poor people harder than the rich. Property taxes and parcel taxes are a little better, because most property owners are better off than most renters (although some of these taxes get passed on to renters). The city's business taxes are based on payroll and gross receipts, which are decent approximations of the size of a company but don't reflect whether a company is profitable or not.
I don't think there's a single credible economist or policy analyst who would disagree with the concept that income taxes are the most progressive way to raise money. In fact, income taxes in the US (as Sup. Jane Kim pointed out at the meeting) were originally seen not only as a way to fairly raise revenue, but as a way to fight economic inequality. The rich pay more; the poor get more. It makes society, over time, less likely to become on oligarchy.
Today, San Francisco has some of the worst economic inequality in history, and is up there with countries like Rwanda for radical gaps between the rich and the poor. It's an embarrassment – and one reason for the high housing costs and huge numbers of homeless people on the streets.
The numbers for this city alone are staggering. According to the Controller's Office, there are 4,954 San Francisco residents who earn more than $1 million a year. Their combined annual income is $17 billion.
That's fewer than 5,000 people who combined earn more than twice the entire city budget.
If we taxed them at just one half of one percent – which would not cause a single one to miss a single meal, or a single new Maserati, or a single new fancy house – the city would bring in $62 million.
The numbers just go up from there.
As Peskin noted, "this is a great way to address economic inequality." It's hardly radical, either – 170 municipalities have some form of income tax.
So here's what Breed said:
"I don't think it's ever going to happen." (A city income tax requires state legislation, so maybe not for a while, but times are changing very fast and the state is going to have to do some radical stuff to respond to Trump. A lot of people said not so long ago that same-sex marriage was never going to happen. So we don't try? Then nothing ever happens.)
More:
"We have a $9 billion budget for a city of less than a million people. There is a lack of accountability on so many levels on how we are spending those dollars and departments that waste money.
"I am not a fan of local income taxes and not a fan of a lot of decisions on people and their incomes."
Wow, let's take those one at a time.
First: San Francisco has a large budget in part because it does lots of things that other cities and counties don't. As Breed well knows, because her chief aide likes to write about it, a huge part of that money has nothing to do with discretionary spending by the supes and the mayor. The airport accounts for $1 billion. None of that is taxpayer money – the airlines and concessions pay for it – and none of it comes back to City Hall. But it's in the budget. San Francisco runs a county hospital, and a transit system, and a lot of other things that cost money. I analyzed this at great length a few years ago; please read.
Yes: there is waste at City Hall. There is no way to have a $9 billion budget in either the public or the private sector without some waste. But compared to the needs that we have, it's relatively small.
And once Trump drops the axe, there will not be enough waste to avoid serious service cuts. And Breed knows that. I'm a bit shocked that she even went in this direction.
So why is she "not a fan of local income taxes" and wants to cut the budget first? I am boggled. Sorry: That can only be called a very conservative position. Oh, and by the way: We could replace some sales taxes and taxes on small business with a much-more progressive income tax.
So we shall see how the full board votes Tuesday.