Mayor Lee and Supervisor Tang are at it again: They've proposed a density bonus plan for the second most dense city in the nation. This time it's called HOMESF and its being sold as "family" housing with "30% affordability" requirements, qualities that are, in fact, missing in any close reading of the proposal.
What HOMESF will produce is even more market-rate housing, too small to house families and too expensive for most current residents, especially families. We now produce for than 200% of the market rate housing we need. HOME SF will simply enable even more small, expensive "homes" basically aimed at young tech workers able to pay market rate for the honor of living here.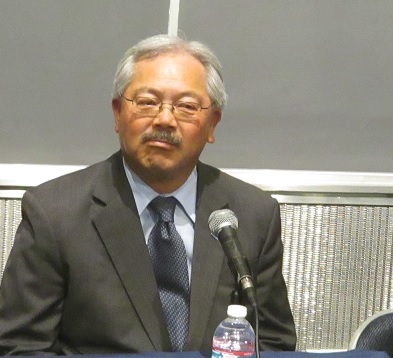 This time the program will displace local neighborhood businesses, not long time residents. In the bruising 2016 fight, community, neighborhood, tenant, and affordable housing advocates prevailed in defeating the "Affordable Housing Density Program." The mayor's staff learned a lesson: This time, no residential use, rent controlled or not, can be subject to the new program. 
Instead, the program is aimed squarely at every neighborhood shopping street in San Francisco. The mayor's bulls eye has been moved from the chest of residents to the heads of small-scale businesses that residents depend upon. Single-floor businesses, especially small-scale ones that tend to employ San Franciscans and sale retail goods needed by residents, are named as the sole target of the plan (see page 11 of the proposed legislation).
HOME SF shows why land-use issues in San Francisco are so contentious and lie at the very heart of the politics of the city. Development issues are a zero sum game in the City of St. Francis: There are real winners and real losers. The winners make a lot of money and the losers, well, they leave. This is so for the simple reason that there is only 47 square miles to play with and of that only about 23 square miles are able to be developed, with less and less each year as the Bay waters rise. San Francisco is a 19th Century city, and there is little vacant land. To build something new generally means something has to be torn down. And somebody either lives or works there.
It's a hard sell to convince folks that they will somehow benefit from new development if they can no longer live or work here because that new development took their home or business. So "programs" and "plans" are devised by developers that reduce or sometimes even deny public participation in the approval process.  These developers contribute large sums to ensure that elected officials are open to these "innovative" programs that facilitate the "market."
HOMESF allows two helpings of bonuses to developers: First, a massive change in the zoning of nearly every neighborhood in the city, and, second, a menu of specific density options able to be selected by the developer and planning staff with no public comment allowed. 
The combination of the two will virtually guarantee "micro units" for tech workers while being sold as "family housing."
HOMESF establishes "form based density" in virtually all zoning districts, which ends the existing requirement for minimum unit size. The current "lot sized" zoning system expresses building density — how much of the lot can be covered by a building, what size its yards must be, how far back it must be set from the street — as a ratio of lot size. Form-based density simply ends that relationship between building and lot size (that is "place" or " neighborhood.")  It also ends the minimum size of the units, which means dramatically smaller homes and apartments. 
First allowed in the Eastern Neighborhoods, form based density basically allows a developer to privately negotiate with planning staff, without public oversight, the density of the project. What that means is simply more, smaller units.  Below is a comparison done by the Planning Department of new development unit size.  "Existing" is the old system of "lot sized" density and "new" is under the form based density system.  Note the dramatic increase of studio units and the nearly equally dramatic decrease of three-bedroom units.  And remember, the prices for these new units continued to increase as their size decreased. A recent report of the Planning Department showed that during this same period the numbers of workers per household actually increased .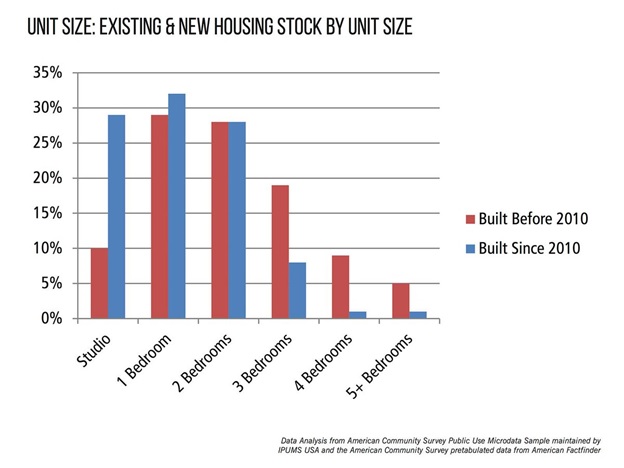 But, wait, there's more.  HOMESF also grants an additional menu of bonuses available to the developer.  First, up to a total of 25 feet of additional height, and then a choice of three of either a 15-foot reduction of a rear yard size, no off-street loading space for any new commercial uses, up to a 75% reduction of both residential AND commercial parking requirements, a 5% reduction in common open space, or counting a space with 25-foot-high walls "in every horizontal dimension" as "inner court as open space." All are fine choices for "family friendly housing!"
Family unfriendly "family" units
The use of "form based density" formula is wonkish enough that people desperate for family housing may overlook its implication. They may be persuaded by the HOMESF requirement that 40% of all units must be two bedrooms "or larger" and adjacent to "open spaces and play yards" and that "family friendly amenities" of "bathtubs, …cargo bicycle parking, …stroller storage, open space and yards designed for children."
But as we have seen, these very yards and open spaces are allowed to be reduced in size, and form based density does away with minimum units size no matter how many "bedroom" (or, more accurately, "sleeping closets") are required. When it is additionally realized that BMR units can be 90% of the size of the market rate units the cramped nature of these "family friendly" units are made clear. The heartless hype of these micro sized "density bonus" units on sites with tiny backyards and light wells being counted as "inner court yards" as "family friendly" may set a new low of "private-public partnership" in hoodwinking the public.
Unaffordable affordable units
What developers give to get these additional bonuses is to "provide an additional percentage of affordable units …such that the total percentage of Inclusionary Units and HOMESF Units equals 30%." Thus, the HOMESF "get" is dependent on the outcome of the inclusionary battle, which is still being fought.
If the Peskin/Kim version wins, which requires 24% if the project is a rental development and 27% if condos, the HOME SF huge density bonus would be given for an additional 3% to 6% BMR units. If the Safai/Breed measure prevails,  which calls for 18% BMR's in a  rental and 20% for  condo,  the bonus would be an additional 10% to 12% BMR units. 
 Each inclusionary measure has differing number of low income/middle income BMR requirements. The Kim/Peskin measure requires that 15% of all BMR's be affordable to low income residents, while the Safai/Breed measure requires only 6% of the BMR's to be affordable to lower income folks.
Since all HOMESF  "bonus BMR's" are  a new "middle income" level  (120% to 140% AMI)  defined as "market rate" by ABAG and every other jurisdiction in the world, should the Safai/Breed measure pass, the HOME SF program would produce not one new condo units able to be afforded by anyone earning less than 90% AMI ($83,000 for an average sized  household). Indeed, two-thirds of the units produced would be affordable to households earning between $110,000 and $130,000. In many cases these prices for such BMR's would be actually higher than the market rate rents in many neighborhoods in the city.
The concern that these units might well be unaffordable in many neighborhoods led the drafters to include a provision that allows (but weakly worded as "may" and not "shall") these un-affordable BMR's to be priced at "no more than 20% less" than  market rate rents in a "specified neighborhood."
Amending the hell out of HOMESF
As drafted HOME-SF works great for developers: It gives them huge profits with minimal costs. It reduces their costs of development by allowing more units per sqaure foot of lot area. But reducing a developers' cost does not automatically reduce the price of the finished product. For this program to work — for affordability and families — there needs to be major amendments, requirements that cost reduction results in price reduction.
The first might be called the "Randy Shaw Amendment." Shaw, who runs the Tenderloin Housing Clinic and BeyondChron, has been attacking folks for opposing various density bonus programs for the last year.  But what he never mentions is that in both density bonus proposals of last year and this year, Shaw has gotten an exemption for the Tenderloin. Last year he got a straight up exemption.  This year he got an exemption for the Tenderloin based upon the completion of a "Affordable Housing Incentive Study" done for the Tenderloin.  The study is supposed to show ways to "incentivize increased affordable housing production levels at deeper and wider ranges of AMI and larger units size" before the HOMESF can be allowed to be applied to the Tenderloin — if it can be applied at all.
Shaw has it right: HOMESF does not make enough affordable units available at unit sizes needed for most of San Francisco.  But why stop at the Tenderloin, Randy? Why not join in amending the legislation to apply the same study to the Western Addition, Chinatown, Bayview, Excelsior, 24th Street in the Mission, and the Richmond?
The second amendment must stipulate not only a number of bedrooms for family units but also a minimum unit size and the removal of the 10% reduction in size for all HOMESF BMR's. In a building with "family friendly" homes, no reduction in back yards and common open space should be allowed.
Third, real and meaningful protection must be offered to neighborhood-serving retail uses. If a HOMESF project displaces a neighborhood-serving retail use it must build space for a similar use (at similar rent) in the new project. Formula retail uses cannot be allowed to replace neighborhood-serving retail uses because of this program. Neighborhood retail uses not only provide critical goods and service to residents but also are a source of employment for San Franciscans.
Fourth, the language in the ordinance allowing the Mayor's Office of Housing the ability to make sure that, on a neighborhood basis, a "below market rent" home is, in fact, below market rent in that neighborhood must be made mandatory.  The "may" needs to become "shall."
Finally, if increased density is granted, which includes a reduction in parking, then the developer must pay an additional transit fee to Muni to offset the increased impact on transit of the carless market-rate development.
There is an old saying that zoning an area for gold mines does not make gold mines. So simply saying that HOMESF is "family friendly" and will provide "affordable housing" without actually requiring either in the ordinance will produce neither. HOME-SF needs major work. Let's get it done.