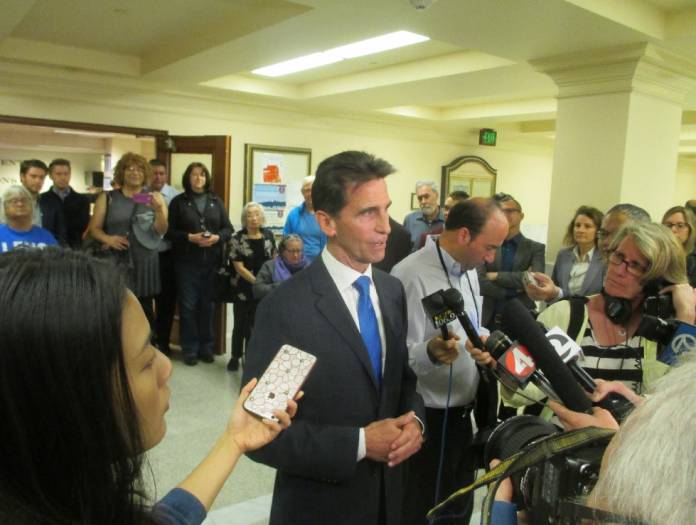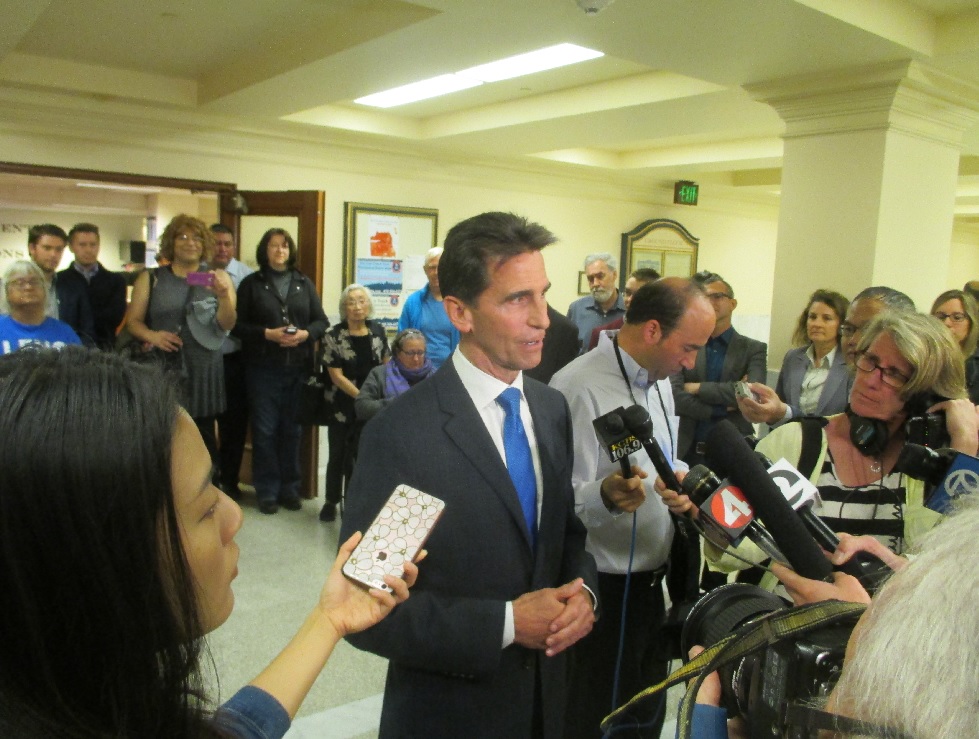 The 2019 mayor's race formally began today when former state Sen. Mark Leno did what everyone had been expecting for months and pulled papers to run.
Leno arrived at City Hall this morning and was greeted by several dozen supporters, a community crowd that included only one elected official, Community College Board member Alex Randolph.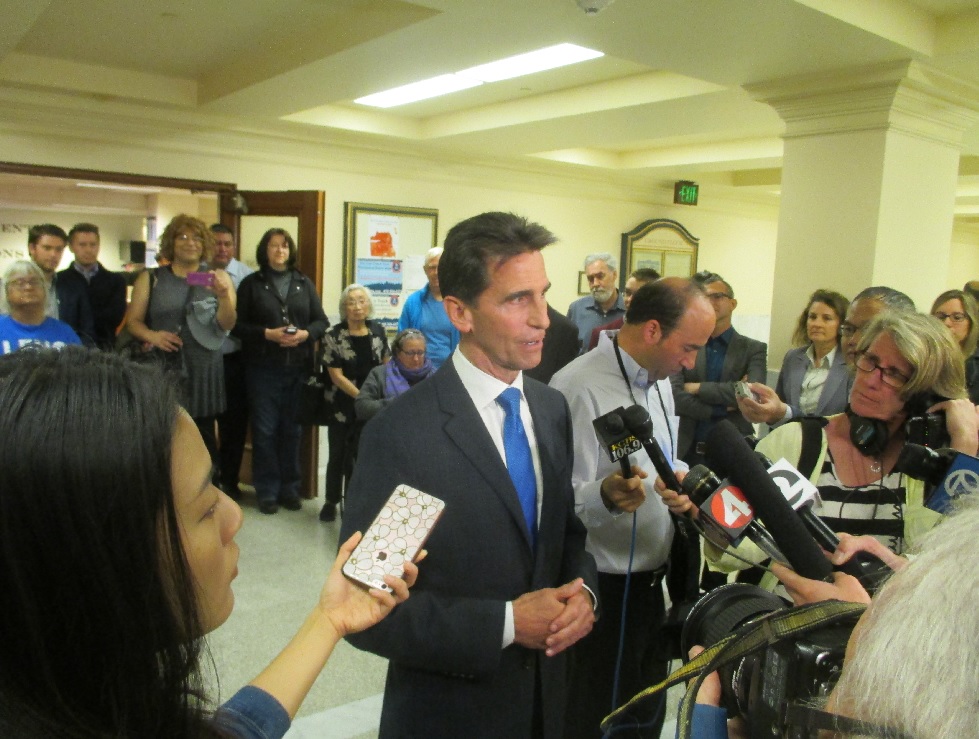 However, Leno's staff handed out a list of other supporters, including Sup. Aaron Peskin and Public Defender Jeff Adachi – both people who had been considered as possible mayoral candidates themselves.
By entering the race this early, Leno can start collecting endorsements and money before anyone else is out of the box.
His endorsements represent both progressive and centrist support: Progressive College Board member Tom Temprano, BART Director Lateefa Simon, School Board Member Mark Sanchez and local Democratic Party Chair Cindy Wu are on board. So are Sup. Ahsha Safai and Board of Equalization Member Fiona Ma, neither of whom are remotely part of progressive San Francisco.
Olga Miranda, who is trying to force the best member of the Police Commission out of office, is a Leno endorser, too. He has not so far weighed in on that issue.
Interestingly, Assemblymember Phil Ting is an early endorser – but the name of state Sen. Scott Wiener, a longtime Leno ally who owes his career in part to Leno, is not on the list.
Neither is Assemblymember David Chiu, who by some accounts is considering a mayoral run himself. Leno's entry into the race leaves Chiu with almost nowhere to go – he can't run to Leno's left, since he burned those bridges a long time ago, and he clearly can't run to his right. Chiu can't even begin to match Leno's experience, and has made a lot of enemies.
Leno made clear from his early statements that he is running against the status quo. "It's time for a new direction," he said. He spoke, not surprisingly about housing, saying what progressives have been saying for years – that we have to protect the existing affordable housing stock, the rent-controlled housing that is under such attack.
He suggested a strategy that hasn't occurred to me – he said the city should consider suing speculators who repeatedly buy buildings then use the Ellis Act to clear out the tenants so they can flip the places. "The Ellis Act was not intendent for this," he said.
Since he's talking about a new direction, I asked him if he was running against the record of the current mayor. He didn't go there – he said that new directions were always a good idea, and that if he wins and serves two terms and toward the end of his tenure a candidate talks about the need for a new direction, "I would be thrilled."
But SCN Strategies, the high-powered political consulting firm that is working with him, knows the numbers, and the numbers show that the voters are really unhappy with Mayor Ed Lee. And the candidates who get in the race are going to have to be able to say that they are not going to be another Ed Lee.
That would be hard for Sup. London Breed, also a rumored candidate.
It's almost certain that Sup. Mark Farrell will run, and he's already trying to reach out to tenants with legislation more tightly regulating owner move-in evictions. He will be running to Leno's right, but again will have a problem: He hasn't been known to oppose the mayor or the mayor's policies.
At the heart of the 2019 race will be the question of how we address housing, particularly whether, as Wiener argues, market-rate housing should be a priority. Leno told us that he would be issuing a series of "white papers," and that housing would be his first one.
To get the attention and support of tenant groups and progressive housing activists, he will have to show that he does not agree with Wiener and wants to take a different approach.
In general, Leno's problem with the progressives is not his track record in Sacramento, which is generally excellent, but his local endorsements, which have often had a lot of us shaking our heads. He declined to support David Campos for Assembly. He supported Wiener over Sup. Jane Kim. He endorsed Breed over challenger Dean Preston, even though Preston had worked closely with Leno on tenant legislation.
The election is a long way away, but we all knew Leno was going to run. And now it's official, and he has set up the battlefield. We shall see who else enters.