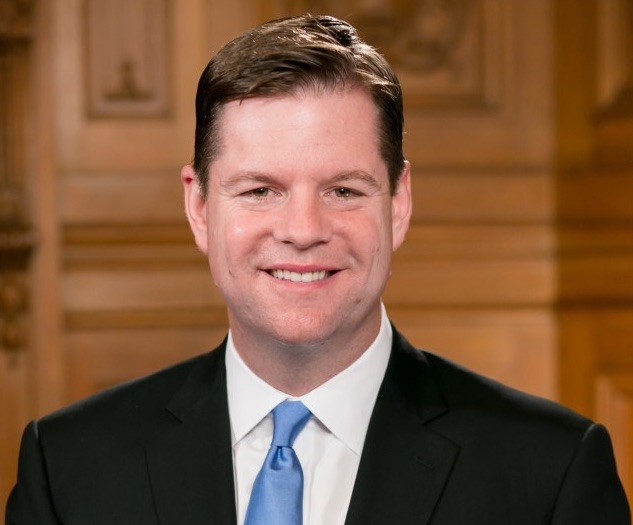 In a stunning vote that nobody expected, the Board of Supes selected Sup. Mark Farrell to be interim mayor, leaving the June race wide open and with no incumbent.
Farrell will now have to give up his seat on the board, and will be able to appoint his replacement.
After several hours of public testimony, there were only two nominees for the job: Farrell and Board President London Breed.
Sup. Malia Cohen nominated Breed. Sup. Norman Yee nominated Farrell.
As of 2pm, when the board meeting started, the progressive supervisors seemed to have no plan for an interim mayor. Farrell is among the more conservative members of the board, and an unlikely choice.
Except for the fact that he is not running for mayor – and that his position as interim mayor prevents Breed from running as an incumbent.
Breed got only four votes — Ahsha Safai, Cohen, Jeff Sheehy, and Katy Tang.
The vote to put Farrell in the Mayor's Office was a surprising 7-2 (both Farrell and Breed were barred from voting). All of the progressive supes (Aaron Peskin, Jane Kim, Hillary Ronen, Sandra Lee Fewer, and Yee) voted for Farrell, and they were joined by Sheehy and Tang.
Then African American supporters of Breed started shouting "shame," and the meeting was recessed. Ten minutes later, Tang asked to rescind the vote, and changed her position. But there were still six votes for Farrell, with Sheehy providing the swing vote.
Many of the speakers talked about Breed's qualifications, and about the importance of her remaining in office. But until Sup. Aaron Peskin spoke, there wasn't much discussion about the central issue at stake here.
"The argument of separation of powers is extremely important," he said. That concept, he noted, came from the Iroquois Nation and was among the central features of the founding of the United States.
The voters, he said, have decided that some of the key commissions in the city – planning and police for example – have appointments split between the mayor and the president of the board. If that's the same person, as it is today, the will of the voters is thwarted.
"It was never contemplated that this would go on for this period of time," he said.
It's interesting that the last time this came up, when Gavin Newsom left to become lite guv, the moderates – that is, Newsom and his allies – said they wanted a "caretaker" mayor. That's how we got Ed Lee; he promised to fill out Newsom's term and not run for office. This time around, the same crew – the Big Tech and Real Estate operation that backed Lee and is now backing Breed – argued that we didn't need a "caretaker" mayor.
So the reality is, as several speakers noted, this is really about politics. As one speaker, a Korean-American, noted, "San Francisco got richer and whiter under Ed Lee. I look forward to this continuing under London Breed."
The defining moment of the meeting was when Sup. Hillary Ronen made an impassioned speech that defined what the issues really are.
"Right now we need to turn our city upside down. San Francisco has become a place where only the ultra-elites can prosper, where the gap between the rich and the poor keep getting wider and the middle class has no place.

"These changes for the worse didn't happen by accident. During the last two administrations, the same tech moguls and real estate billionaires have been making money off our staggering high rents. They champion policies that decimated the African American community and are doing the same thing to the Latino community.

"We need a radical change in the direction of the city. So far, the dominate narrative has been about the identity of London Breed, how as an African American woman with such a dramatic narrative should be the next mayor of the city. And I agree that it's impossible to talk about fairness and advantage when you talk about an African American woman.

"But I also have to say, and let's be honest, although it's painful for a lot of us, there are white rich men billionaires in this city who have steered the policies that have gotten us into the mess we have have gotten into today, it's ridiculous and outrageous, and it keeps me from sleeping as a supervisor every night. And I hate to say it, that these same white men are enthusiastically supporting London Breed. They are threatening people who don't support London Breed. They are saying peoples' careers will be ruined. That is the grossest part of politics and it's happening right now right here as we are speaking.

It started happening the morning Ed Lee passed away because that's how gross these people are.
Ronen said that there are numerous SF communities that are looking for representation. The LGBT community, facing the deadliest year in history for attacks on queer people, talks about how important it would be to have a gay mayor. The Asian community, which just lost Ed Lee, talks about the importance of an Asian woman.
And she said she would vote for any interim mayor who could get six votes and would not run for office.
That turned out to be Farrell, who will now be sworn in as interim mayor, will oversee the budget process, and will step down from public office in June.
Part of the discussion now will be around who he appoints to the District Two seat, and I suspect that part of the backroom discussions that led to this crazy outcome involved that process. Because the D2 supervisor he appoints will be able to run – as an incumbent – in November.