A really great Saturday evening at the ballpark: The SF Giants honored Tom Ammiano for his decades of service to the LGBT community and talked about his 60-year-delayed varsity letter. And then the always fabulous Honey Mahogany sang the national anthem.
Ammiano was on the field with Billy Beane and Gabe Kapler, and he got a signed jersey with his name on the back and a huge amount of applause.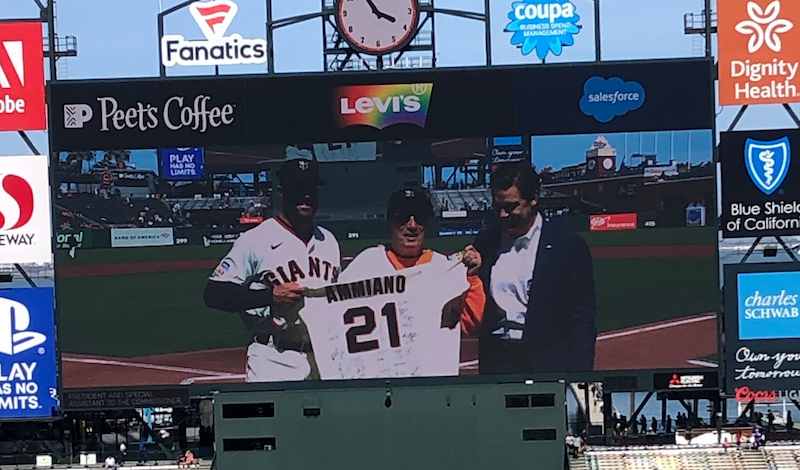 Of course, he's Tom. So it wasn't all just cheers. He told me he turned to Kapler:
"And there he was — in all his hotness — and I told him that we'll all be ready for an openly gay baseball player, and the Giants seem like the best team for that to happen. And he agreed."
Here's Honey singing:
Men's sports are so, so far behind women's sports; unless I've missed someone, there are no active players in any of the major men's leagues who are openly gay.
And there are a lot of problems with all of these big-league Pride celebrations, as the Chron's Ann Killion points out:
The principal owner of the Giants is Charles Johnson, a billionaire conservative donor who funds many politicians working hard to fight LGBTQ inclusion and equality. Johnson, according to reporting from fivethirtyeight.com last fall, accounted for 32% of all sports ownership donations to Republican causes since 2015.

According to the Giants, an unspecified "portion" of the proceeds from future cap sales will go to LGBTQ charities but the Giants will keep some. So, somewhere there's a disconnect in buying a Pride-themed cap to represent the team while possibly contributing to the Giants' coffers and therefore to Johnson's asset portfolio.
And there are still serious labor issues.
Still, Ammiano told me, you take your victories where you can get them, and this was a lovely moment.
The Board of Supes debate over Mayor Breed's budget starts Wednesday/9 when the Budget and Appropriations Committee holds its first full hearing on the issue.
The hearing will start with a report from the Controller's Office on projected revenue, and then the mayor's Budget Office will provide a detailed update on her spending plan.
There's a lot to talk about, including money for two new Police Academy classes (at a time when many are trying to reallocate money away from cops), how the new money for homeless services and housing will work – and what to do with the money that voters thought was going to rent relief but the mayor wants to put into the General Fund.
This is the beginning of a process that will last through the summer. The hearing starts at 1 pm.
Oh: And City Hall will start to open to the public this week, and soon we will have live supes meetings instead of zoom hearings.
The Land Use and Transportation Committee will again take up – and I'm guessing, probably pass – the mayor's plan for making parklets permanent. It was never a real huge controversy: Most of the supes agree that the parklets are a good thing, most of them want to outdoor dining to stay, and nobody wants to block the mayor's proposal.
But as we pointed out the first time this came up, the 75-page legislation is a bit complicated.
Some of the parklets are built in Muni stops.

Many of them are going to be moving from public-access parklets to more private commercial parklets.

Some of them are far from accessible under the Americans with Disabilities Act and possibly never will be.

Some of them are not built very well.

Some of them are in places where cars could crash into them.

Nobody in the city knows exactly how many there are and where they all are.
The measure has become more of an issue than it needs to be in part because the mayor lashed out at the supes for delaying it two weeks. From the BizTimes:
Breed was not happy about the delay, saying the board "has messed with the wrong mayor." "The Board of Supervisors yesterday in the Land Use Committee tried to water down my legislation without communicating effectively with my office."

She said she would take the matter directly to the voters, which is fine – except that the next scheduled election is June, 2022 (depending on what happens with the Newsom recall). By then, this will have long been decided.
In fact, what I got from watching the hearing was that nobody tried to water down anything; the three committee members just said this needed a bit more work.
"Democracy sometimes takes longer than people want. And we went through many, many hours of public testimony because people really care about this stuff," she said. "And so I think we've made progress and we're bringing it back in two weeks — it's a date certain."
So what we are really seeing here is a further deterioration of the mayor's relations with the supes, on an issue where that clash, in the words of Sup. Aaron Peskin, is "pretty silly."
The committee will also consider Sup. Dean Preston's emergency bill to continue banning landlords from evicting tenants if they owe back rent because of COVID.
That meeting starts at 1:30pm.