How market-rate housing could wipe out a cultural landmark, destroy jobs, and undermine the history of the Mission District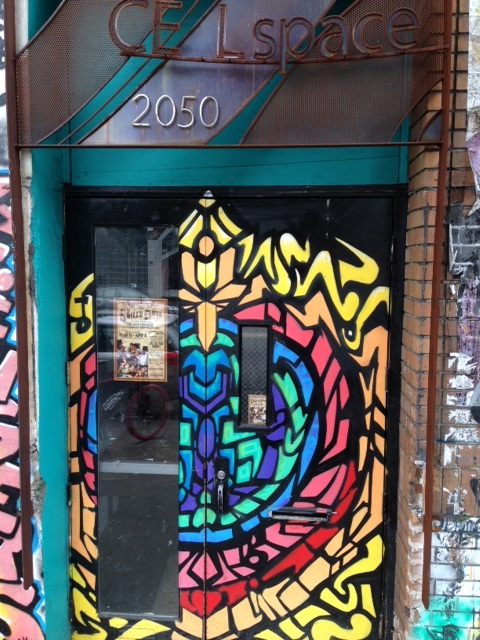 By Steven T. Jones
MARCH 11, 2015 — The rapid development of market-rate housing in the Mission District is squeezing out the art, community, and light industrial spaces that have helped create its vibrant grassroots culture.  It's the story of San Francisco's colorful past and high-stakes future — and it's a tale that can be told through the proposed demolition of the place called InnerMission and the entire block that surrounds it.
Formerly known as CELLspace, this massive, mural-covered warehouse space and former ship-building facility at 2050 Bryant Street was re-activated by countercultural artists back in 1996, quickly becoming a valued clubhouse and work station for artists and builders who attended Burning Man. It was the launch pad for everyone from the Flaming Lotus Girls (creators of massive, fiery sculptures, including Soma, now on display at Pier 14) to Bassnectar and other world-renowned DJs that animated dance parties at the site.
Over the years, the space evolved to include an art gallery, after-school programs for at-risk youth, a hub for classes teaching everything from dance to metalsmithing, and a venue for community events ranging from the MorningGloryville dance parties to a launch party for the Guardian-in-Exile Project's commemorative edition that I helped throw in January.
In recent years, InnerMission became the home base for the Vau de Vire Society, a large company of circus-inspired performance artists whose immersive dinner theater show The Soiled Dove runs from March 13-April 4 — what could be the last extended performance before the venue is destroyed to make way for market-rate rental housing.
The project that will replace InnerMission calls for the demolition of five adjacent buildings on the block bounded by Bryant, Florida, 18th, and 19th streets, including a metal workshop, a landscape design studio, Flats Cafe, and the prop warehouse and workshop for the American Conservatory Theater, forcing the venerable company that operates two large theaters in San Francisco to contract out its props. But at more than 10,000 square feet, InnerMission was the largest and most public site on the block.
In its place, property owner and developer Nick Podell has proposed to build 276 housing units (just 44 of them offered below-market-rate, the minimum required under city law), 4,300 square feet of ground floor retail, and a garage with 151 parking spaces.
"We want something cool that is evocative of the neighborhood," said Podell, who has developed smaller apartment projects in and around San Francisco but nothing of this scale, promising, "It's not going to look like the boxy metal and glass crap that everyone is revolting against."
Yet perhaps Podell is missing the point of many of the protests over local evictions, which have had more to do with the displacement of people and cultural institutions rather than the quality of the architecture that replaces them.
InnerMission owners Mike Gaines and Eric Reid told me they have put tens of thousands of dollars into renovating the site, and two years ago they were within days of signing a 10-year lease with the previous owner, Lloyd Klein, who ran a metal shop on the block for nearly 40 years, when they were told the property had been sold to Podell and they would have to leave once the plan was approved.
Since then, Gaines and his allies have searched San Francisco for a similarly sized space and they can't find anything that is even remotely affordable.
"The tragedy is we may have to leave the city and we feel like a successful company," Gaines told us, noting that he recently handed out independent contractor Form 1099s to 99 people who worked for him last year, including on his company's Edwardian Ball and Bohemian NYE events. "This place going away is a profound thing for the city, and it's sending our company away with it."
 "A certain ruthlessness"
But both Gaines and Reid sounded fatalistic about losing their spot, even as they decry how the city is losing important arts and community spaces that are more needed than ever as the city grows, calling for the city to support homegrown artistic movements like New York City has done on Broadway and Los Angeles has done with Hollywood.
"So many people are making money now that you just can't stop it," Reid said. "When you're dealing with that amount of money, there's a certain ruthlessness that comes in."
"We don't fault him, he's playing by the rules," Gaines said of Podell, an understanding that Reid also voiced, even though both of them fret about what the city is becoming.
But the city's rules for destroying a block of art, community, and PDR (Production, Distribution, and Repair) spaces and replacing it with housing aren't so clear-cut in the Mission District. While Podell is relying on the Mission Area Plan's residential designation for the site — telling us, "This site was rezoned to allow for 100 percent housing" — the plan also calls for preservation of spaces such as InnerMission, as the Planning Department has informed Podell.
The department's preliminary assessment of Podell's proposal cites its negative impact on "Cultural Facilities. For many years, the project site has been a significant venue for community art and cultural events. The Mission Area Plan places a high value on such spaces as an essential part of the area's character and identity. The Department encourages the Project Sponsor to consider incorporating a sizeable community arts space or PDR space to support the continued presence of creative activity at this location."
Specifically, the planners cited Mission Area Plan's Policy 7.1.2 — "Recognize the value of existing facilities, including recreational and cultural facilities, and support their expansion and continued use." — and Policy 8.1.3, which states, "Recognize and evaluate historic and cultural resources that are less than fifty years old and may display exceptional significance to the recent past."
I asked Podell how he was incorporating the recommendations into his final design, which is currently undergoing an environmental assessment that he expects will be complete in early May, when it will then go to the Planning Commission for approval.
"I told them, look, I disagree with you," Podell said. Nonetheless, after he says he "met with an ad hoc group of community artists who requested more art spaces, we're increasing the space going to art." To do so, he says that he's eliminated two of the 276 proposed housing units, although he admits that the art space will be small and not suitable for something like InnerMission.
There has to be community support
Sup. David Campos, who represents the neighborhood, said that's not nearly good enough, calling the project a "non-starter" if the developer isn't willing to substantially increase the space and resources going to affordable housing and/or protection of art and community spaces and to work closely with the community on the project, something Campos hasn't seen.
"There has to be community support and I don't see the community supporting the demolition of a place that is being used by so many people. PDR is also very important," Campos told us. "He's not working with the district supervisor to let us know what they're up to and that raises red flags."
Campos said that spaces like InnerMission are important parts of the neighborhood's character, and the city needs to do more to protect the arts from real estate speculation.
"It's a huge issue and it goes to the heart of the idea that we're losing character in this neighborhood," Campos said. "The Mission wouldn't be the Mission without art continuing to have a presence in the neighborhood. And you have can't have art without the artists."
One of CELLspace's original artists and art facilitators was Dave X, who co-founded the Flaming Lotus Girls right there and is now the fire-safety director for Burning Man. This space incubated his culture here, "a community center for groups that didn't quite have their own community," something that is disappearing in the city. "When I look around," he said, "I don't see a lot of incubator spaces."
And Dave X said that would affect the future of the city: "All those early startups came here for the creative people who are here and a place with affordable rents. You have to have a base of creative people who think outside the box."
But it isn't just the art world outsiders that will feel the loss of this space. American Conservatory Theater Artistic Director Carey Perloff told us the loss of this space has been a blow to her Tony-winning theater company and its employees.
"It is deeply unfortunate that our scene shop building has been sold to a residential developer and that we will be forced to vacate it at the end of this season. As a result of this loss, we regrettably had to lay off long-term and loyal A.C.T. employees," Perloff said.
Like InnerMission, ACT hasn't been able to find another space in the area.
"We have scoured the Bay Area to find a suitable space for our scenery builds but to no avail," Perloff said. "The real estate market is punishing at the moment, as everyone knows, and we have been unable to find a replacement location at this time. We will continue to operate a small prop shop in town (we are currently looking hard to find THAT space, in case anyone has any brilliant ideas!) but our scenery will be built elsewhere until such time as we can find a new space for our scene shop."
"This huge smack"
Right now, Gaines is too busy preparing for The Soiled Dove to even get his head around moving out and finding a place for all of the props and equipment that Vau de Vire Society has created over the years: "Come April 5, that's when I'll feel this huge smack."
Today, he's living in the world of yesterday's San Francisco. The Soiled Dove tells the story of the city's bawdy Barbary Coast days, when the original Gold Rush fed the rapid growth of a brand new city that drew people from around the world through a heady mix of hedonism, greed, and creative expression.
"It's about the environment and not just the show," Gaines said of The Soiled Dove, where sexy and outlandish performers will mix and mingle with the crowd throughout the four-course meal and show — but he might have also been talking about InnerMission and the larger city environment.
Also displaced with InnerMission will be Reid's Theater MadCap Company, a rare performance group or Mission business run by an African-American. "When this business goes away, the Mission loses a fifth of its black business ownership," he said.
Dinner theater has all but disappeared from San Francisco. The popular Teatro ZinZanni circus-infused dinner theater was forced out of its longtime home at Piers 27-29 two years ago by the America's Cup races and subsequent construction of a cruise ship terminal at the site. Late last year, the company announced a proposal to build a new tented theater at Broadway and Embarcadero as part of a massive hotel project pitched by Kenwood Investments.
"It's the only way to make it work," ZinZanni President Norm Langill told the San Francisco Chronicle in October, referring to the need for arts companies to partner with larger development projects.
Attaching arts and community institutions to capital is one formula, one that the InnerMission folks are being forced to contemplate. Gaines noted that The Crucible started in CELLspace before moving to a large facility in Oakland sponsored by wealthy arts patrons.
"They got benefactors and maybe we need a benefactor too," Gaines said. "Our sensibility is art first and the business will follow."
But now, they're being forced to be more pragmatic or face extinction, leaving only memories of the mark that this space had on the culture of San Francisco. Gaines noted the long creative history of CELLspace and said, "We were just caretakers of this building that was throbbing with art from day one, and it was communal art."
Final events at Inner Mission?
The Soiled Dove: "An immersive, circus-infused, dinner-theater experience," music by Jazz Mafia/Realistic Orchestra; March 13-April 4, Friday and Saturday nights, 8:30-11pm; $120; vaudeviresociety.com/the-soiled-dove
Pinewood Derby Extravaganza: Dave X hosts a CELLspace remembrance party and pinewood derby, with music by Jerk Church and Forlorn Hope; April 19, 4pm-midnight; $20 with pinewood derby car kit, $15 without; pinewoodderbyextravaganza.com