Choice nightlife and dance floor affairs, April 23-26.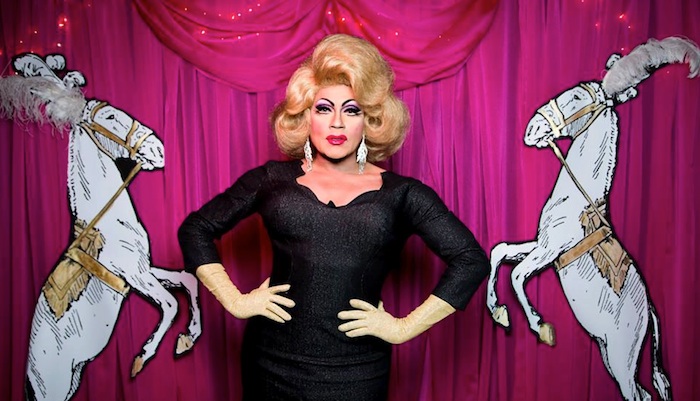 By Marke B.
PARTY RADAR Are you looking for something Weird? How about something in fuzzy leggings, dancing to that old school SF funky techno vibe? Don't miss out on the huge How Weird Street Faire Sun/26, noon-8pm, the official kick off of our summer street fair season. There's like 1 million stages full of music and mirth. There has been an influx of boring lookie-loos lately, so put on something strange and let 'em have it with your freakishness, please. (Oh and then head to the East Bay for one of my very favorite patio dance parties, Afternoon Delight).
Next, the Lex The Mission's iconic Lexington Club, which announced it was closing last year, moves into its final round of Lex celebratory farewell parties this weekend, and some very sweet tributes have popped up.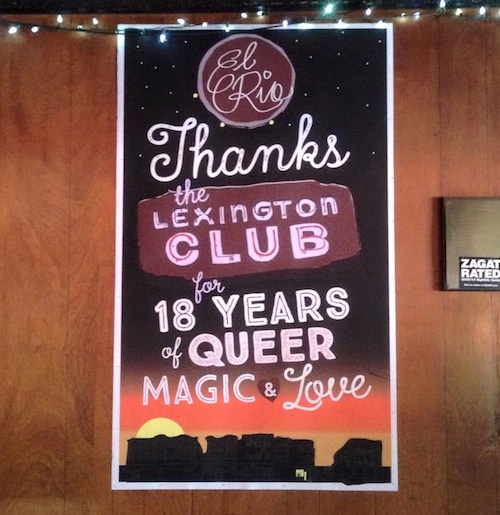 This includes a drive to put an official commemorative plaque on the corner of 19th and Lexington to mark the site of The Lexington Club, which would be really cool.
"When the Lexington announced it was closing, a few of us in the community who 'grew up' at The Lex got together to figure out how to do this," plaque promoter Rana Freedman wrote me. "We contacted Sup. David Campos' office, which was excited by the idea, and a plan was put into motion."
A couple of weeks ago the Board of Supervisors passed a resolution recognizing the bar's cultural significance, giving Rana and her crew of community volunteers permission to install the plaque. Now they've put the plaque into production and are "busy pulling permits, scheduling contractors, working with various city boards, etc." It takes a lot for a little plaque!
But they need your help — none of this is paid for by the city. Check out their GoFundMe page for more info on how you can help put a permanent memorial at the Lexington space.  And then go dance and throw 5-10 drinks back at the place this weekend to say goodbye.
>>THURSDAY<<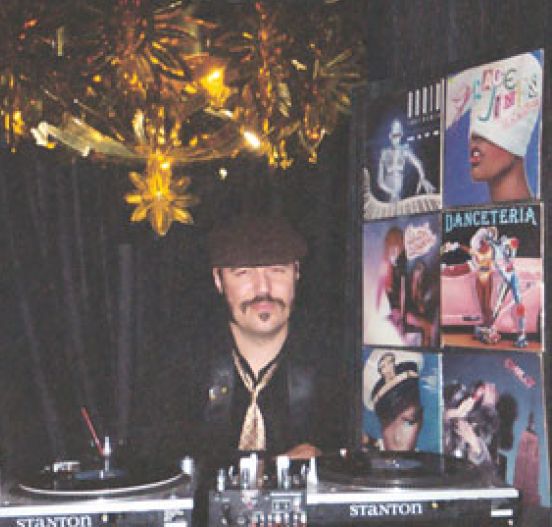 >>TUBESTEAK CONNECTION 11TH ANNIVERSARY Holy drawers-drop, has it really been 11 years since DJ Bus Station John dusted off his underground gay bathhouse disco records from the 70s and early 80s — and taught a new generation how to twirl? So many clubs and DJs around the world are indebted to his all-vinyl, no cell phone aesthetic. This was the weekly party that started it all. I had no idea there were so many records I'd never heard! Or cute boys I'd never cruised, either. Thu/23, $5-$10 sliding scale benefitting the Night Ministry. Aunt Charlie's, SF. Kind of more info here.
>>FRIDAY<<
>>TÚLIO ARAÚJO Incredible live Brazilian jazz from this local percussionist, producer, composer, and sound engineer who has spent years studying the tambourine. Just try not to dance. Fri/24, 8pm, $8-$10.  La Peña Cultural Center, Berk. Tickets and more info here. 
>>OMAR S One of the true legends of Detroit techno joins the As You Like It party for some most excellent grooves. With brilliant local techno performer Christina Chatfield live. Fri/24, 10pm-late, $12-$16. Public Works, SF. Tickets and more info here.  
>>BEFORE THE WRECKING BALL This is an art exhibition but it's sure to have some great nightlife elements. It's the final show at CellSpace, the wonderful Vaudeville/circus arts/performance space which is being demolished to make way for condos. Go see more than 20 artists' work, revel in the awesome space, and try not to dance to the Fringe DJs. Fri/24, 7pm-11pm, free. CellSpace, SF. More info here.   
>>SOME THING SAN FRANCISCO Drag goddess Juanita More and a host of her draglings perform a tribute to all that is big, beautiful, busty, bawdy, and still standing in our beloved Baghdad by the Bay. Plus there'll be a craft table! Fri/24, 10pm-late, $7. The Stud, SF. More info here.   
>>SATURDAY<<
>>TORNADO WALLACE Gorgeously detailed and trippy-primal techno from this bearded Australian wonder. At the Honey Soundsystem party — which is sure to have a ton of cute lookalikes (and genius sounds). A special guest farewell set from Shawn Reynaldo of the Icee Hot crew before he leaves us (dammit) will round the evening off. Sat/25, 10pm, $10-$20. Beatbox, SF. Tickets and more info here.
>>NON STOP BHANGRA: DELHI 2 DUBLIN A Celtic band at an Indian bhangra party? You bet your [insert whatever the heck joke would be appropriate in this case]. If you are looking for all kinds of fun fusion, here you will have it. Sat/25, 8pm, $20. Public Works, SF. Tickets and more info here. 
>>COCKTAILGATE CLOSING PARTY Seven years severe weekly drag shenanigans (I can't even remember most of them!) come to an end at Truck, as Suppositori Spelling and her family of freaks pack it up and move on. Not to be missed, because someone will probably literally die. Sat/25, 8:30pm, $6. Truck, SF. More info here.
>>THE MEETING OF THE INTERNATIONAL ORDER OF SODOMITES Hilarious variety/comedy/ talk show comes to Oasis from its critically acclaimed run in NYC, hosted by TV writer and personality Justin Sayres. It's pretty great, go see some show.  Sat/25, doors 7pm, show 7:30, $20. Oasis, SF. Tickets and more info here. 
>>WALKER & ROYCE A fun one for the stylish tech-house kids from the always hopping'; Lights Down Low crew. These two NYCers are joined by another, Curses, to put some K in your hole. I mean "Kineticism" and "Rave Hole" of course. Sat/25, 10pm-3am, $10-$15. Monarch, SF. Tickets and more info here. 
>>DARK ROOM: MEET YOU IN THE LADIES ROOM A drag and party extravaganza devoted to the New Wave and Goth dark divas who ruled our '80s worlds. Who will be doing Nina Hagen? Oh you know someone will! Sat/25, 10pm-late, $10. The Stud, SF. More info here.